Where will the Bitcoin price break?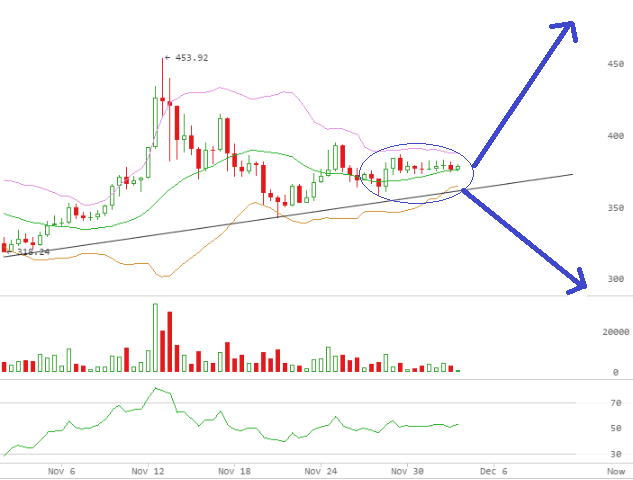 In our analysis last week, we wrapped up with a bullish call after an ambivalent week of price action. Well, it seems this week is a truncated sideways pattern of last week as the market has been dull and maintained trading range bound by an upper price $385 and a lower price $360.
Since November 26 marked on the chart, you can see both red and green candles with range bound action. If you are a scalper, then there were opportunities for quick, profitable (+3%) trades. Within lower timescales (1H, 30min, 15min), terminal triangles have become common and mark terminal always moves precede a reversal of one higher fractal. These were a few short-term opportunities in this tight market.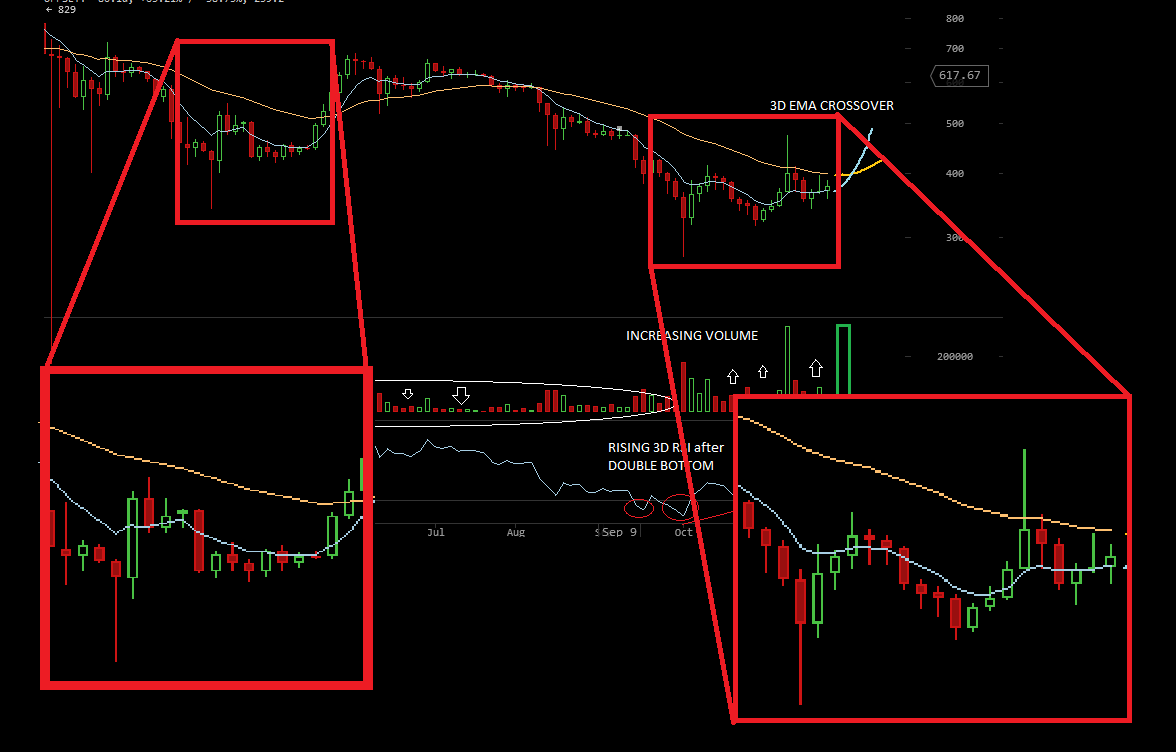 The 3D EMAs have been cutting cross each other – a bullish cross this week but not a 100% signal to the upside. It is as if the market is anticipating a trigger to jolt it to either the up/downside. Volume has also begun to pick up after a disappointing 6 months. This chart below shows magnified EMAs and volume change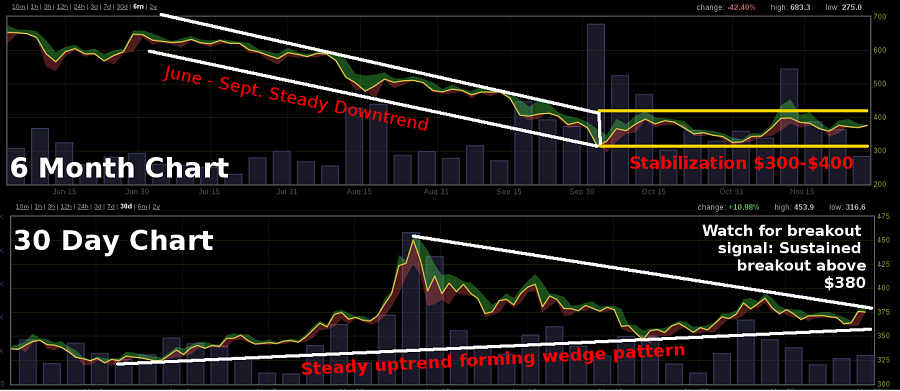 On the broader picture, we seem to have bottomed out after a sustained bear period. Selling pressure has eased compared to a month ago held by solid support above $300. In my view, we are forming a variant of a triangle shape that might take a couple of months to stabilize to low volatility somewhere right around current prices.
Read on for my price forecast.
Bitcoin Fundamentals
This week, Bitcoin had moderate activity on the fundamentals front after a disappointing low turnover for Bitcoin Black Friday. Still, there were buoyant positives to cap off a good week for Bitcoin. It has almost become a norm now, and we're all used to it!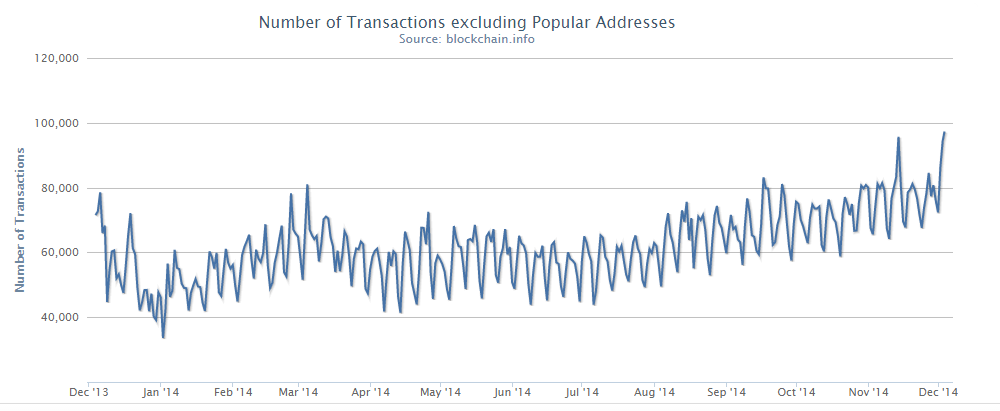 First, news on Reddit indicated the highest all time high number of Bitcoin transactions excluding popular address today. Transactions crossed over to a 103,000 mark fuelling into bull speculation.
At 10:30 a.m. EST, on-blockchain transactions surpassed the 103,000 mark, an all-time high for Bitcoin. The previous high-water mark reached just above 102,000 transactions, which the network hit during last year's price bubble.
Mining has come up in the past couple of days after the difficulty level dropped to 40,007,470,21 (-.73%) first difficulty drop in 2 years! In the past, the difficulty level has doubled since August despite 20% drop in prices. Effectively, miners are getting squeezed by decreasing block discovery and corresponding nominal value of mining rewards. It has been suggested that possibly the marginal cost of mining is at a level equal to marginal revenues. For ASIC miners, it beats logic to mine and sell bitcoins at a loss. Will miners hoard due to excess supply? It is more likely that centralization of mining into larger pools and efficient scalability methods will increase.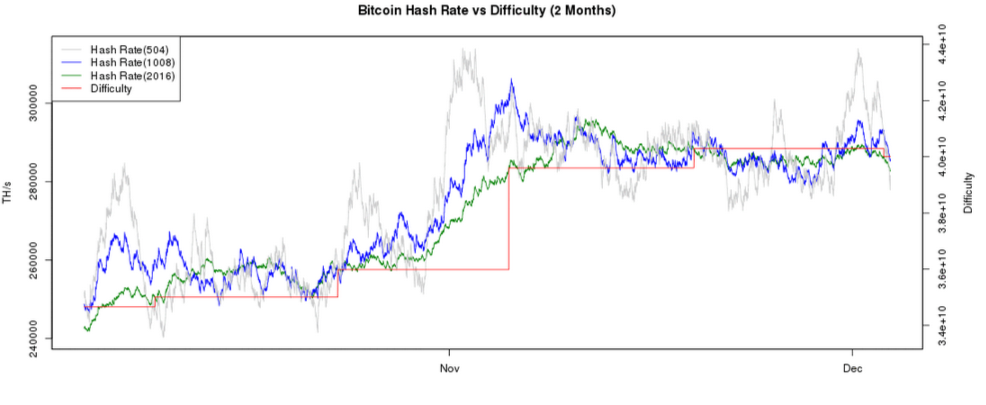 The auction of 50000 BTC seized from Silk Road by USMS (US Marshalls) is set for Thursday 4 December. As per Coindesk, Global head of FX, Steven Englander from Citi, expects a steep discounted purchase price for the Bitcoins after indicating this in a research note. Prices have been on a 12-month decline and 94,000 BTC still remain not yet auctioned. Some of the participants, notably from the last auction are: Tim Draper, Pantera Capital, Binary Financial, Bitcoin Investment Trust and Bitcoin Reserve Mirror.
The market seems unaffected by the auction as the prices have maintained their ambivalence in the past week. Look out for price breakouts (if any) after the auction and adjust positions based on a break to either side.
Finally, a Dutch Official from the Ministry of Finance hinted at Bitcoin transactions exclusion from VAT. It means, bitcoins used for paying for goods and services only incur tax like fiat i.e. on the goods side. This is similar to the UK and Finland. Bitcoin seems to have found a warm place in Europe as more country authorities issue positive statements.
Where Price is headed this week?
This week's price will continue to be bound range until a trigger forces out into either side. Currently, there is no news to suggest a break to the downside. In fact, fall in mining difficulty rates should see us at least hover around current price levels. Remember, any news from the auction could wake up the beast.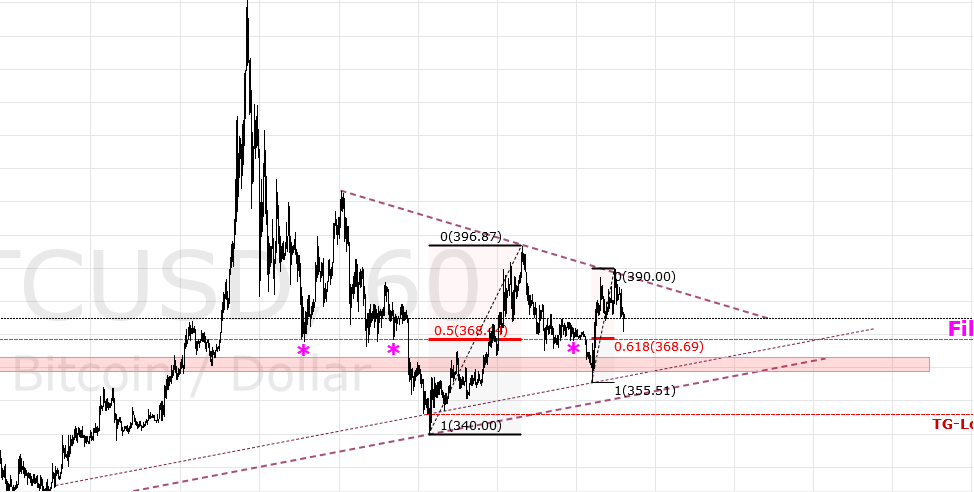 Still bullish in the short-term. In the mid-term, we could still test $300 lows. Recall previous elusive search for wave V and wave III of EW. We are in one of both, as both are retracements to the upside. Indicators are reverting to a neutral state and could make a last attempt at the lows. This chart shows how this would play out.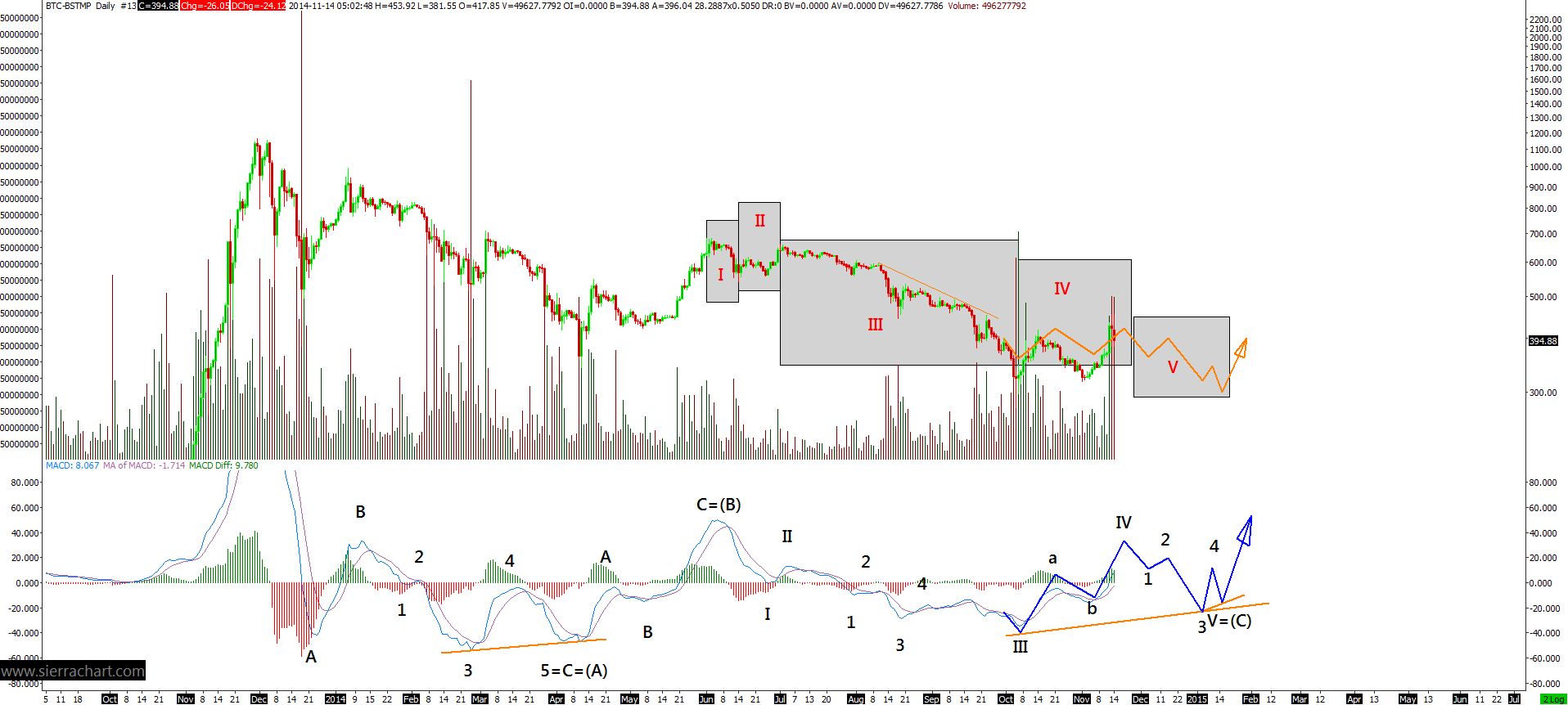 A test of the bottom then a retracement up.
Overall, time is a difficult parameter to pinpoint in future. The high probability bull run to 500+ might not exactly pan out by December, but the bullish signs point to early stages of a new bull market.