This week was a tug of war between bulls and bears, resulting in a stalemate. Bulls couldn't hold it anymore and bears now seem to have taken full control and tilted it in their favour.
The price last week was a truncated sideways trend that has persisted for a three weeks now. Price movements were limited to small 4 dollar moves up/down – opportunities to scalp profits. The price movement reflects the overall mood of the BTC market right now – uncertainty over what direction we are headed to next, coupled with desperate hopes of a bull run.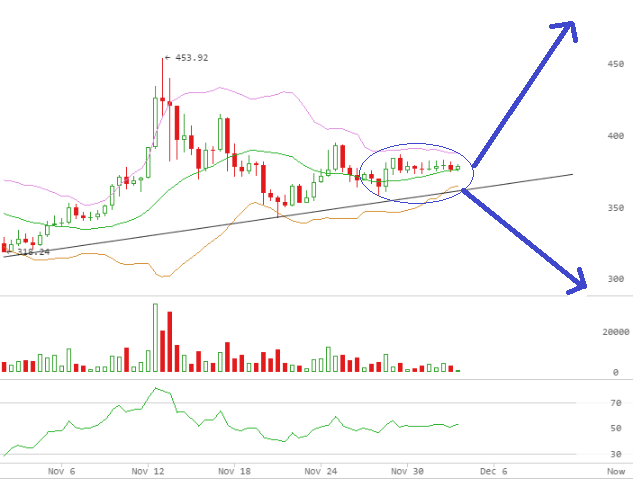 In our price analysis last week, a technical trend convergence on the 12h preluded a break to either side. Price stability has set in, while volumes have thinned out driven by the convergence. Compared to last week, a 42% drop in trading volume was observed, just over 2 million vs 3.6 million coins last week.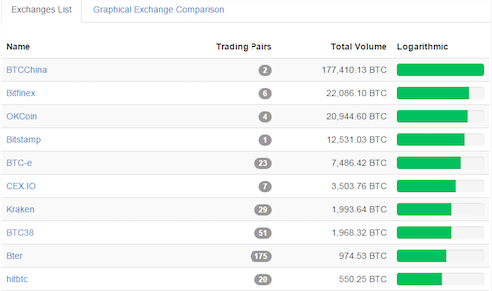 Since then, the prices haven't deviated much from a larger trending convergence bar a sudden break to the downside below $373 – $377 range. Clearly visible on the 2h chart, 7 days EMA trend line cut below 30day EMA opening up lower prices. $343 support level is currently holding but, technical signals point to further lower prices. A false bounce sideways trend before resumption of a possible test of low $300 prices. Relative strength indicators (RSI) are on oversold territory (encircled) so a temporary bounce looms. Sentiments are still largely a holding pattern.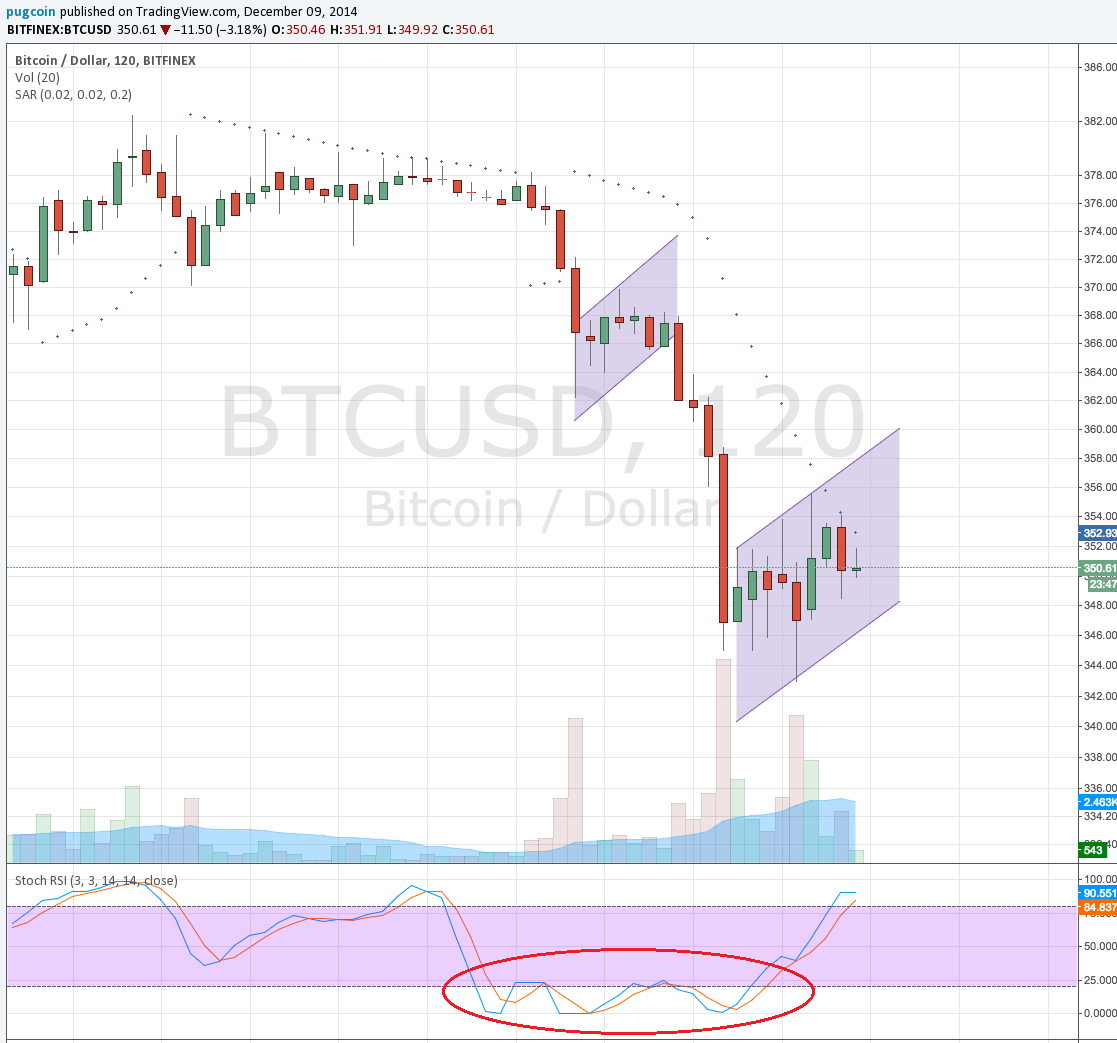 "Markets move against the trend of one greater degree only with a seeming struggle. Resistance from the larger trend appears to prevent a correction from developing a full impulsive structure."
In this case, the larger trend is a bear and corrective patterns struggle to retrace before resuming the larger trend. Read more on corrective patterns.
Bitcoin Fundamentals
This week, fundamentals were a mixed bag of news but, the overall net positive for Bitcoin prospects.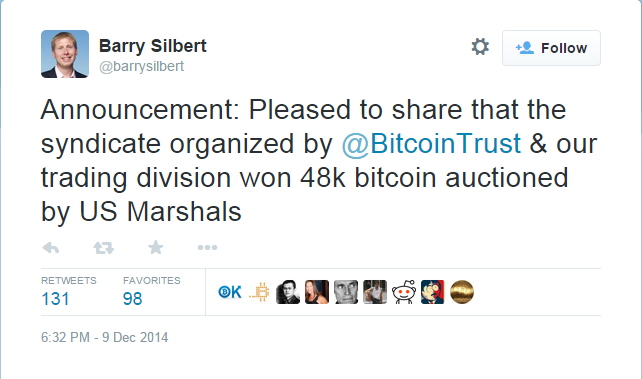 First, winners from US Marshals Bitcoin auction held last week were made public. Barry Silbert from Bitcoin Investment Trust announced on twitter of his syndicated bid acquisition of 48,000 bitcoins. Earlier during the week, Tim Draper announced his bid had not been so successful, only managing to capture 2000 bitcoins and hinting at buying more from the market. Though speculating, he suggested the bid prices were around $400. The stable prices in recent times are seemingly suggestive of an equilibrium price of Bitcoin. $300 are the lowest prices of Bitcoin we might ever see again!
"The U.S. Marshals Service is confirming that the recent bitcoin auction resulted in two winning bidders. One bidder won 19 blocks, totalling 48,000 bitcoins, and the other won one block of 2,000 bitcoins".
On the regulation front, Marco Santori (The Chairman of Bitcoin Foundations Regulatory committee) announced that Bitcoin would be considered as intangible property and thus exempted from sales tax in the state of NY. This is very good piece of news and follows a UK ruling on VAT (sales tax) when Bitcoin is used as a transactional currency. New York and London are key global financial hubs; these regulations mean that more opportunities open up for average users to get in, use Bitcoin as an alternative to bank wire transfers and structuring Bitcoin into investment products that fit traditional finance. This New York guidance is fantastic news for the price of Bitcoin.
A lot of good news has been absorbed by the price, and it remained low. The next price trend up will have enough fundamentals to support its move.
Finally, a security breach over at blockchain caused a reactive storm after users' private keys were affected during a scheduled software update. And this is the type of news we do not like to hear after the GOX debacle. It does little for the credibility of Bitcoin to the rest of sceptical none adopters. Interestingly, blockchain responded by promising to reimburse affected users; fortunately less than 0.0002% of users. In a strange twist, White Hat joehoe (the hacker) responsible for 255 BTC lost in the process, was kind enough to return them.
"We admit this is our fault. We will be working w/affected users to reimburse those whose funds were misplaced".
Overall, looks like the fundamentals are a positive.
Price Forecast For This Week
A break to the downside from the triangle confirms we are heading down from the stable prices of the past two weeks. This last move down should precede an uptrend we have been tracking in our weekly Bitcoin price analysis.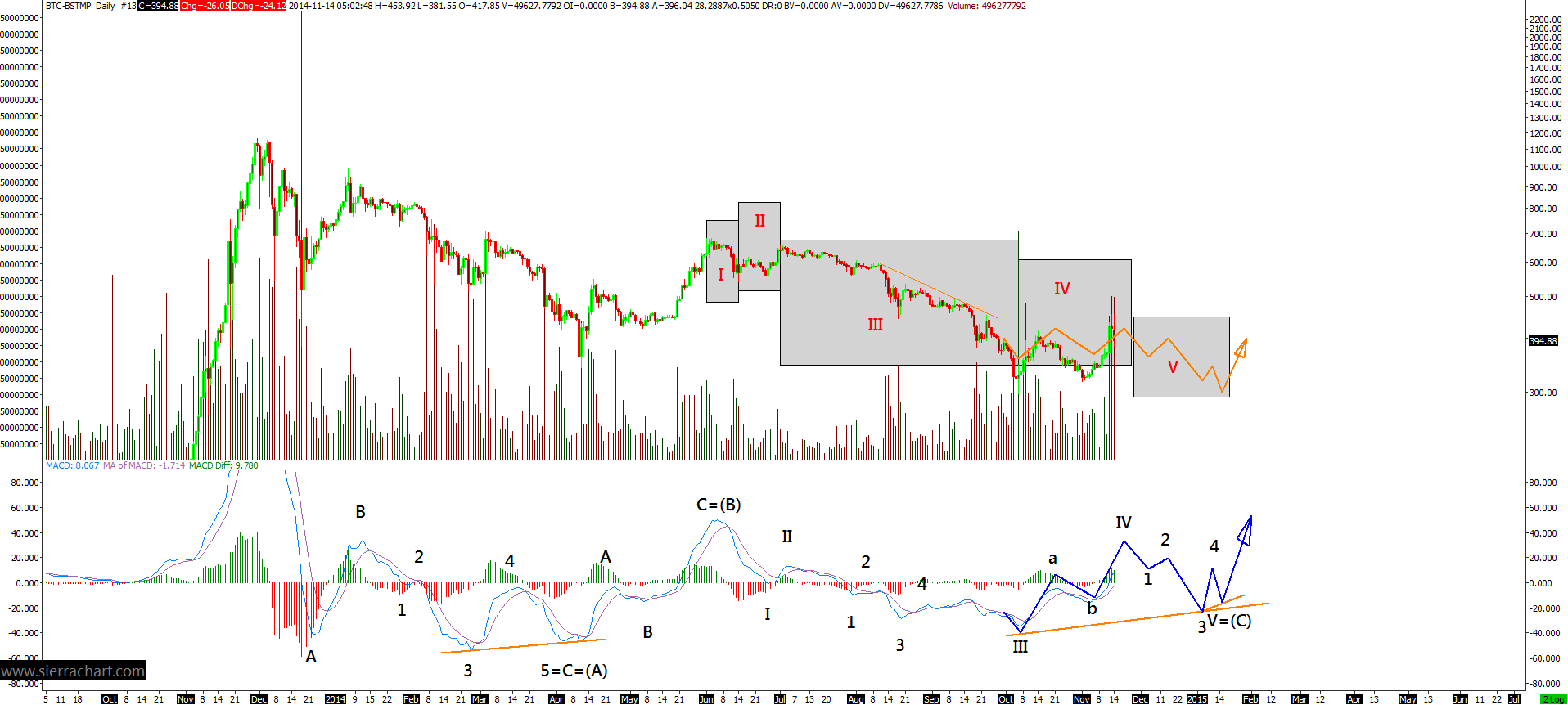 As per EW, we have been after a wave III or wave V. The high at $454 was a peak that marked wave IV and this change of trend to the downside marks a retest of $315 lows (wave V). A test of the bottom at this level will mark the bottom and confirm a move up. We have already struck a low of $343. A projected downside is pretty significant because this sideways move has been truncated.
Because EW is an elimination method, distinguishing that wave counts we are at is a chasing game, however. When the count is found, it is very accurate. In this regard, watch out for bottoming out of prices in the next two weeks at $300. I don't expect prices to fall further below this. Look out for a candlestick hammer similar to one that occurred at $275 bottom. I am leaning towards an uptrend after the New Year.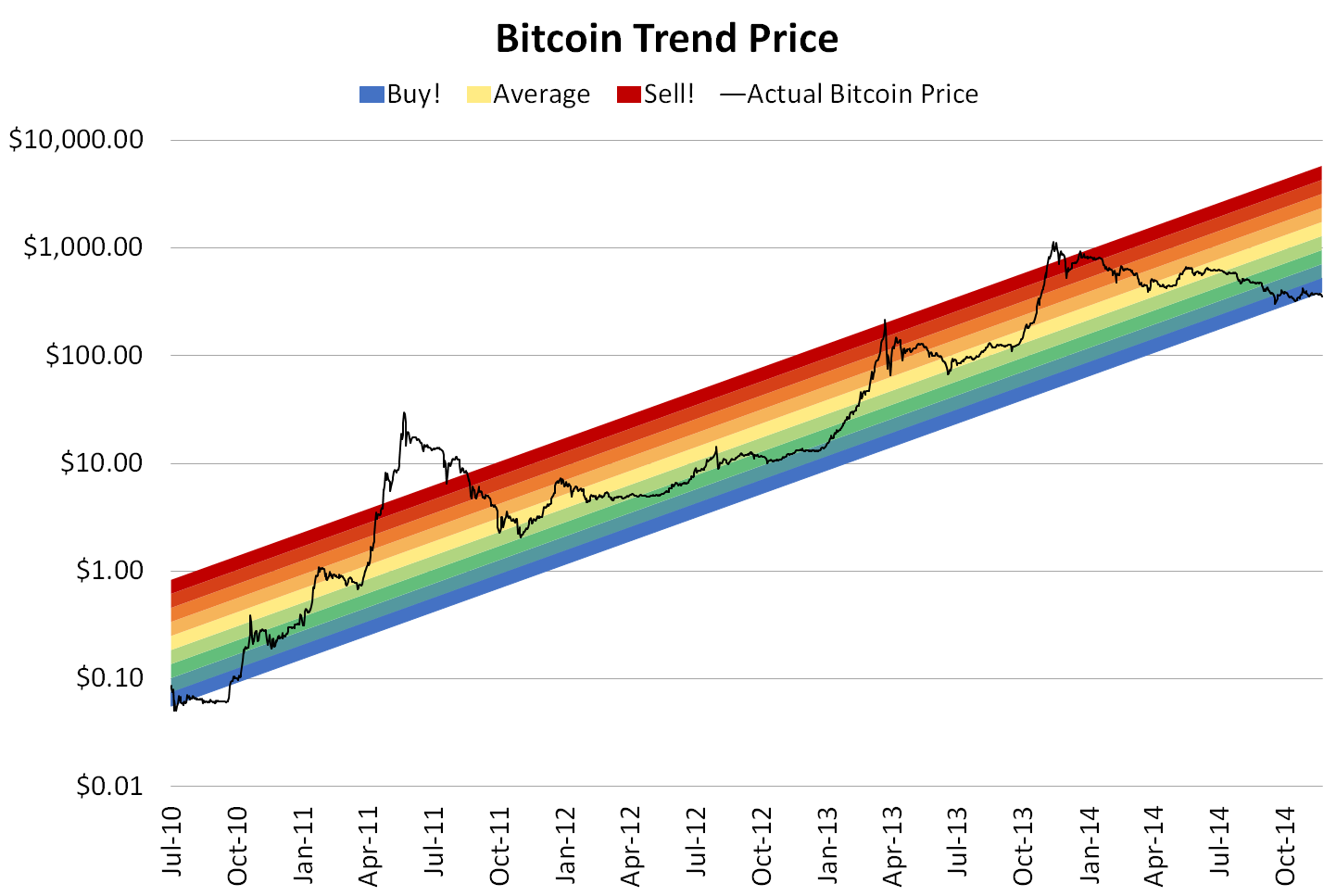 As the yearlong bear draws to an end, remember Bitcoin is here for the next 100 years! A year is a bleep over this period. Currently, the market capitalization of Bitcoin is 5 billion – a fraction of what other enterprises like Whatsapp ($15 bn) and Uber ($40 bn). With all the developments in Bitcoin, its value should be comparable to these in some years.