Will the Black Friday be bullish or bearish for the price leading up to and a little after the day?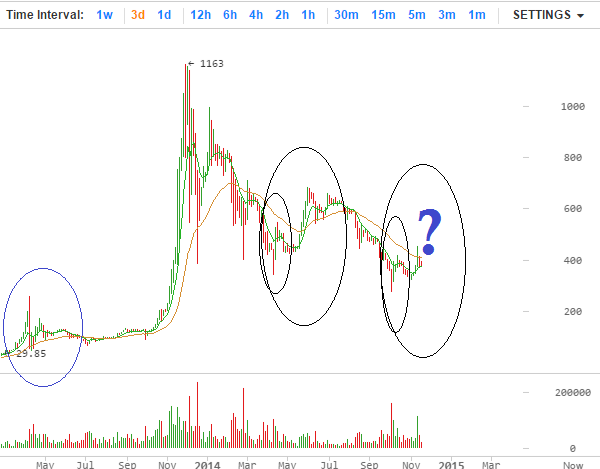 Last week in our analysis, we wrapped up a summary by speculating a possible turn in trend with more signals pointing to a bullish short-term outlook. The market was in a corrective fashion and had been on the decline after taunting a high of $454. This week is unravelling in a fortuitous turn for short-term longs. As I write this, the price just broke out from a $385 – $374 range resistance it was struggling with earlier today.
The price exuded ambivalence as it drifted sideways with average volumes; a precipitous fall by 39% vs. the week before. The uncertainty of whether a break to the bottom to test sub $300 lows or a break to the upside for a run up to an ATH whose expectations have faded over the past year. This is the puzzling wave II vs. wave IV bottom of EW. $ 454 was a good test breaking past previous high $417 but disappointed expectations of an impulsive run up to 500+.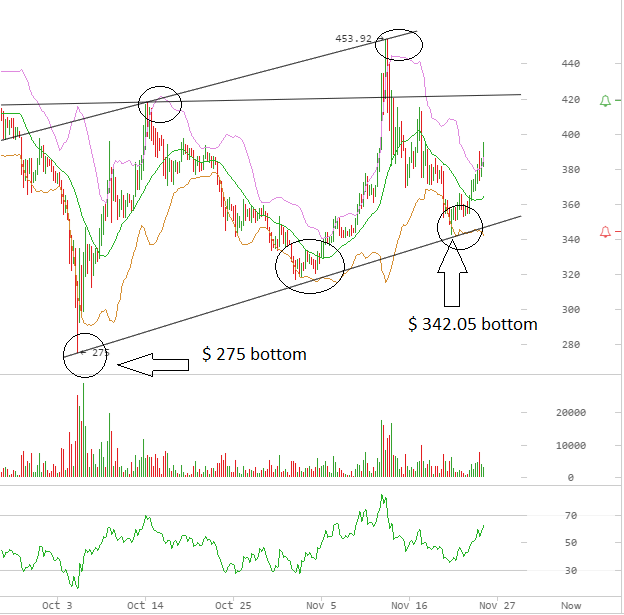 On November 20th, 1:50 EST, price action shifted when a huge drop in price to $ 342.05 occurred. Reports suggest it was first triggered on Chinese exchanges dragging along other exchanges in the 5 minute lag. Statistics points to Chinese exchanges' sway in volumes — approximately 86% of trading volume.
This price level played out into the bottom on the 6 hour. A green candlestick hammer (which are commonly reaffirm bottoms and supports) validated this level. The lower channel Bollinger band also coincided perfectly with the hammer, bouncing off each other. Finally, the last signal was a triple zigzag corrective on the 6-hour chart that was bound range. An opportunity to scalp some profits on the brief up and down spell.
Here is an image showing this corrective wave pattern. The purple arrow marks the price now, and the bounces off trend lines are encircled.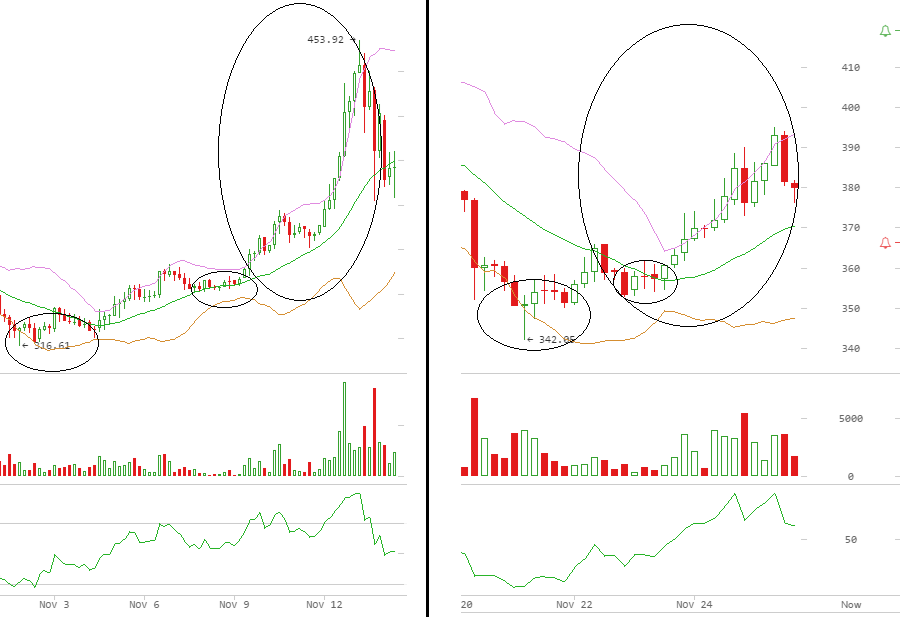 The price is back on the run up to test the upper range resistance from $342 bounce. Looking at the 2 hourly time scale chart, a healthy uptrend from this level is apparent. Cutting above centre line EMA of the Bollinger band, and riding under the upper channel. It resembles a similar run up to $453. Notice similar adhesion to the upper channel line.
Bitcoin Fundamental  Analysis
An interesting debate that came up this week was the amount of hoarders speculating on Bitcoin. Apparently, 70% of all Bitcoins have not moved in 6 months. John Ratcliff regularly publishes charts on the age of Bitcoins and plots them on a graph. His most recent chart shown below shows the number of Bitcoins held since the genesis block isolated over a year.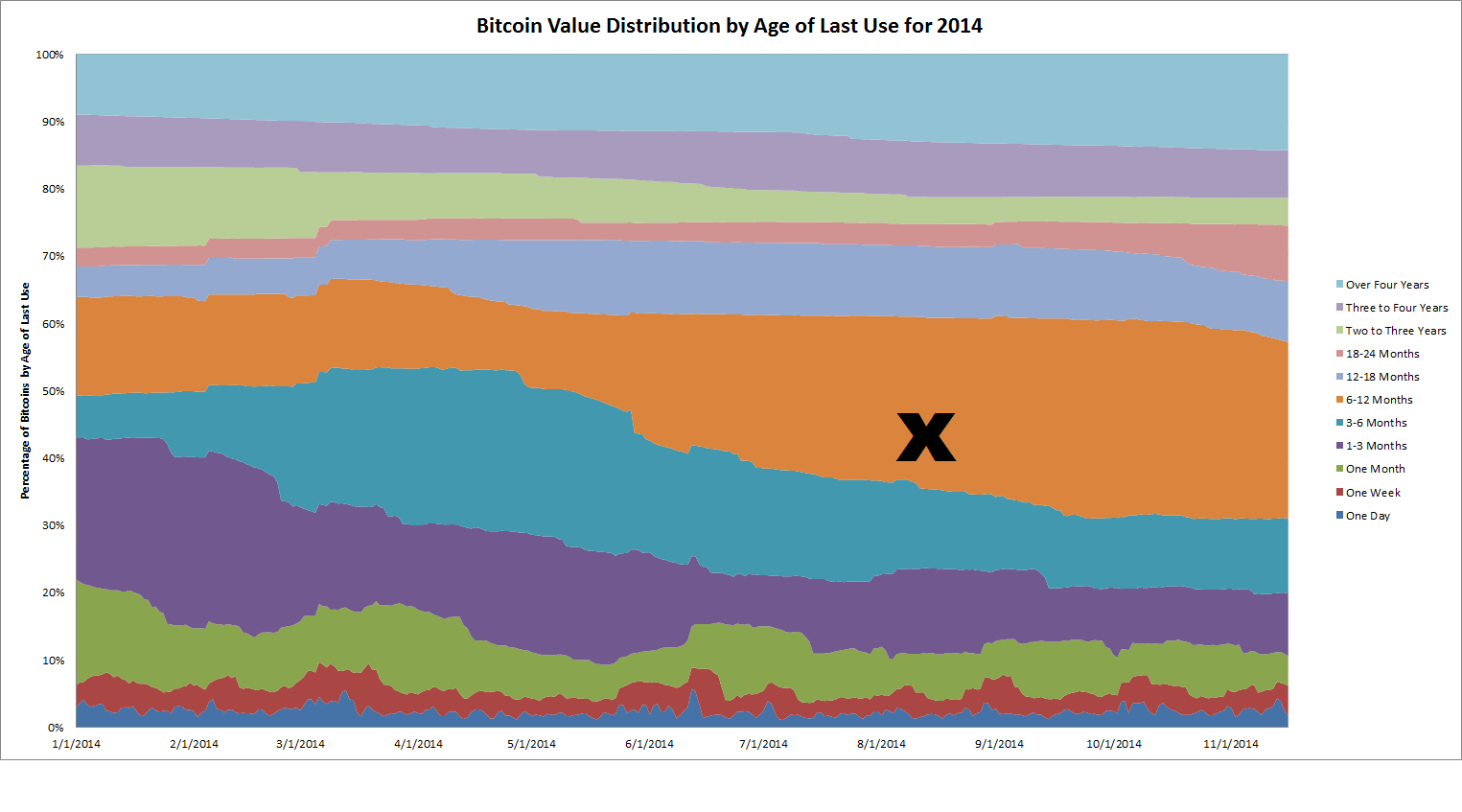 From the chart and point marked X, one can see a large number of Bitcoins held since the bubble of November – December 2013 whose owners are holding on to them. The colour expands encroaching on younger coins meaning they are anticipating higher prices.
He had this to say on Reddit:
"You will notice that as the year has progressed there have been more holders but, still, over 10% of all Bitcoins are active any given month".
At the bottom, a thin blue strip represents the monthly liquidity at around 10%. Tim Swanson from Melotic exchange based in Hong Kong had an interesting perspective on his blog:
"token movement (velocity) strongly correlates with a rapid increase in market prices (e.g., more velocity during the bull runs, less during price decreases); you can see that in the first chart with large bumps in April 2013 and then again in November 2013".
If his words are anything to go by, expect a similar bump on this chart if price surges significantly.
Nic Cary, Blockchain CEO tweeted this chart on the rising number of Bitcoin transactions excluding popular addresses: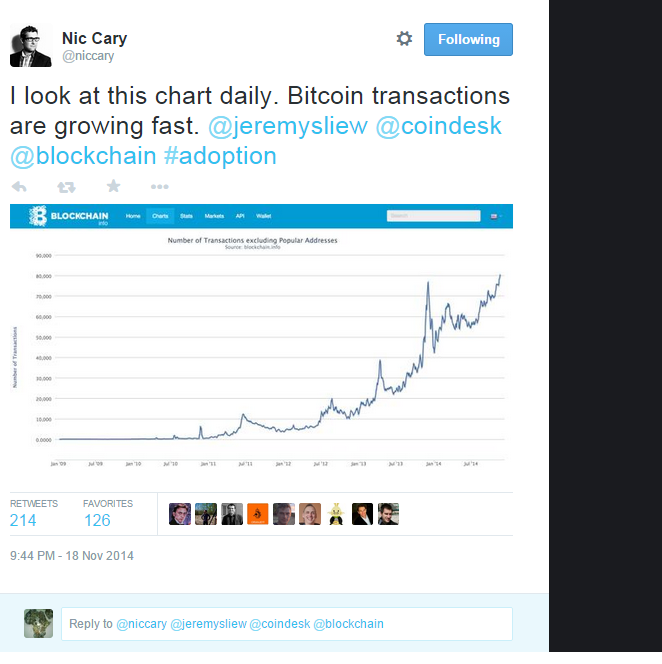 Meanwhile, Bitcoin Black Friday is going down on the 28th with discount offers set to be announced on the day prior. There is some worry of downward selling pressure on the short-term price outlook. Merchants accept Bitcoins and immediately convert it to fiat.
This year, there will be offers to instantly buy small amounts of Bitcoins ($25) using credit cards — an opportunity to rein in new buyers! A temporary plunge in price may occur, but I expect bulls to swoop in on this opportunity to accumulate coins. More on this in my forecast wrap up.
Finally, the Asian currency markets have been in a tumble as China lowered its interest rates in response to the Yen. In an article on Coindesk, the large portion of BTC–Yuan transactions exchange (76%) suggests *some money might be headed into bitcoin fleeing the Renminbi.
Overall, besides the Black Friday bleep, Bitcoin fundamentals are suggestively bullish.
What is the Price Forecast for this coming week?
This coming week will be a test of consecutive highs – $421 and quite possibly $454 — at least within the range bound corrective pattern. Black Friday and its hangovers is a significant event and XBT price is known to react to events (Re PayPal announcement, US marshal auction, Mt. Gox etc I will be surprised if there is no pulse (on either side) on a smooth price move.
While staying cautious, I am eagerly looking for supporting evidence of a wave III. Holders can retain their positions till a mid-term reversal; buying after would have to be at higher prices than presently. Once there is obviously the risk of massive downward pressure on Bitcoin Black Friday, I am expecting enough buy pressure to absorb available Bitcoins and pull a surprise on the market. So far, price action has exhibited consistent bullish strength more than ever in past 3 months.
A triple zig zag forebodes a retest and possible break of the recent highs — an ABC pattern fits the bill and the top end of a high up to $600.
Now we'd love to hear your thoughts about Bitcoin price. Leave a comment below and let us know.