We at CEX.IO made buying Bitcoins with payment cards simple. To make your first deposit, you need to link a card by providing information and proving your ownership of the card. Once the card is successfully linked to your account, it can be easily accessed in your profile's card manager by the next deposits.
Here's a video on how to add a card on CEX.IO:
First and foremost, enter correct data about the card you are going to link, i.e. cardholder's name, name and the last name of the person on behalf of whom the payment is processed, card number (16 digits), and expiry date.
On the second step, upload photos proving your ownership of the card: a selfie with a payment card & a photo of your payment card next to your ID.
Finally, enter respective CVV/CVC and complete a standard pre-authorisation by small amount charged to your payment card. The exact amount of this charge in USD should be entered into the verification form.
Why do I get charged?
In fact, you are not charged. The amount of less than $1 is deducted from your account, and automatically refunded to your. This is an extremely important step ensuring that no one uses your payment card and preventing frauds.
Where can I find this amount?
You can either log in your online banking and check out online credit card statements, or call your credit card issuer. Please note that if your payment card is issued in your local currency, make sure to enter it in USD anyway, as shown on a screenshot sample below.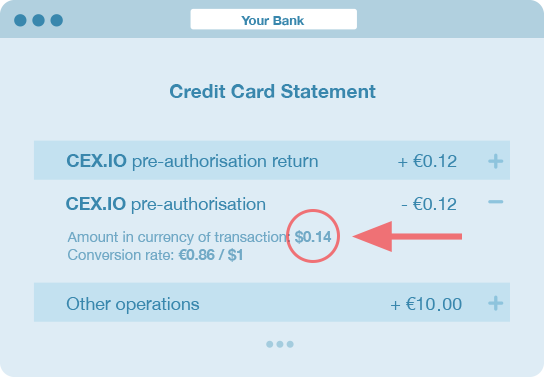 Is it secure to provide you my information?
Yes, it is. CEX.IO possesses a PCI DSS certificate that proves that our company shows the required level of security due diligence for storage, processing and transmission of payment card data. All information about payment card is strongly encrypted and stored on highly safe servers.