Highly volatile and speculative nature of Bitcoin market is a cause for essential risks. It, at the same time, is a potential ground for making profit with cryptocurrencies.
Most professional traders do not place orders manually. Instead, they minimize their efforts and time losses through automated trading.
Automated Trading
Roughly speaking, automated trading is based on indicators of technical analysis, a methodology for forecasting price direction through studying market data, mainly price and volume.
Various types of trading strategies are automated using special software, such as trade bots. Thus, if you know the basics of technical analysis and are willing to try out your trading strategy, think of choosing a bot type on one of the platforms that offer trading software.
Bitcoin Trade Bots
There is no need to be a developer to bring your trading strategies into automatic mode. You can simplify your life by using software tools created by professionals. Here are some of trusted players among software vendors on the cryptocurrency market.
Cryptotrader.org is the first algorithmic trading platform for Bitcoin and other cryptocurrencies. They allow traders to backtest and automate their strategies via a flexible built-in scripting language. Trading strategies can be fully automated by using trading robots running in Cryptotrader scalable VPS cloud.
Cryptotrader.org supports major Bitcoin exchanges, including CEX.IO, and offers a platform to build a trade bot in several minutes.
Haasonline Software offers customisable Haasbot Trade Bots based on selected indicators, protected by safeties, and can be insured to cover the costs fees. The following scheme presented on Haasonline Wiki shows the bots workflow: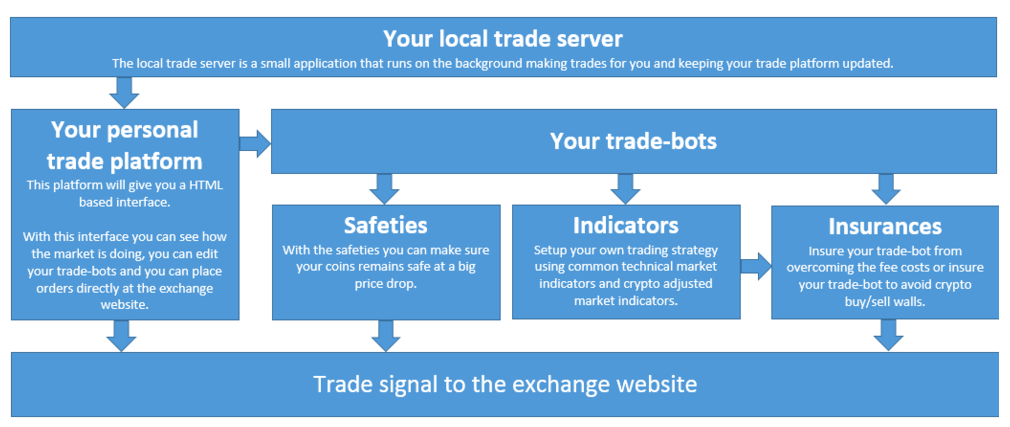 Using Bots on CEX.IO
Such trusted trade bots as Cryptotrader and Haasbot are connected to CEX.IO via WebSocket API, an extremely fast channel of obtaining information from exchange's trade market.
If you are a professional trader who uses bots and trades high volume, you can request an access to CEX.IO WebSocket API and enjoy outstanding pusher technology, which allows getting real-time notifications about system changes without sending extra requests to get required information.