Q: Can you show me how to organise Auto Payout for my GHash.IO mining profits?
1. From the main GHash.IO page navigate and select CEX.IO in the top right of the screen. From there you'll be directed to the CEX.IO homepage. Now select your username then Profile (all at the top right of the screen).


2. By selecting Profile you will now be presented with the Account Settings page. At this point select Auto-payout.

3. Within Auto-payout you now have the ability to control your Payout conditions.  Firstly set the threshold value that you want Auto-payout to trigger at, to confirm it click Set. Now you can enter the payees in the Add Payee section. Enter a name for the payee, the BTC wallet address and the percentage share of the Auto-payout for that payee.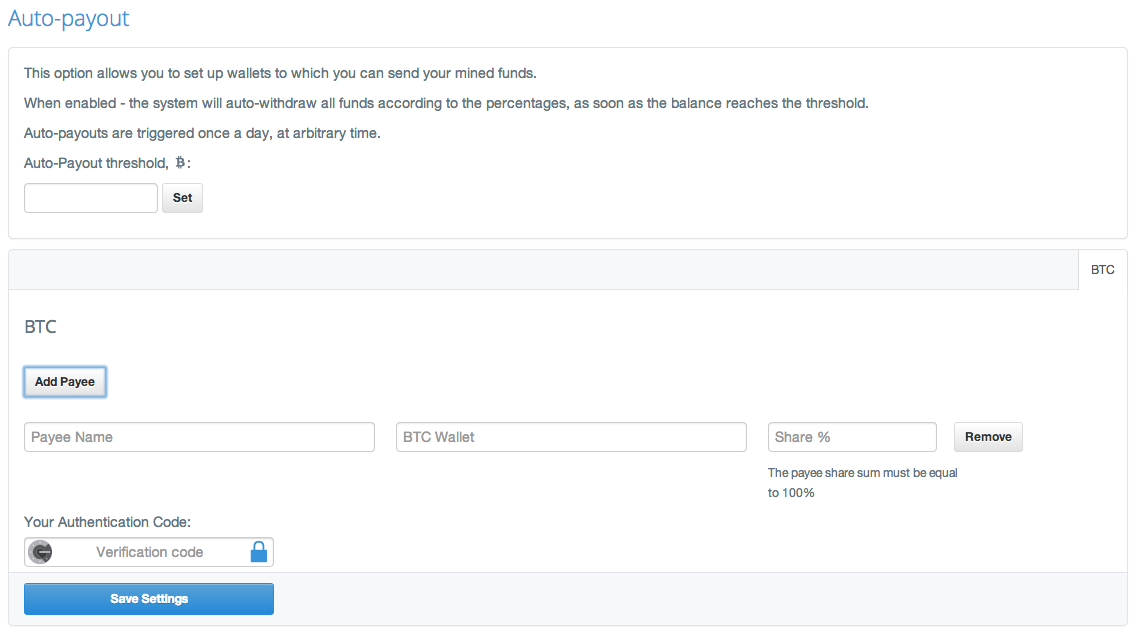 4. Once you have entered your payee details select Save Settings. At this point, for security purposes, you will be instructed to confirm your account credentials via our 2FA security procedures. Once you complete confirmation the Auto-payout settings will be in place.
5. Super Tip: You can create multiple payees for Auto-payout, a fantastic way to distribute and control your mining & trading profits. Just remember that when creating new Payees the overall totals of the share % to each payee must equate to 100%. Finally, a great benefit of Auto-payout is that it incurs no withdrawal fees.
For further information relating to your mining on the GHash.IO pages please read our FAQ: https://ghash.io/faq