As we've transitioned not only to a new year but also to a new decade, we cannot help but contemplate the results of our work. Moving to 2020, we'll have full rights to say one day "Boy, we got to serve our customers over a span of (at least) two decades!"
To put things in perspective, from the time we started in November 2013 up until today, it is over 2,000 days! That's long enough for a new person to be born and be old enough to start going to school! Just sit with this thought for a moment!… 👶🏼🍼–>👦🏼💼
And now to what's 2019 been like. We've entered it in the full swing of the crypto winter. Bitcoin was teetering around $3,700. Ethereum had undergone the painful dive to sub-hundreds and was sheepishly roaming around $120-$150. The glory of the altcoin market has long gone. Needless to note, the spirits on the market have been skeptical, to say the least.
The market conditions, with which we've entered 2019, informed a lot of the activities we've focused on in the following months. It was clear that the proverbial "build it, and they will come" no longer works in the cryptocurrency industry.
Market participants started becoming diverse and had different needs depending on their role in the market.
Geographies adopted different legislation. Both traditional institutional finance and mainstream consumers were getting comfortable in the industry, only a few months ago quite unfamiliar to them.
Looking back to the last 12 months, we've done a lot of good work to be proud of. And we have more things to look forward to in 2020.
1/10: We've made fiat payments cheaper and more available 💸
As one of the most tenured regulated exchanges that support fiat, we've always kept our grip on making fiat payments more available. Allowing people to easily enter and exit the cryptomarket with tools familiar to them – credit cards, debit cards, bank transfers – is the key to cryptocurrency adoption. We've consistently carried that agenda through the entire 2019.
Both VISA and MasterCard withdrawals became instant on our side;
Commissions for card deposits and withdrawals became lower;
Card withdrawals became available without the prior initial deposit from the same card;
Minimum SWIFT and SEPA limits were reduced making this option more available;
Free deposits for SWIFT, SEPA, ACH, and FasterPayments;
Free withdrawals for SEPA, ACH, and FasterPayments.
2/10: We opened the US office and expanded in the US 🇺🇸
Though we served the US customers from the very start, it was only in the summer of 2019 that we've launched a dedicated presence in the US. You can say we did spend a lot of time getting to know the country before opening an office there. It's like in dating: at first, you start with weekend sleepovers. But then move so much stuff to your new partner that you can't help but move in as well (with a difference that we've stayed strong in our oldest hub, London, too 😉)!
CEX.IO Corp officially launched, and our US customers migrated under its service;
We've obtained 20 Money Transmitter Licenses to operate in the US and now can serve customers from 37 states! More to come!
CEX.IO complied with AML requirements and standards akin to ones applied to traditional financial institutions in the US;
A number of partnerships with payment providers and the US banks were established.
🚪 We continue opening new doors in the US and coloring more states green. Or shall we say, as in CEX.IO official color, turquoise?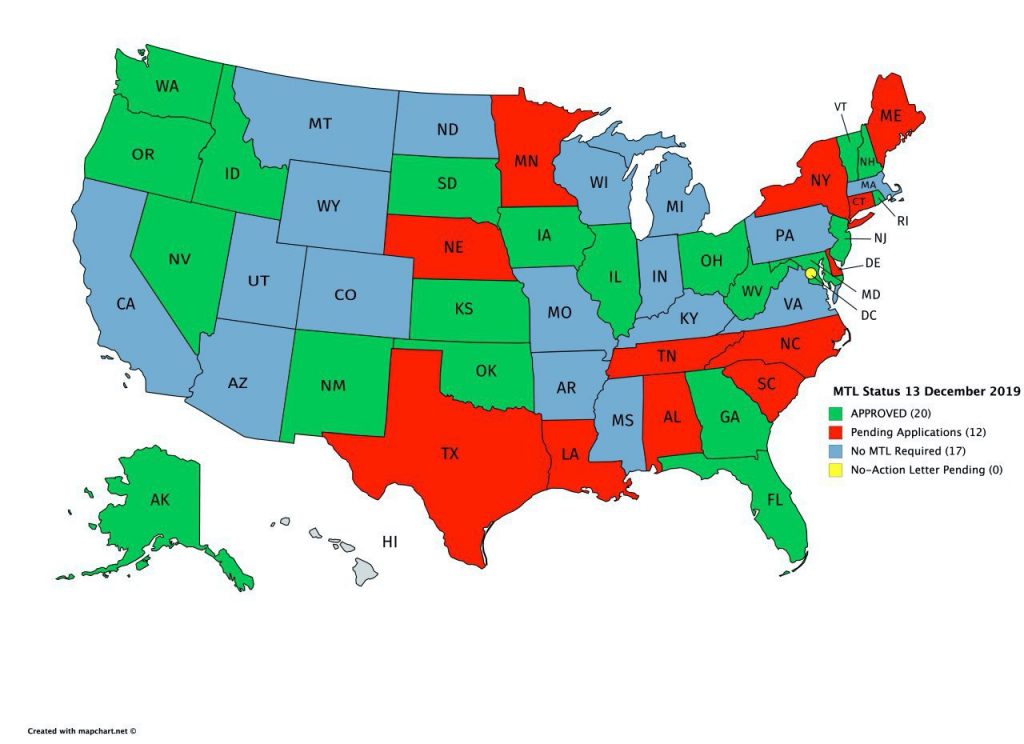 3/10: Listings of coins on CEX.IO platform 📑
In 2019, the regulation of digital assets started taking a more clear shape. As we understood better what was a go and a no-go in the eyes of the regulators, we started to actively add eligible new coins to our exchange. To a question, "Why so few?", we'll answer "Many more to come!" And we got quite an ambitious schedule for 2020!
In 2019, we listed:
Our ability to provide fiat pairs to coins makes us an important partner to any cryptocurrency project. Listing a digital asset on CEX.IO means giving the project's supporters a reliable gate into the ecosystem with commonly used financial tools, credit and debit cards. Moreso, it is not only the dollar pairs that we are talking about. Our strength in maintaining the British pound payments is quite unique!
4/10: CEX.IO participation in forming the regulatory clarity for the crypto industry 🏢
In 2019, we took an active part in the conversations with other market leaders and regulators about the key topics in the industry. We spoke on conference stages, closed roundtables, and shared thoughts with important media.
We participated in the roundtable & consulted FCA on developing the regulatory framework for the cryptocurrency industry.
Our team took part in discussions within the Southeast Asia Cryptocurrencies Working Group hosted by the UN (!) about the most prominent issues in the industry.
Among those issues was the FATF proposal to impose the standards of wire transfers on blockchain transactions. We've looked at it in-depth and even wrote some good articles about it!
Our approach to regulations has always been proactive. We operate in the emerging industry and we want to take part in forming its rules, on the regulatory level too. With good reasoning, transparent communication, and initiative, we believe we can be a good force advancing the cryptocurrency industry further to benefit all!
5/10: Exchange feature on Mobile App – swap any currencies available! 🔁
Not everyone comes to the cryptocurrency markets to trade. Some simply want to hold a set of specific coins and only change them from time to time. These people do not want to learn about candles on a chart and types of orders. They want convenience and speed.
To stay true to the idea of making cryptocurrencies available for everyone means taking the needs of these people into account too. The Exchange function that we've added to our mobile app, covers exactly those needs.
The Exchange function allows you to convert one currency to another in a few taps. To find it, in the CEX.IO mobile app you go to Wallet -> Exchange.
The process is super-intuitive – fast, easy and simply fabulous! 🤩
If a trading terminal, graphs, order forms aren't your thing, but you still want to own specific coins and be flexible to change them anytime – Exchange function on CEX.IO mobile app is your best friend!
6/10: CEX.IO Broker has obtained CySEC License ✅
Under the umbrella of the CEX.IO brand, there is a number of companies that power various distinct business divisions. These companies form a tightly knit ecosystem, which our customers interact with when they use our services.
One such company, CEX.IO Markets Ltd, a Cyprus-registered entity, in 2019 has obtained a license from the Cyprus Securities and Exchange Commission ("CySEC"). Under the license, CEX.IO Markets Ltd has been authorized to operate as a Cyprus Investment Firm("CIF") under the MiFID II framework.
To put it simply, it is the license to provide investment services and instruments (including derivatives) to retail European Customers 😱📈📉
MiFID II is a legislative framework instituted by the European Union to regulate financial markets and to improve protection for retail investors.
As part of the licensing process, CEX.IO Markets LTD underwent a regulatory review by CySEC, which included satisfying the requirements to initial capital, business processes, organizational procedures, and staff.
😍This means a lot of exciting things are coming in 2020! Stay on the lookout!
In the meanwhile, hi-fives for reading this far! 🙌🙌🙌
Now, let's move on…
7/10: Electronic Money Institution (EMI) license in our ecosystem 👏
To continue the theme, the UK-registered company within the CEX.IO ecosystem, Decent Finance Ltd, has obtained the Electronic Money Institution (EMI) license from the UK regulatory body, FCA!
It's a HUGE one! Just take it in:
With this License, we can issue electronic money/currency.
We can also service third party payments (think sending/receiving payments to/from somebody else).
Moreover, we can issue cards with major vendors (Visa, MasterCard) and develop our own card payment system. 💳
Are you aroused yet? Because we certainly are! 🤤 🤩
8/10: We streamlined and improved the Verification process 🚀
Customer verification is an important process at CEX.IO. It ensures that only legitimate funds circulate on the exchange. Yet, the verification in of itself is not a goal. Providing a safe trading environment is. Hence, the verification process needs to be as painless and as easy as possible. At CEX.IO, we've channeled a lot of effort to streamlining verification:
We've implemented a simplified Identity verification in our Mobile app, and verification in the desktop version was upgraded too;
The process has become very intuitive and swift;
We've modified the Enhanced verification to make it similarly easy and fast;
We've shared guides to describe all the ins and outs of the verification on CEX.IO.
What's ahead? 🤩 Right now we are testing an even simpler, faster and more convenient verification flow. Liveness check, address prefill, identity document's fields prefill, and more. KYC, done simply! 😍
9/10 Margin trading on a standalone platform, CEX.IO Broker 🔥
Those users, who's been with us long enough, know we used to have margin trading within the CEX.IO Exchange. As we took the regulated path for our evolution, we chose to have a standalone platform for margin trading, CEX.IO Broker. And the platform would have a clearly defined instrument, CFD.
CEX.IO Broker launched in the closed beta in April 2019, and since then we've made a ton of improvements based on the users' feedback!
We've optimized the order execution logic, decreased the platform latency, deepened the liquidity, tightened the spreads.
We've also made serious progress on the regulatory front (and we told you about it earlier!)
📈 The team is in the final stages of polishing the user experience of CEX.IO Broker. Soon, very soon, it will be ready to see the world! 🎆
10/10 Our community, YOU! 🙌
There is a saying, "Sometimes you find yourself in the middle of nowhere and sometimes, in the middle of nowhere, you find yourself."
As the year 2019 has come to an end, no matter where you are, we wish you to always be at peace with yourself. With spectacularly achieved goals or with incomplete goals, on a rocket ship of progress or stranded, no matter where you place yourself, we hope that deep in your heart you know your direction. ⤴️
We, at CEX.IO, also wish we'd done more in 2019. That pursuit of reaching higher and moving faster is us being humans. Yet, where we are and what we did – we are proud of and grateful to.
Our achievements of 2019 are not complete without highlighting our community. Opening a two-way dialogue with you has been one of the most rewarding undertakings this year. Because of you, we got to learn so much about our users, the market, and about ourselves. Thank you!
More so, we got to meet some amazing people, our community ninjas and active participants. You are in different parts of the world, but we feel like we are friends who come together to discuss something we deeply care about and want to make the best of.
We are looking forward to engaging our customers more in our progress in 2020! We are off to a great start!
With that, Happy New Year! May you love what you do and what you have! May you feel needed and appreciated!
Let 2020 be yet the best year of your life!
Warmly, from the CEX.IO family to yours. ❤️