Reddit is a weird place. It is the main source of the Internet talk, news and a good laugh. Yes, reddit has it all. What bubbles to the top on one day, may easily be forgotten on another.  Here is the list of four posts on /r/bitcoin that were recently discussed.

While Apple unveiled its new expanded payment platform in September, not everyone was excited with its plans so far. While the company swings the door all the way for the future of millions of accounts on iTunes with apple Pay, many Bitcoin enthusiasts see the Apple's move as a potential threat to the future of cryptocurrency. Still, not everyone agreed about the competition between Apple Pay and Bitcoin itself, so this reddit post went into more detail.

Affected by various factors, the price of Bitcoin is known for high volatility and its wild moves are more than expected. It has topped an all-time high of $1162 on 30 November 2013 and then was decreasing. All the while, some people believe that Bitcoin "crash" is trivial.

Once Bitcoin difficulty increased and more and more people got involved in the mining process, there are many hot discussions whether mining is still profitable this year. A bunch of different opinions on what one should do with a miner that is no longer profitable appeared. Given that Bitcoin mining gives off extra heat, it could be used to warm a home.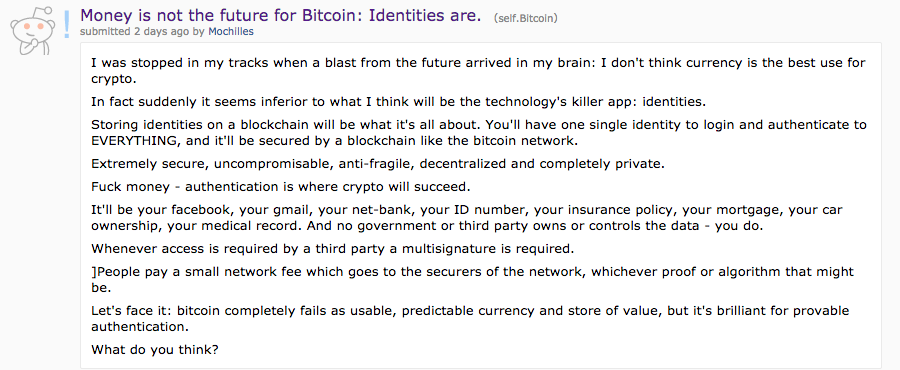 The post explains how Bitcoin could be much more than just a currency. It goes on to say how Bitcoin could one day be a way of identity; one's Facebook account, medical record, ID number, even one's car ownership. If this ever happened, the "internet currency" we now know as Bitcoin could one day be just the currency, as one of the commenters said.
By Elias Kario for CEX.IO