Picture this: it's April, you're cruising down a desert highway in an old muscle car (like a '68 Charger), with a classic rock tune (like Ramble On by Led Zeppelin) blasting through the speakers. The sun is shining, the wind is in your hair, and the roar of the V8 under the hood is echoing across the desert sand. Life is good.
Why? Because you're at peace, knowing that your crypto portfolio at CEX.IO is safe and sound. You've just read this April Monthly Digest, and you know all about the latest and most relevant market info. In one place.
Since 2013, our mission has been to always give you the highest quality, most up-to-date, and relevant crypto information. In a sense, you can think of our longstanding ecosystem as a 1968 Dodge Charger, or any Led Zeppelin tune: a classic.
Timeless and reliable, we're always there when you need us. And then some. So, let's kick it into high gear, rev up that engine, and go through everything we've accomplished in April 2023. Ready? Set. Go!
Company updates
April brought significant changes for our worldwide users, with some of them opening up new crypto horizons, while sunsetting certain legacy ones.
COMPASS Q1 2023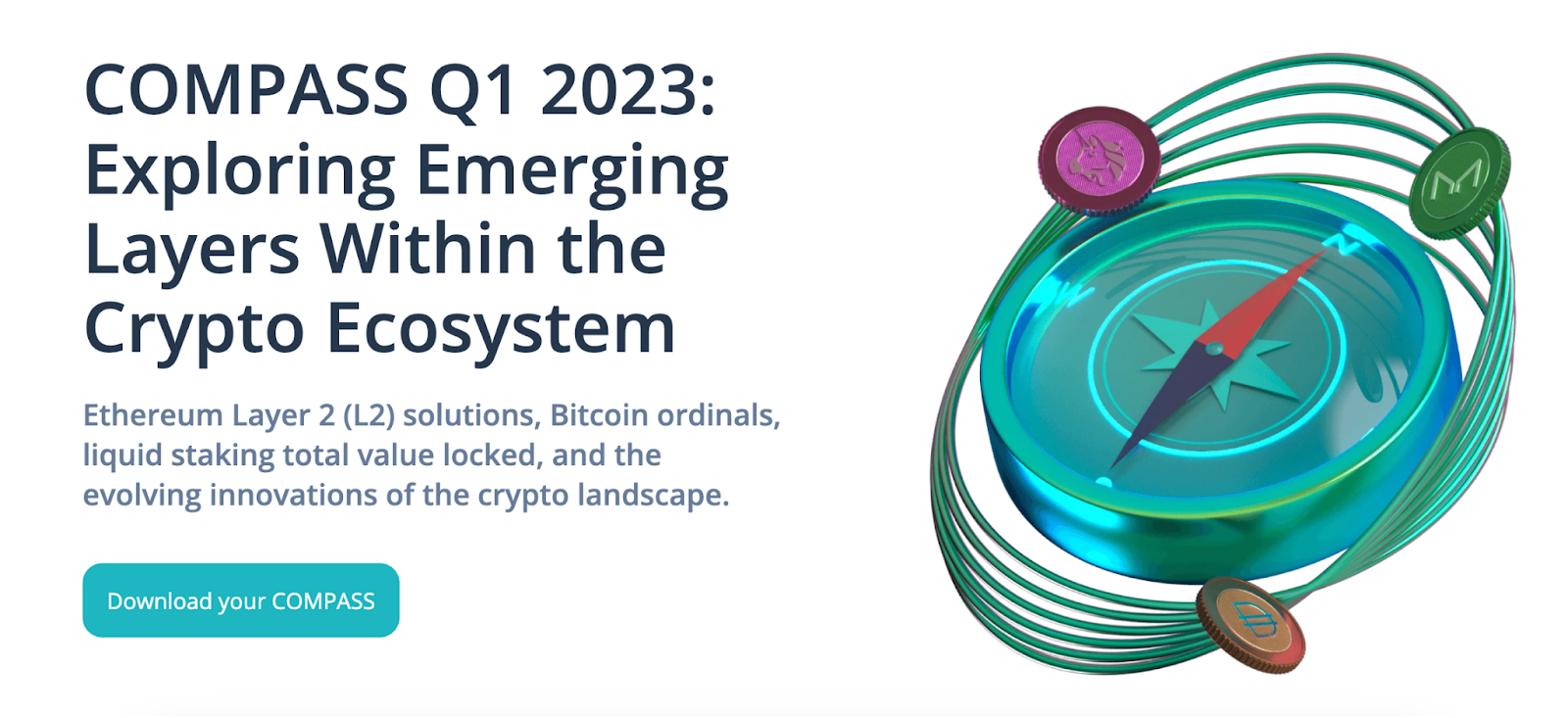 Our COMPASS series of detailed industry reports continues, where the CEX.IO Market Research Team peers under the hood of the crypto ecosystem to run a diagnostic analysis of its health and resilience.
This time, we covered topics like Ethereum Layer 2 (L2) solutions, Bitcoin ordinals, liquid staking total value locked, all the way to the evolving innovations of the crypto landscape. Wanna see how our report can help you navigate stormy crypto seas?
$5,000 USDT trading competition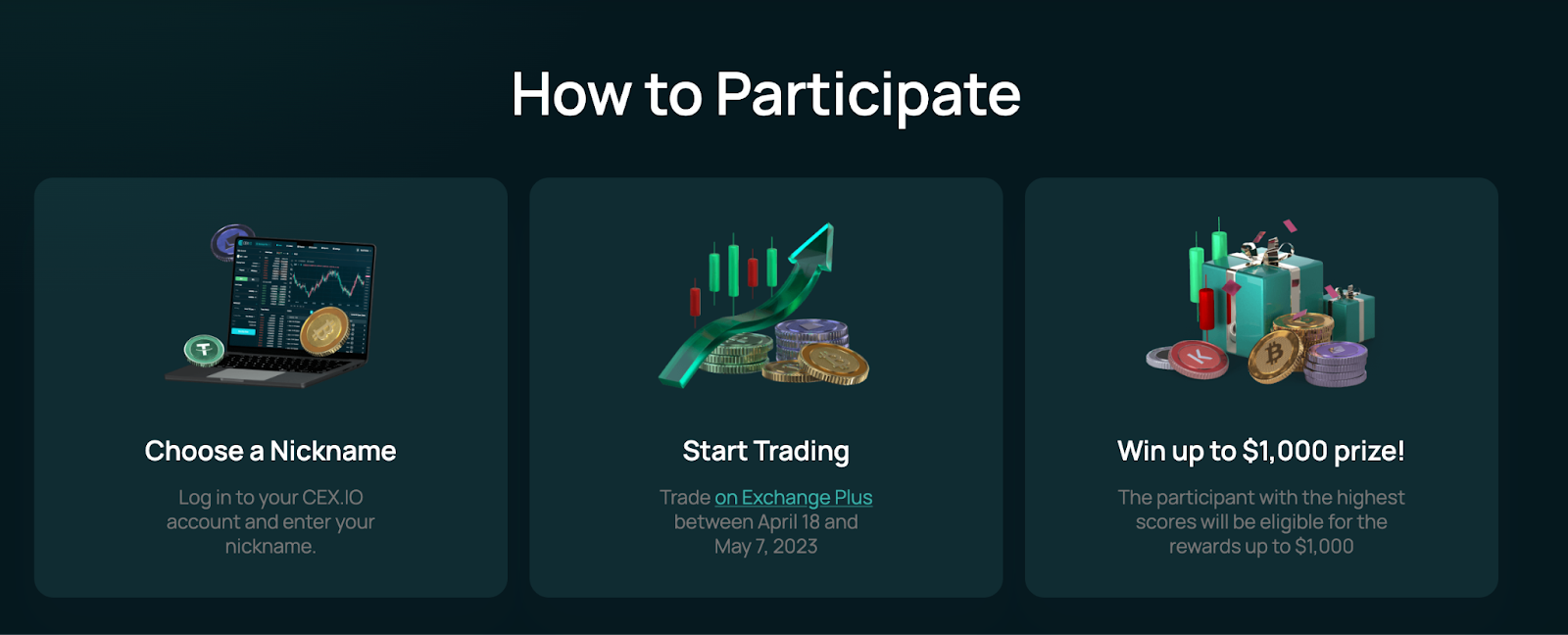 Exchange Plus is already awesome, but in the spirit of free knowledge (and crypto, mind you), we're giving away a total of $5,000 USDT for trading on this deep liquidity platform, for a limited time only.
Participation is straightforward: you need only choose a nickname, trade on Exchange Plus no later than May 7, and potentially win up to a $1,000 USDT individual prize. Pretty dope, right? So, whaddya say?
U.S. payment rails update
In light of the current uncertainty surrounding the U.S. banking system, we've decided to restructure our funding options. We saw this as a unique, forward-looking opportunity to secure the accessibility of our services.
As a proactive measure, we're insulating the CEX.IO community from potentially negative and disruptive outcomes — at least until the banking environment crystalizes with certainty.
Delisting notice
In the interest of ensuring only the best and safest trading experience for our users, we delisted 31 cryptocurrencies and 15 ETH markets from our legacy Exchange platform.
These crypto assets were delisted due to little or no trading activity. However, associated assets (where ETH pairs were removed) remain available on our platform. You can still trade them on other supported markets. Regardless, we're continually searching for other, more liquid assets to list on CEX.IO.
FLR deposits and withdrawals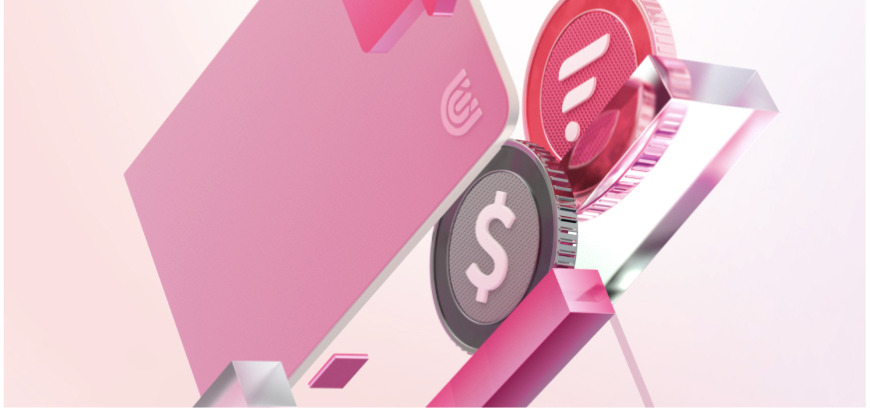 We've opened deposits and withdrawals for Flare (FLR) on our platform. You can trade this layer 1 EVM token in a pair with USD, or explore new on-/off-ramps for increased asset mobility across our product ecosystem.
GALA recovery plan
Our unique recovery plan is in motion. Users who were involved in GALA transactions on our platform between November 3, 2022, and February 8, 2023, have been notified of details via email.
Awards and ratings
April was another in a long line of consecutive months in which our ecosystem welcomed a torrent of third-party recognition. Some of the most exemplary samples are available below.
Vetted exchange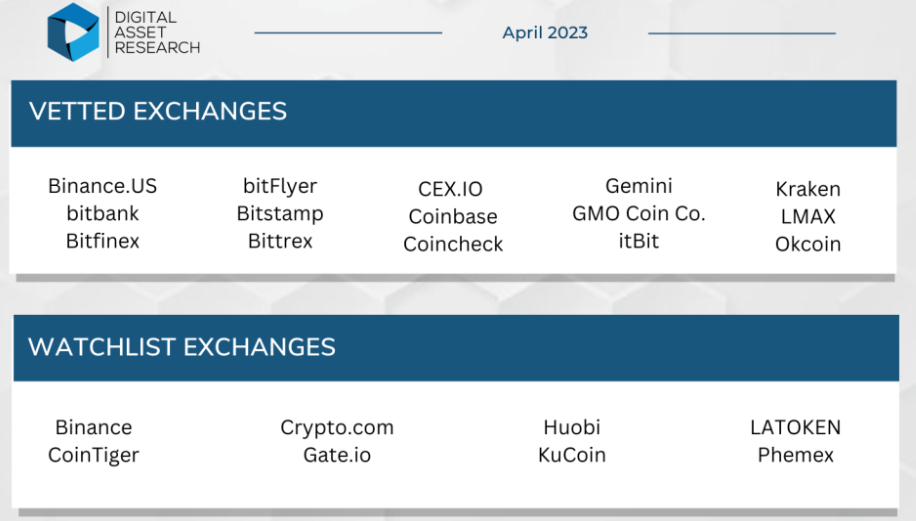 In its April 2023 Crypto Exchange Vetting results, CEX.IO was, once again, listed as a "Vetted Exchange" by Digital Asset Research, a leading arbiter of crypto and exchange health.
The quarterly review evaluates on-chain information to provide impartial clarity. In doing so, it calculates the potential risk institutional clients might face while transacting with various companies in the digital asset space.
This crypto asset data and research outlet, based in NYC, combines traditional qualitative and quantitative due diligence to determine which exchanges are reporting accurate prices and volumes to their communities.
Hedgeweek nominations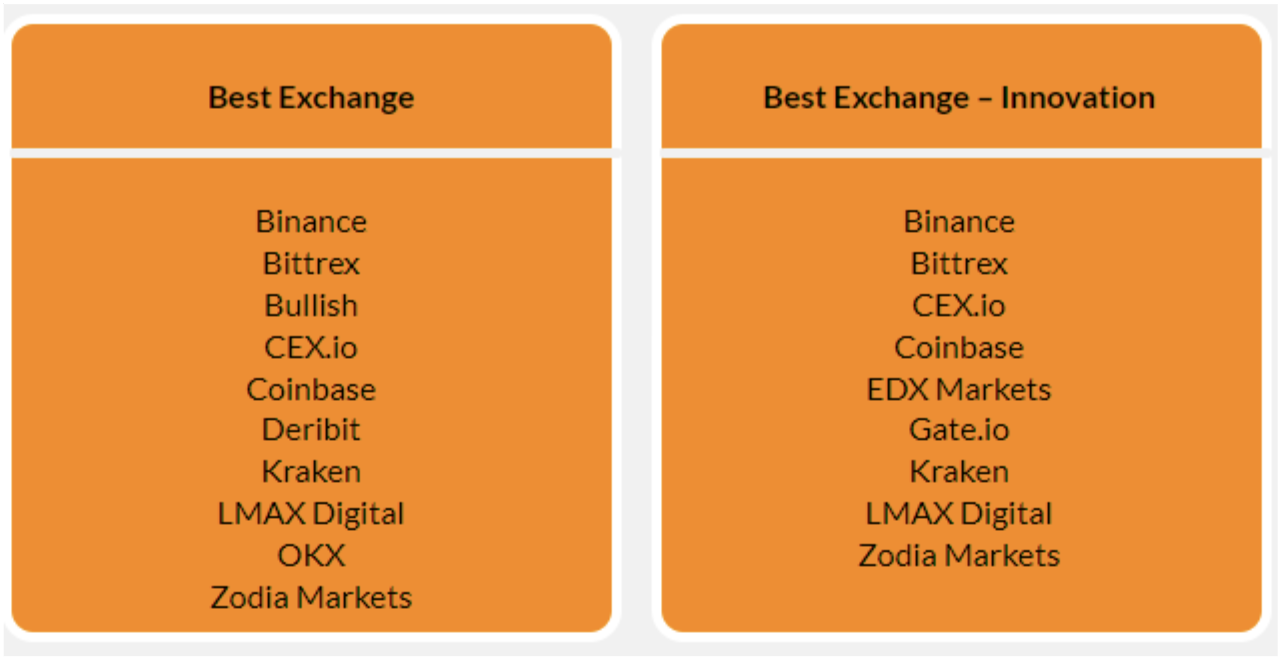 The Hedgeweek European Digital Asset Awards 2023 shortlisted CEX.IO in two categories for another year. Our nominations included "Best Exchange," and "Best Exchange — Innovation."
The final decision will be put to a public vote by fellow industry participants, so cast your ballot for CEX.IO by May 15 at the link below.
"A" rating from CCData
Formerly CryptoCompare, the reputable ranking and market research outlet, once again gave an "A" rating to our ecosystem of products and services. CCData bestowed this accolade on CEX.IO for our ongoing commitment to excellence in the digital asset space.
In its April 2023 Exchange Benchmark Report, the outlet concluded that CEX.IO has continued to refine its offerings in several key areas. Examples include improvements in categories such as Legal/Regulation, Security, and Market Quality. We're especially proud of another perfect score for KYC/Transaction Risk prevention.
Educational pieces
In line with our core belief that knowledge should be free, we've crafted numerous in-depth research pieces in April, touching on key industry topics and emerging technologies.
Blockchain explorers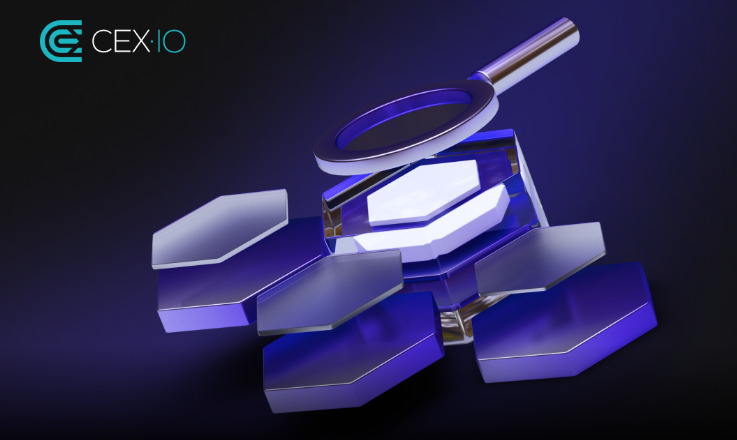 Breaking down complex terminology is kind of our thing (not to say "fetish"), which is why we enjoyed getting nitpicky about exploring…well, blockchain explorers. In this CEX.IO University educational piece, we looked into what these tools are, why and how to use and choose the right ones, and numerous examples of blockchain explorers for your reading pleasure.
Horizontal channel/price ranging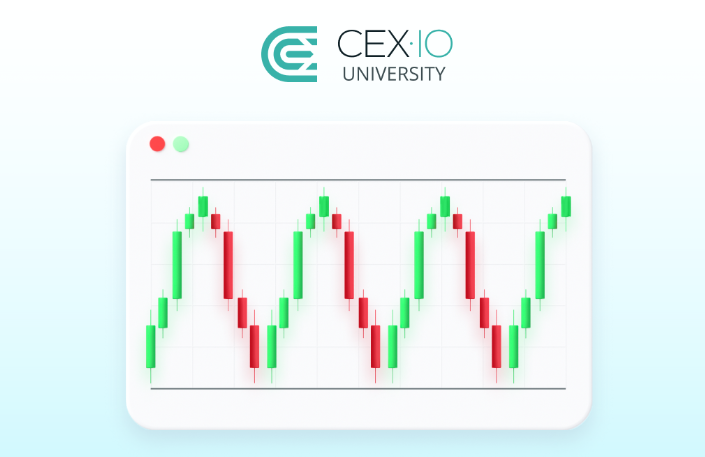 Whether you're crypto serious or crypto curious, understanding charts and trends can be a powerful tool in your trading arsenal. In another CEX.IO University educational piece, we explore and explain what horizontal channels and price ranging are, and how you can weaponize this knowledge to potentially beef up your portfolio. Curious?
Are you using ChatGPT effectively?
Artificial intelligence has been around far longer than cryptocurrencies. And while it has previously occupied the minds of mostly philosophers, scientists, and the occasional Hollywood movie director, 2023 has seen this topic explode into the mainstream.
ChatGPT was the progenitor of such exponential growth in AI interest. As early adopters of all things crypto-related, we got curious and delved deep (much too deep) into this online AI tool. We soon figured out that, while not perfect, it has plenty of potential. So, we decided to share our findings with you in yet another one of our April University educational pieces.
CEX.IO continues U.S. operations
At a time when regulators continue further probing into the crypto industry, and the traditional banking sector wobbles, many crypto exchanges and firms have shut down the availability of their services for U.S. customers. But, not us.
In the spirit of lasting commitment to our community, CEX.IO continues to operate in this part of the world — albeit, in a restructured form. Therefore, U.S. customers can:
We're proud of this accomplishment!
The crypto industry is an exciting, and sometimes, confusing world. In an age when technology develops at an unprecedented speed, it can be tricky to keep up and discern relevant information from mere words on a page.
At CEX.IO, we craft our Monthly Digests with the utmost care, and a mission to inform and educate — a founding purpose that remains unchanged since our days as a crypto hatchling in 2013. With over six (6) million users to date, we adamantly strive to simplify, not scale.
We've found the same quality in most "old" things: be it cars, music, or life, the more straightforward, the better. So, when you're driving down that desert highway in your '68 Charger listening to Led Zep, we'll be right there with you: just a tap of a smartphone screen away.
Stay tuned for our May Monthly Digest and may the markets trend in your favor!
Disclaimer: Information provided by CEX.IO is not intended to be, nor should it be construed as financial, tax, or legal advice. The risk of loss in trading or holding digital assets can be substantial. You should carefully consider whether interacting with, holding, or trading digital assets is suitable for you in light of the risk involved and your financial condition. You should take into consideration your level or experience and seek independent advice if necessary regarding your specific circumstances. CEX.IO is not engaged in the offer, sale, or trading of securities. Please refer to the Terms of Use for more details.