The crypto space moves at warp speed, but it's still hard to believe we're a month into the New Year already. And yet, looking back on the events that unfolded in January, and all we've accomplished as a company, the quick passage of time starts to make sense. CEX.IO hit the ground running in 2023 with new products and services, a packed media presence, engaging educational content, and fresh award nods that all lend support to our reputation as a time-tested industry leader.
With markets testing the feasibility of a rebound, we met the community halfway with thoughtful educational content that accounted for both bullish and bearish outcomes. And with renewed regulatory scrutiny in the digital asset space, we constructed a helpful timeline to put the latest developments into context. It's important to understand how such guardrails could help protect the broader crypto ecosystem.
We debuted additional avenues for exploring the ecosystem, such as Exchange Plus, and expanded our Earn program through a new staking model, sub-accounts, and enhanced Savings. Eligible users can also choose to participate in a variety of ongoing promotions, like our Hot Winter of Crypto Staking, to test out newly acquired crypto knowledge, and seize emerging opportunities.
CEX.IO leadership enjoyed a prolific month of media appearances in January. Our Founder and CEO, Oleksandr Lutskevych, made three trips to the Cointelegraph Innovation Circle to discuss a variety of topics including transparency, better industry protections, and how stablecoins could better live up to their name.
January also saw our first appearance on HackerNoon. Rich Evans, Managing Director of CEX.IO's Prime Liquidity program, published a piece on how technological innovations, and the inner workings of PoS will likely impact the industry. Plus, our Head of Communications, Becky Sarwate, brought our expertise to the forefront to share her hopes for the crypto space in 2023.
Finally, the year kicked off with CEX.IO being shortlisted for a pair of awards by the Hedgeweek U.S. Digital Assets Awards 2023. The decision was put to a public vote, which is currently being tallied. With the ceremony scheduled for early March, we should know the results in a matter of weeks! In the meantime, brush up on the latest CEX.IO news, expand your crypto knowledge, and help us celebrate a successful start to 2023.
Read along and choose your path via the links below.
Company updates
Introducing: Exchange Plus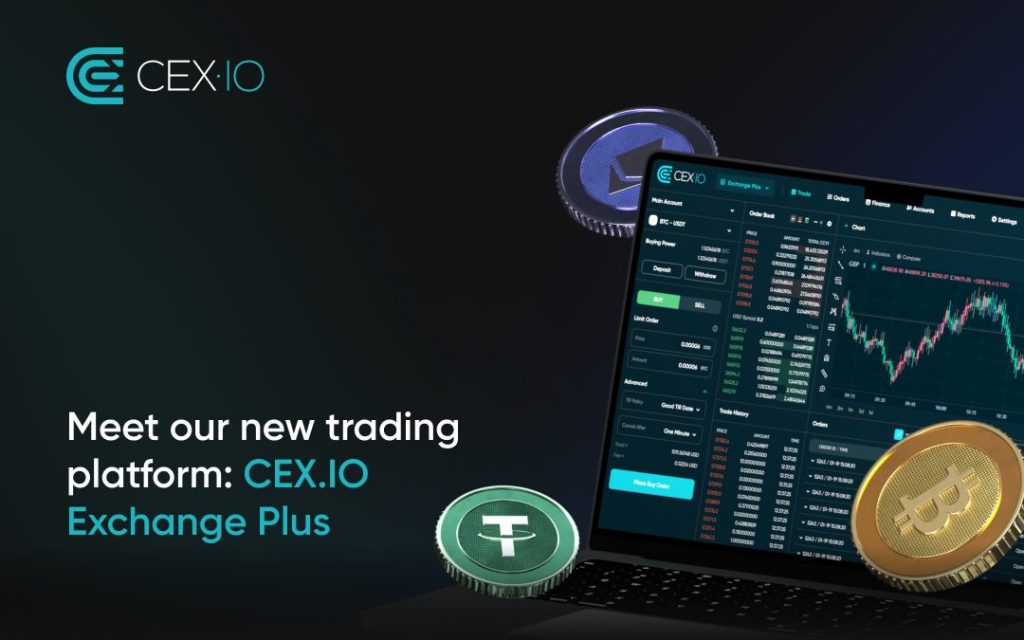 We announced a major advancement in user empowerment with the release of Exchange Plus, our new ultimate trading platform. Featuring enhanced functionality and deep liquidity provided by our institutional arm, CEX.IO Prime, Exchange Plus gives traders access to a deeper pool of bids and asks across a wider range of available markets. Drawing from a decade of leadership and innovation in the crypto space, we built Exchange Plus to fill remaining gaps in a DeFi trader's toolkit.
Verified CEX.IO users can create up to five (5) sub-accounts to experiment with different trading strategies to best satisfy their unique risk appetite. Exchange Plus users will notice new order types such as Stop, Good til Date, and Immediate or Cancel, allowing for greater flexibility and precision around trade execution. Plus, with integrated TradingView price charting, users can monitor price movements, and react without leaving the terminal.
Try our new all-in-one trading solution at the link below.
 Note: Exchange Plus is currently not available in the U.S. Check the list of supported jurisdictions here.
New staking model at CEX.IO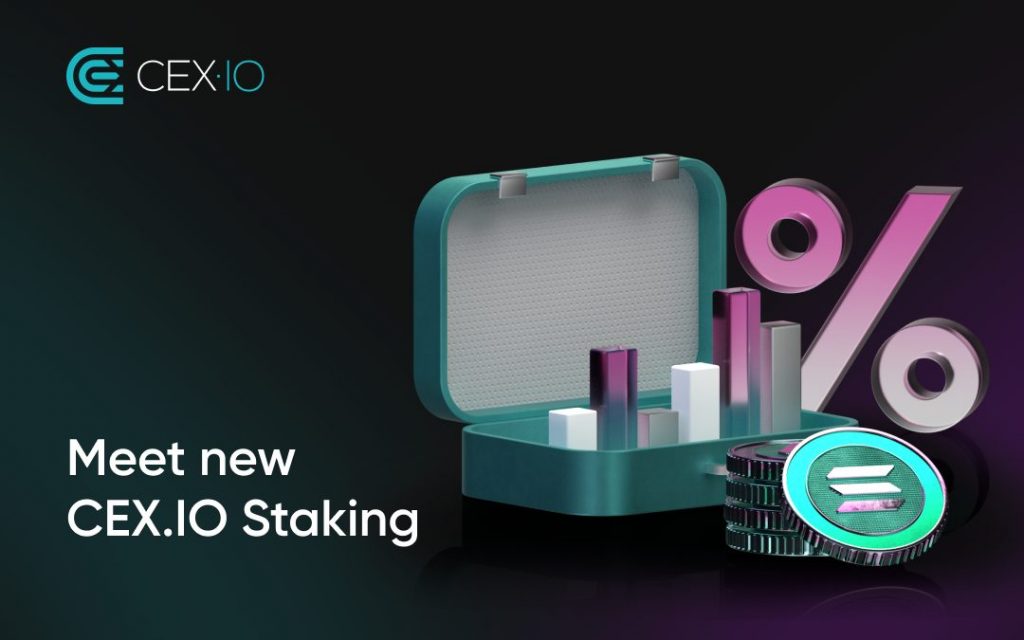 Since the launch of our staking services, we've always prioritized offering user-centric pathways for earning crypto rewards. After cementing a reputation for providing hassle-free, no lock-up staking with reliable monthly APYs, we challenged ourselves to build a fresh incentive that still put our community first. Hence, our new staking model was born.
Now, in addition to offering our existing, automatic staking service, the new staking model allows users to manually transfer their assets into sub-accounts to begin earning daily rewards. In other words, users who take advantage of this new model will see a daily, as opposed to monthly, increase in their digital asset portfolios. To help stoke excitement, first time stakers will also have the opportunity to earn a temporary 50% increase on their APY for eligible tokens.
Explore our new staking model at the link below.
Note: CEX.IO Staking is currently not available in the U.S.
Hot Season of Crypto Staking promo
The weather may be dreary, but the markets could be starting to thaw. To help nudge them along, we launched the Hot Winter of Crypto Staking promo to give users a chance to earn temporary increased rewards on select stakeable tokens. Each week during February and March, we'll feature a different digital asset, and for that duration, users will earn anywhere between 100-250% in additional rewards on their eligible holdings.
To turn the temperatures up even higher, we're offering new CEX.IO stakers the chance to share a $5,000 prize pool. The first 500 users to join the promo and expand their crypto journey through staking will enjoy a chance to win. Is it getting hot in here or what?
View a complete schedule of featured assets and promo details at the link below.
Note: CEX.IO Staking is currently not available in the U.S. .
CEX.IO shortlisted for "Best Exchange" and "Best Exchange – Innovation" by Hedgeweek U.S. Digital Assets Awards 2023
Investment management news outlet Hedgeweek announced on social media that CEX.IO was shortlisted in two categories by their 2023 U.S. Digital Asset Awards. With nods for both "Best Exchange" and "Best Exchange – Innovation," the decisions were then put to a public vote open to eligible industry participants. As we wait for the results, keep eyes out on our official channels for any updates regarding our award status.
Last year, CEX.IO was named "Best Exchange" at the European Hedgeweek Digital Asset Awards 2022, after receiving over 9,900 votes. A win in one or both categories would officially jumpstart CEX.IO's positive, third-party recognition for 2023.
Learn more about our nominations at the link below.
BTC and ETH Savings still going strong
While market trajectories remain undecided, we introduced a BTC and ETH Savings program through our Earn service to accommodate participants who prefer to HODL their coins. Verified users can elect to move their BTC and/or ETH into a flexible Savings account to begin earning rewards. Similar to our hassle-free, no lock-up crypto Staking services, users who elect to utilize BTC and/or ETH Savings can do so without impacting their asset mobility.
Much like our ongoing educational content, we want to provide our community with the information and means to navigate the changing waters of the crypto ecosystem. With current APYs listed at 0.5% and 1% respectively for BTC and ETH, CEX.IO users enjoy no minimum requirement to begin increasing their portfolios.
Explore the BTC and ETH Savings at the link below.
Note: CEX.IO Staking and Savings products are currently not available in the U.S.
New listings and asset changes
Flare (FLR) airdrop and listing
CEX.IO announced it would participate in the FLR airdrop. According to details released by the project, the distribution ratio was 1 XRP = 0.15 FLR, with a minimum required balance to qualify of >833 XRP at the time of the snapshot (00:00 UTC 12/12/2020). Eligible users were contacted via email following the event, and not subject to an airdrop fee.
FLR is the native token of the Flare project, a layer 1 (L1) blockchain for building dApps capable of cross-chain interoperability. The token can be used for transaction fees, payments, and staking, while improving network security.
New educational offerings
Riding the Tides of Crypto Regulation
For those still reeling from the events of 2022, this piece should probably come with a trigger warning. However, it's our responsibility as a trusted crypto guide to assess the ongoing realities impacting the ecosystem, and highlight the ideas and solutions that could reinforce the safety of all market participants.
Now, with regulators taking a harder look at the digital asset space, and certain bad actors experiencing sunlight's cleansing properties, we're more dedicated than ever to championing better regulatory oversight for the crypto industry. Explore a concise look at the global response to the FTX collapse, and discover what new developments may lay ahead for your crypto journey at the link below.
Automated trading during bear markets
With prices in flux, bears and bulls are at odds as to which direction the markets are headed. To brace for all eventualities, we assembled a detailed guide outlining trading strategies for participants looking to satiate a low risk appetite. Learn how an automated approach can temper the emotions of trading, while still helping to achieve your crypto goals.
From conceptual, big picture trading theories, to the application programming interfaces (APIs) that work seamlessly within our product ecosystem, explore the many pathways that exist for traders during a bear market.
AML/KYC Procedures: Educating the Market Since 2013
CEX.IO has been educating and helping crypto enthusiasts navigate their journey since 2013. Over this time, and by prioritizing customer safety and security over more selfish goals like profit, we have earned a reputation for thoughtful and thorough KYC/AML Procedures.
We welcome everyone to our global community of cryptocurrency enthusiasts (to date over six million users) and invite you to join the fun and learning.
CEX.IO in the media
Our CEO nets a hat trick on Cointelegraph
At one point, our Founder and CEO helped discover over half a million BTC with his legacy mining pool, GHash.io. Rather than rest on his laurels, Oleksandr Lutskevych has worked tirelessly for over a decade to promote widespread crypto adoption through increased access and education. To achieve this end, Alex is a regular contributor to Cointelegraph's Innovation Circle, where he weighs in on pressing issues impacting the digital asset space.
In January, Alex made three appearances to the Innovation Circle to discuss a wide array of topics. From how companies can improve transparency, to protections crypto can borrow from TradFi, to ways stablecoins can better live up to their name, Alex's wisdom and expertise shown throughout.
Learn more about the Innovation Circle at the link below.
Evolution in the crypto space
With the specter of 2022 still looming large, the crypto industry is at a crossroads. However, we've weathered our fair share of cold snaps and malcontents before. This crypto winter iteration could prove fertile ground for a new era of oversight and exploration to take root. To help map some of what may lay ahead, our Head of Communications, Becky Sarwate, spoke to Rally Point to expound on what she believes 2023 has in store for the crypto space.
From accountability for bad actors, to letting innovation lead the way, Becky emphasized how these ingredients are essential to rebuilding trust and expanding access to the crypto curious. Plus, learn what unsung story from last year could pave the way for wider crypto adoption in philanthropic and relief efforts.
Dive in at the link below.
Staking piece on HackerNoon
Where much of the conversation around crypto staking is centered around profit, seasoned industry veterans know the mechanics of PoS are much more nuanced. Rich Evans, the Managing Director of CEX.IO's Prime Liquidity program, helped raise some of these oft-overlooked aspects of crypto staking in his first piece published on HackerNoon.
Rich placed market forces, like inflationary cost, alongside innovations such as liquid staking and layer 2 (L2) solutions, to paint a complete picture of what the future of PoS could resemble. While each token economy is governed by its own unique internal workings, over time, these macro effects are set to impact individual and institutional holdings alike.
Grab HODL of the full article at the link below.
Disclaimer: Information provided by CEX.IO is not intended to be, nor should it be construed as financial, tax or legal advice. The risk of loss in trading or holding digital assets can be substantial. You should carefully consider whether interacting with, holding, or trading digital assets is suitable for you in light of the risk involved and your financial condition. You should take into consideration your level of experience and seek independent advice if necessary regarding your specific circumstances. CEX.IO is not engaged in the offer, sale, or trading of securities. Please refer to the Terms of Use for more details.