Trading fees can be a major cost factor for frequent traders. High fees eat potential profits and can dramatically alter a trader's plan. 
Traders are constantly on the lookout for an exchange that offers them the lowest fee schedules, in an effort to protect their profits.
Good news then! CEX.IO is cutting its trading fees to help traders with optimizing their operations.
The standard taker and maker fees of 0.25% and 0.16% are now significantly reduced if you exceed a monthly trading volume of $10,000 at CEX.IO. 
Specifically, CEX.IO now offers some of the lowest trading fees in the cryptocurrency market, if you realize a limit order (maker order) volume of over $100,000 per month.   
Fees drop in tiers as your monthly trading volume grows, which can reach as low as 0% for maker fees and 0.1% for taker fees, if you manage to generate a volume of $10 million per month.
For a complete, detailed breakdown of the new fee schedule at CEX.IO,  visit this link – https://cex.io/fee-schedule 
Please note that the old fee schedule will still apply to pending orders placed before January 12. To prevent incurring these fees, you can opt to cancel pending orders you may have before January 12, then place the same orders again, benefitting from the new, more advantageous fees.
How Are Fees Calculated?
At CEX.IO, different fees apply for market orders (taker) and limit orders (maker). 
For example, if you place an order at the current market price and your order is filled immediately, it becomes a market/taker order, where you pay a trading fee that starts at 0.25%. 
On the other hand, if you place an order with a different price than the current market price, the order gets placed on the order book and waits there until an exact opposite order comes and fills your pending order. In that case, your order becomes a limit/maker order where you pay a trading fee that starts at 0.15%. 
Some Of The Lowest Fees In The Industry
With its new fee schedule, CEX.IO now offers some of the lowest trading fees in the industry. 
Most importantly, fees are lower than major competitors, like Coinbase, Binance, Crypto.com, and Gemini. The table below illustrates CEX.IO costs versus competitors in different tiers of monthly trade volumes, in terms of both maker and taker fees: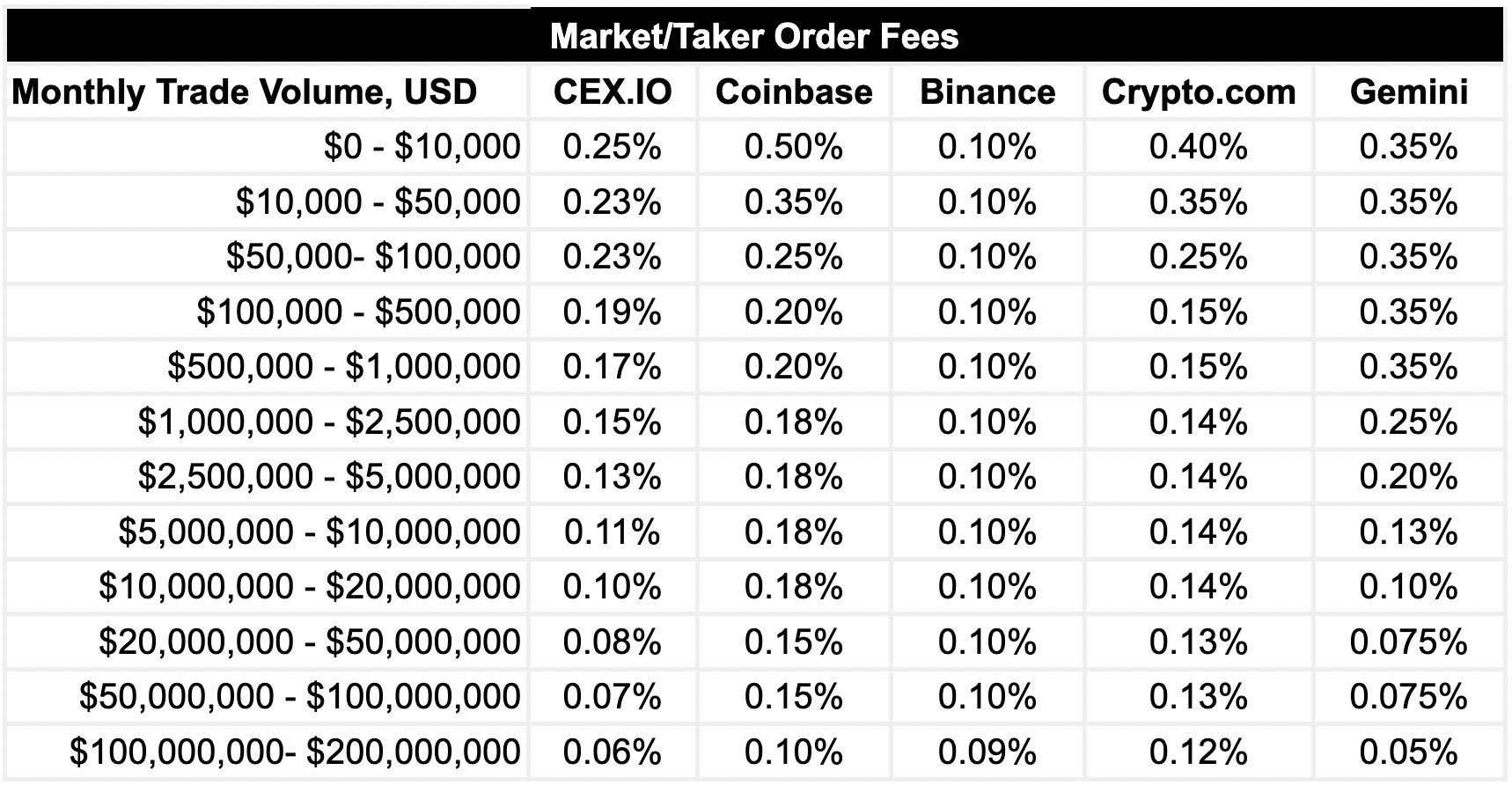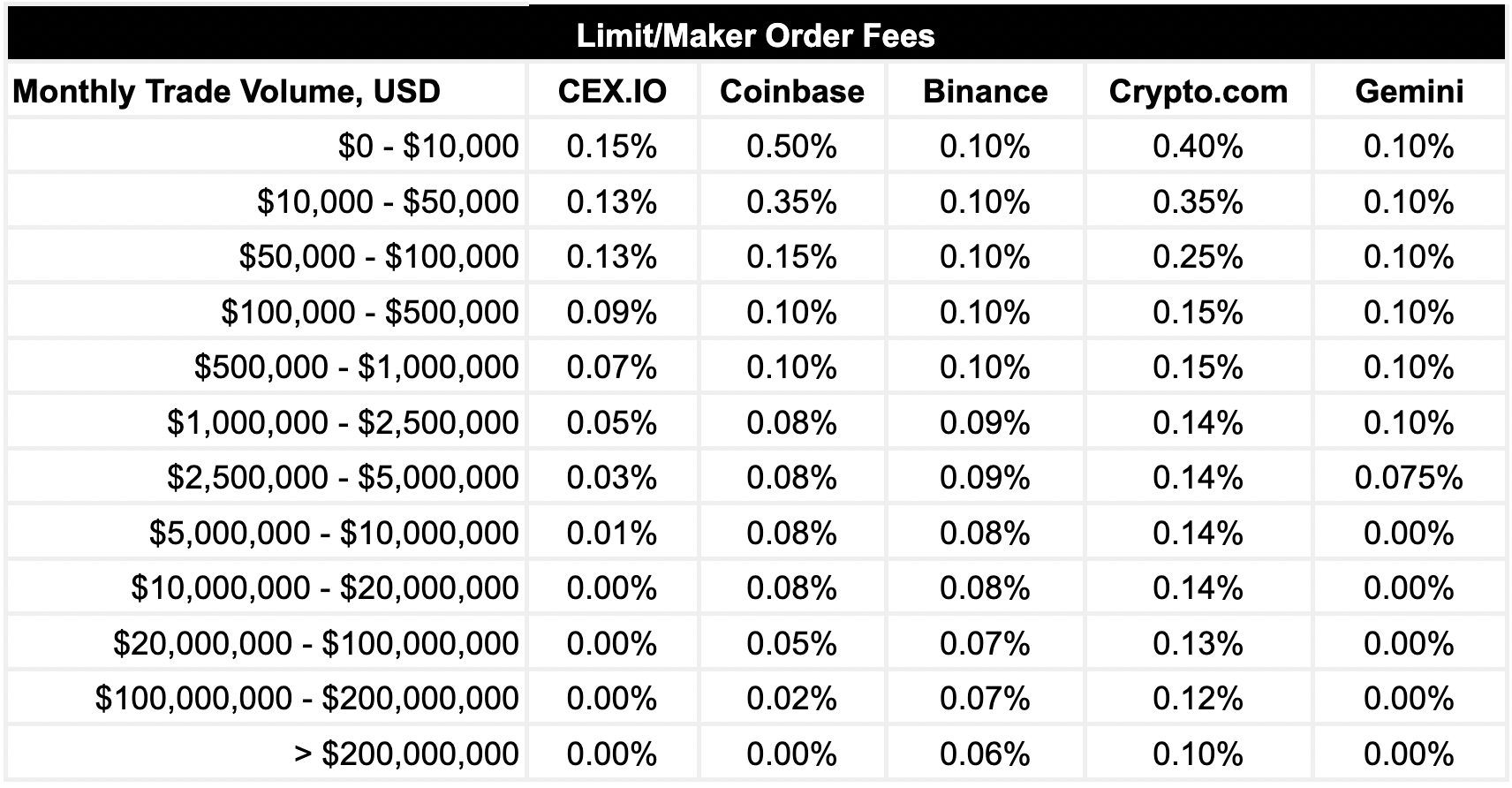 Trading Volume Calculated in USD, Rather than BTC
Monthly trading volumes at CEX.IO used to be calculated in terms of BTC over the trailing 30-day period, where there was a minimum volume requirement of 5 BTC per month to access lower fees than the entry-fare (0.16% and 0.25%).    
Accounting in BTC used to be the norm back when trading with fiat currency pairs was uncommon, and the 5 BTC threshold was established when the price of Bitcoin was below $2,000. 
Considering the widespread adoption in fiat currency pairs, and Bitcoin's adding a digit to its value over the years, the monthly trading volume at CEX.IO is now calculated in terms of US Dollars.
You're now able to benefit from lower fee tiers as soon as your monthly trading volume reaches $10,000 in your CEX.IO account. In that sense, the required monthly trade volume has dropped from around $200,000 (the approximate equivalent of 5 BTC at current rate) down to $10,000, charged with some of the industry's lowest trading fees!
Please note that the applicable fee for your next trade is calculated based on your current monthly-volume tier, not the tier you would reach after the trade is complete.  
Start Trading Now
In an effort to meet client demand, CEX.IO continuously adds new cryptocurrencies to its platform, while providing efficient trading conditions for all market participants. 
Start trading at CEX.IO now and enjoy some of the lowest fees by trading as little as $10,000 per month. When you reach above $100,000 with your executed limit orders, you will then enter one of the lowest fee territories in the entire industry!