Key Information (July 15, 2022)
Circulating Supply — 725,865,017 AUDIO

Total Supply — 1,103,197,421 AUDIO

Sector — Smart Contract Platforms

Token Type — Native

Token Usage — Voting

Consensus Algorithm — n/a

Launch date: 24.09.2019

All-time high — $4.99

ATH Date — March 27th, 2021

Market Cap — $246,275,228
What is Audius?
Audius is a decentralized music streaming platform focusing on music streaming services. It aims to give back ownership and monetary power to creators and artists with the support of decentralization and blockchain. The platform looks to change the way music creators and fans interact by protecting the ownership of music and returning it to its creators.
Audius allows fans to directly support their favorite artists via the platform's native cryptocurrency (AUDIO). By removing the record label barriers and other middlemen, this platform aims to revolutionize the traditional music industry. It does so by changing the conventional revenue model: artists' revenue does not depend on how many times their song is played — unlike other streaming platforms.
Instead, the platform provides artists and music creators exclusive ownership, allowing such individuals to decide how they'd like to monetize their creations. According to the platform, 90% of the revenue generated from artists' work will go to the music curators in the form of AUDIO tokens. The remaining 10% goes to the stakers (node operators) who support the network.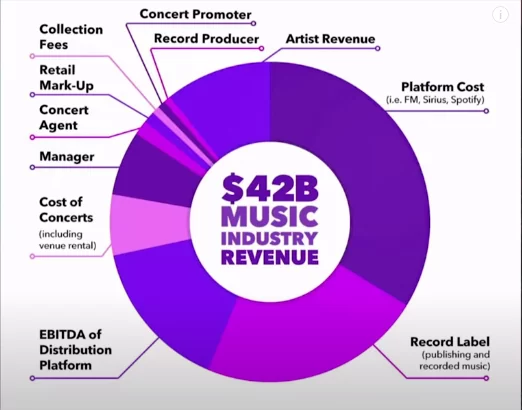 From a technical standpoint, Audius was initially built on the POA network (an Ethereum sidechain) and is a layer 2 blockchain protocol. However, in 2020, the platform decided to migrate its content management system to the Solana blockchain, allowing it to boost its performance. The decision was made due to the scaling issues Audius faced because of a growing demand to stream content. 
Regardless, AUDIO — the platform's native cryptocurrency — remains on the Ethereum blockchain, and this token is an ERC-20 governance token. Consequently, it enables a voting right to holders for proposals regarding network upgrades and changes. 
Core use cases of Audius
First and foremost, Audius is a platform that allows fans to directly send payments to their favorite artists while also allowing artists to distribute content. The following components comprise Audius:
This platform is a decentralized governance protocol that brings together listeners, service providers, and artists (both collectively and individually). It includes them in the decision-making processes about protocol upgrades and changes.

It is also a community arbitration protocol used to efficiently and fairly resolve disputes that protocol participants file/raise.

Audius also serves as a discovery protocol, helping users query metadata efficiently.

The platform also helps unlock user-specific proxy re-encryption keys for content, thanks to acting as a payment mechanism paired with a unique track encryption scheme.

Assists users and creators share metadata and audio by acting as a decentralized storage solution.

Audius is also a dual-token economy, thanks to one payment token backed by 3rd-party stablecoins and one native staking/work token.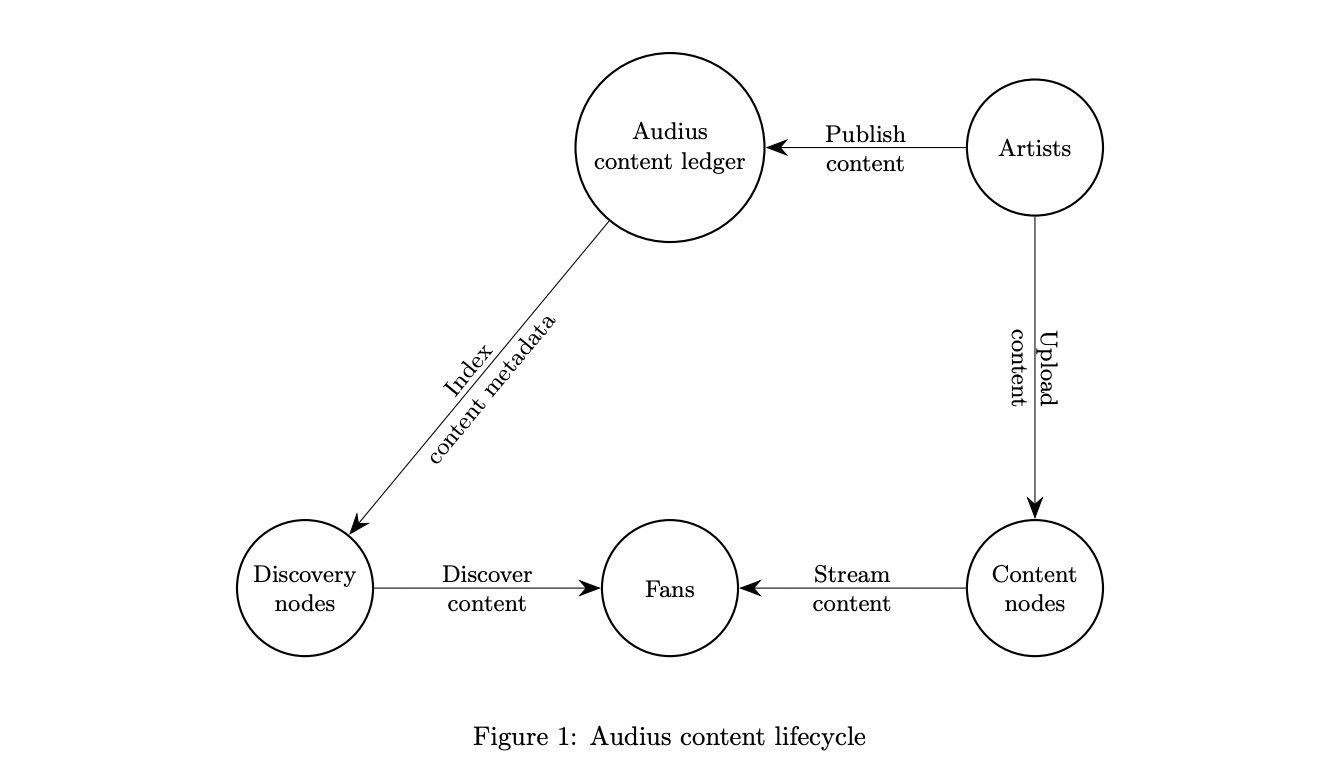 The issues that Audius (AUDIO) fixes
Artists in the music industry face numerous challenges, and Audius's primary goal is to help creators overcome them. By enabling everyone the freedom to stream, monetize, and distribute music, this platform helps artists tackle issues involving ownership, royalties, music rights, and more.
Audius enables creators and their audience to interact directly on its platform, thereby eliminating the intermediaries between the two. Additionally, this platform does not pay artists based exclusively on the number of times their tracks are aired/played, unlike the traditional channels of the music industry. It considers the overall engagement of users, the way artists interact with fans, and their activity on the platform.
Artists can use the decentralized nodes to upload and distribute their songs on Audius. In doing so, they have several methods at their disposal to earn revenue from their audio creations without having to sacrifice ownership. Earning AUDIO tokens among artists is possible in several ways:
Through the first track upload after social media account verification

Making it to the Top 10 Monthly API App

Becoming listed on the Top 5 Weekly Trending Playlist

Becoming listed on the Top 5 Weekly Trending Track
Additionally, artist tokens are another method through which the platform enables artists to engage with their community. Holders of such tokens have VIP access to exclusive content like remix competitions, unreleased tracks, etc. At times, the platform also airdrops AUDIO tokens to artists depending on their number of listens and their level of social engagement with fans.
Audius token AUDIO
The native cryptocurrency powering the Audius protocol is the Audius token (AUDIO). Within the Audius ecosystem, this token fulfills three primary purposes:
This token secures the network

It also acts as a governance token

Provides holders with access to exclusive content and features
The AUDIO token is an ERC-20 token with a total initial supply of more than one billion, and as of July 7, 2022, close to 726 million AUDIO is already in circulation.
Additionally, holding and staking AUDIO tokens allows you to become a node operator (decentralized nodes secure the Audius network). The chances that fans use your nodes to discover music content are proportional to the size of your stake. Therefore, you can earn AUDIO from aggregated fee pools and the ongoing token issuance by helping to run the protocol operations.
The Audius protocol features discovery nodes and content nodes. Discovery nodes allow fans to quickly search for songs or artists by indexing the music and metadata uploaded to the Audius content ledger. On the other hand, content nodes manage, secure, and host content on behalf of the artists (who can also choose to host their content by running as content nodes). 
The blockchain will continuously receive snapshots of the artists' work submitted by the nodes on the network, which can create time-stamped records for the content. 
Governance
As mentioned above, AUDIO is also a governance token, meaning that staking this token enables you to participate in the operations of the network as a discovery or content node. Therefore, continuously creating value for the network earns you governance power, which, in turn, enables you to vote on proposals for upcoming updates within the network. 
However, voicing your opinion of Audius does not necessarily mean you must first run a node. Sharing your thoughts on the protocol is encouraged in the community, and holding one AUDIO token translates into having one vote.
Staking AUDIO
You can stake your AUDIO tokens by following the steps below:
Go to the official Audius website and click on "Explore the Dashboard"

In the following step, locate and click on the "Services" option

Locate the "Top Address by Voting Weight" section and click on "View Leaderboard"

The screen will show a list of Node Operators, allowing you to choose where you'd like to stake your AUDIO tokens. Each Node Operator charges different rates (usually between 5% and 10%), which you'll be able to observe on the same screen

After choosing a Node Operator, log in to your crypto wallet (for this example, we'll use the Metamask wallet). Click on "Connect Metamask" from your browser

A prompt will appear, allowing you to open Metamask and log into your account

After signing in, ensure that your AUDIO tokens are in your wallet and that your wallet is connected 

Go back to the Node Operator section, and click on the button labeled "Delegate" 

Confirm this action with Metamask (after previously ensuring you hold some ETH in your wallet to cover the gas fees) 

Finally, click on the "Stake" button and confirm with Metamask once again (the transaction should go through in a couple of minutes)
Disclaimer: Information provided by CEX.IO is not intended to be, nor should it be construed as financial, tax or legal advice. The risk of loss in trading or holding digital assets can be substantial. You should carefully consider whether interacting with, holding, or trading digital assets is suitable for you in light of the risk involved and your financial condition. You should take into consideration your level of experience and seek independent advice if necessary regarding your specific circumstances. CEX.IO is not engaged in the offer, sale, or trading of securities. Please refer to the Terms of Use for more details.