Key info (as of February 5, 2022):
Circulating Supply (ONT) — 875,249,524 ONT
Total Supply (ONT)  — 1,000,000,000 ONT
Circulating Supply (ONG) — 272,032,856.31 ONG
Total Supply (ONG ) — 1,000,000,000 ONG
Sector — Smart Contract Platforms
Token Type — Native
Token Usage — Payments, Staking, and Vote
Consensus Algorithm — VBFT
Genesis Block Date — June 30, 2018
ATH (ONT) — $11.18 
ATH Date (ONT) — May 3, 2018
ATH (ONG) — $4.59
ATH Date (ONG) — September 28, 2018
Overview
What is Ontology?
Ontology is an open-source blockchain network that brings digital identity and data solutions to Web 3.0 services. Ontology provides a platform for smart contacts deployment, allowing developers to design their own blockchains and decentralized applications (DApps). Ontology also supports cross-chain interoperability and layer 2 (L2) scalability solutions to maintain high performance within the network. 
The project is focused on facilitating data management and the concept called self-sovereign identity (SSI). This concept places control of personal information with users, allowing them to log in to all their online services using a single unique ID. With such an ID, there should be no more forgotten passwords or reasons to hand over personal information. Ontology opens users access to SSI features with the project's decentralized framework called ONT ID. 
Ontology uses its own consensus mechanism called verifiable byzantine fault tolerance (VBFT). It combines the aspects of Proof-of-Stake (PoS), variable random function (VRF), and Byzantine fault tolerance (BFT). Because of VBFT, Ontology's block submission time is not fixed. It varies in the range of 1-30 seconds and represents 15 seconds as an average time for block production. Block submission varies depending on the current situation in the network.
The Ontology network features a two-token system. Ontology token (ONT) is used for network security and governance, while Ontology Gas (ONG) operates as payment for transaction fees within the network.
Ontology History
Ontology was established in November 2017 by Li Jun. Li Jun is known not only as the Ontology founder but also as co-founder of Onchain company. This Shanghai-based blockchain company developed the smart contract platform Neo and remains a major contributor to the Neo network. 
During Ontology's early stages of development, the project received significant support from members of Onchain's developers' team. However, despite the close connections between Neo and Ontology, these projects have always been officially separated from their own goals. Back in 2018, Li Jun described Neo as "a strategic technology partner" for Ontology.
ONT cryptocurrency began its life as a NEP-5 token based on the Neo blockchain. Instead of going through an initial coin offering (ICO), which was popular at the time, Ontology chose to make a series of community distributions and airdrops for Neo holders. For example, for a brief period, any person who signed up for the Ontology newsletter received 1,000 ONT as an airdrop. This helped the project to establish a passionate community, although Ontology tried to describe that the project was utility-driven rather than token-driven.
On June 30, 2018, Ontology launched its mainnet and now operates independently from the Neo network. A month after the mainnet launch, ONTO wallet went live. At the end of 2018, Ontology developers released the sharding design of the network. In 2020, Ontology started supporting L2 solutions and launched a self-sovereign credit evaluation system called OScore.
In 2021, Ontology developers, among other things, worked on expanding the list of supported virtual machines within the network.
Ontology Network Features
VBFT Consensus
The Ontology network is composed of two parts — a consensus network and a consensus candidate network. In the consensus network, all nodes are responsible for maintaining blockchain and consensus on transaction requests within the Ontology network. Candidate nodes do not participate in consensus but remain synchronized with consensus nodes. Candidate nodes monitor the status of the consensus network and validate consensus blocks that participate in staking.
As of February 2022, the Ontology network has 16 consensus nodes and 144 candidate consensus nodes.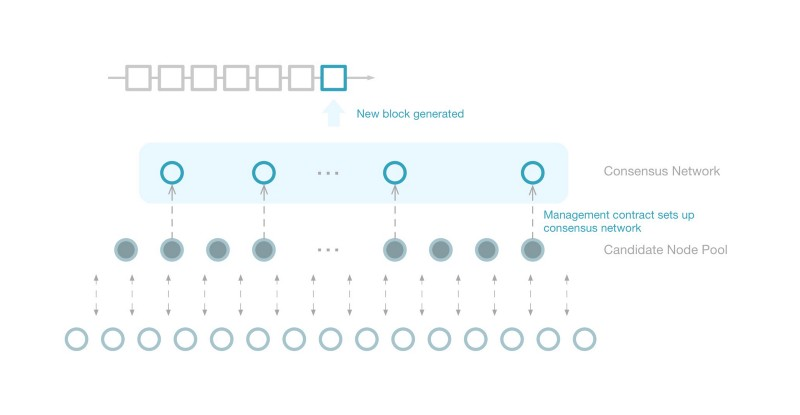 Source: Ontology developers guide
Sharding
Ontology supports sharding technology which includes three dimensions:
Network sharding — the Ontology sharding network uses a hierarchical network architecture where each shard network is managed independently and each node participates in different sharding networks.
Transaction sharding — Ontology transaction shards are based on smart contracts, meaning each smart contract runs on a shard network.
State sharding —  smart contract state data is only saved in the corresponding Ontology shard network.
Smart Contracts
Most public blockchains support only one specific virtual machine, for example, Ethereum network and its Ethereum virtual machine (EVM) or EOS network and its WASM. But Ontology supports multiple virtual machines to provide blockchain developers more options to create smart contracts. At the moment, Ontology supports NeoVM, WASM, and native virtual machines. Last year, Ontology completed the development of EVM support and plans to release it in the main network in the first quarter of 2022. 
Ontology supports creating blockchain-based tokens in the network using the OEP-4 standard.  As of February 2022, the Ontology network supports 125 smart contracts and 47 OEP-4 tokens.
Ontology Ecosystem Tools
ONT ID
ONT ID is a decentralized framework that allows users to control their identity data and create a blockchain-based digital identity with a unique authenticator. It is not only individuals but also institutions, objects, and content. After being authorized, users will be able to obtain blockchain certificates from different identity trust sources (so-called "verifiable claims"). With ONT ID, developers can create decentralized applications within the network that require assigning identities. For example, such a technology can be used in medical records, financial services, supply chains, government services, etc. 
The system uses zero-knowledge proof technology to assure that services only access the specific data they need to verify. 
ONTO
ONTO is a non-custodial wallet that can be described as a gate to the Ontology ecosystem. It is used to create ONT IDs and can connect users to decentralized applications and services available in the Ontology network. The wallet supports cross-chain features, so ONT IDs created with ONTO can be used in Ethereum, Polkadot, and other networks. 
DDXF
DDXF is known as a decentralized data transaction framework that allows developers to tokenize data and store it in a decentralized way. DDXF can be described as a tool to enable self-sovereign data. DDXF implements decentralized data transactions through smart contracts using specific templates and modules for developers. 
HydraDAO
HydraDAO is an off-chain module that acts as a solution to create decentralized autonomous organizations (DAOs). This module provides support of smart contacts with oracle access, L2 solutions, and cross-chain interoperability. 
Ontology Native Tokens
Utility
The Ontology network has two native tokens — ONT and ONG. Ontology decouples ONT and ONG to alleviate the influence of violent fluctuations of the native "asset" value on the gas fee.
ONT is the utility token used for staking and voting. Like NEO, ONT is indivisible, meaning it exists only in whole numbers. Within the staking design, network nodes deposit ONT to secure the network but they receive ONG tokens as a reward. For nodes with a large stake size, too much ONT will reduce the revenue in ONG. That is why node operators usually split nodes into smaller ones. Ontology developers see this as a way to avoid the "oligarch effect" that PoS networks may have.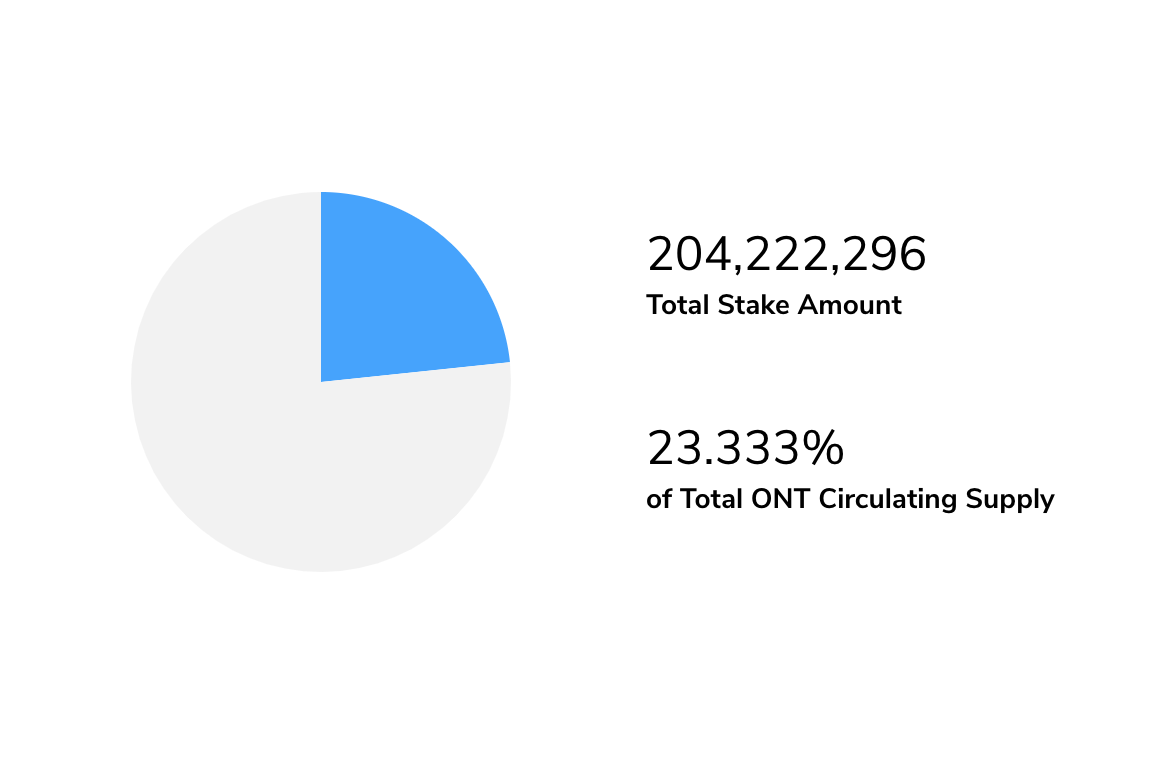 Source: ONT Node
ONT owners can also join Triones Consensus Membership System which acts as an on-chain governance model. For that, Trione nodes must have a specific amount of staked ONT. Trione nodes can initiate voting for upgrade proposals, and receive and reward in ONG for securing the network. Other nodes can offer their feedback on proposals and eventually execute the upgrade via an on-chain voting process. 
ONG is a secondary utility token that is used for paying transaction fees within the network. Unlike ONT, ONG is divisible and has nine decimal points.
Token Distribution
Ontology's circulation supply refers to all distributed and unlocked ONT coins. At the moment, the circulation supply is over 87% of all ONT coins. The rest ONTs are locked but they are considered to be distributed for different network participants. 
Here is the current ONT distribution ratio: 
Ontology community — 12%
Institutional partners — 28%
Neo council — 10% (all unlocked)
Ontology ecosystem development — 25%
Ontology technical community reward — 10%
Ontology core team — 15% (all unlocked)
Previously, ONG used to rely on an unbinding model, where a specific amount of ONG was unbound when ONT was transferred. After the launch of the governance model and staking, the ONG unbinding model was canceled. Currently, each block in the Ontology network releases 1 ONG.
Find out more about Ontology
Crypto enthusiasts usually promote blockchain technology as a way to replace the current approach but Ontology can be described as an integration facilitator. Decentralized tools to verify identity, customizable smart contracts with multiple virtual machines, cross-chain interoperability of ONT ID  — all of these aspects made Ontology's identity solutions easier to implement in current blockchain solutions. 
Because of the project's specificity, Ontology doesn't have a large number of nodes and smart contracts that operate within the network compared to other smart contract platforms. But their number keeps increasing and developers continue to create new tools to make the Ontology ecosystem more attractive in terms of digital identity solutions. 
With CEX.IO, you can buy, store, and trade both ONT and ONG in one place.
Disclaimer: Information provided by CEX.IO is not intended to be, nor should it be construed as financial, tax or legal advice. The risk of loss in trading or holding digital assets can be substantial. You should carefully consider whether interacting with, holding, or trading digital assets is suitable for you in light of the risk involved and your financial condition. You should take into consideration your level of experience and seek independent advice if necessary regarding your specific circumstances. CEX.IO is not engaged in the offer, sale, or trading of securities. Please refer to the Terms of Use for more details.