Blockchain technology and the cryptocurrency market continues to develop at a rapid pace. 
2021 saw the emergence of NFTs and the crystallisation of the metaverse. These new trends in crypto caught the attention of investors, institutions, and developers. 
Despite the buzz over metaverse projects and NFTs, DeFi continues to boom, and the performance of bitcoin and ether is still in the spotlight. 
CEX.IO works to connect people and businesses with opportunities in crypto and DeFi. We strive to guide and inform our customers on each step of their individual journey. 
To improve platform functionality, our team has assembled this edition of the CEX.IO ecosystem update for the December 2021 — January 2022 period. 
New fee schedule with lowered trading fees 
To kick off the new year, we've lowered trading fees to make transacting on CEX.IO easier than ever.
Previously, monthly trading volumes were BTC denominated. Meaning traders needed to reach the minimum volume requirement of 5 BTC per month to access lower fees than the entry-fare (0.16% and 0.25%).

In the latest update, trading volume is U.S. dollar-denominated. Customers will now be able to reach lower fee tiers by reaching a monthly trading volume of $10,000. At the time of press, the required monthly trade volume has dropped from around $200,000 (the approximate equivalent of 5 BTC at current rate) down to $10,000.
Learn more about our new fee schedule in this article.
19 new assets and staking services are opened for the U.S. 
We're bringing 19 new listings as well as a feature that our U.S. users have long been demanding — CEX.IO Staking. For U.S. customers, the number of available cryptocurrencies on CEX.IO has more than doubled since last year. The list of added currencies can be found in this blog post.

CEX.IO Staking has been launched for the U.S. concurrently with the new listings. To start earning you just need to have stakeable coins into your CEX.IO account. You can trade or withdraw funds that are involved in staking because we have no locked staking period. Please note that staking rewards may be lower if you trade staking coins. Learn more about our Staking service here.
Kaiko ranks CEX.IO as No. 1 in technology
CEX.IO Exchange earned the highest technology score in the Kaiko Exchange Rank.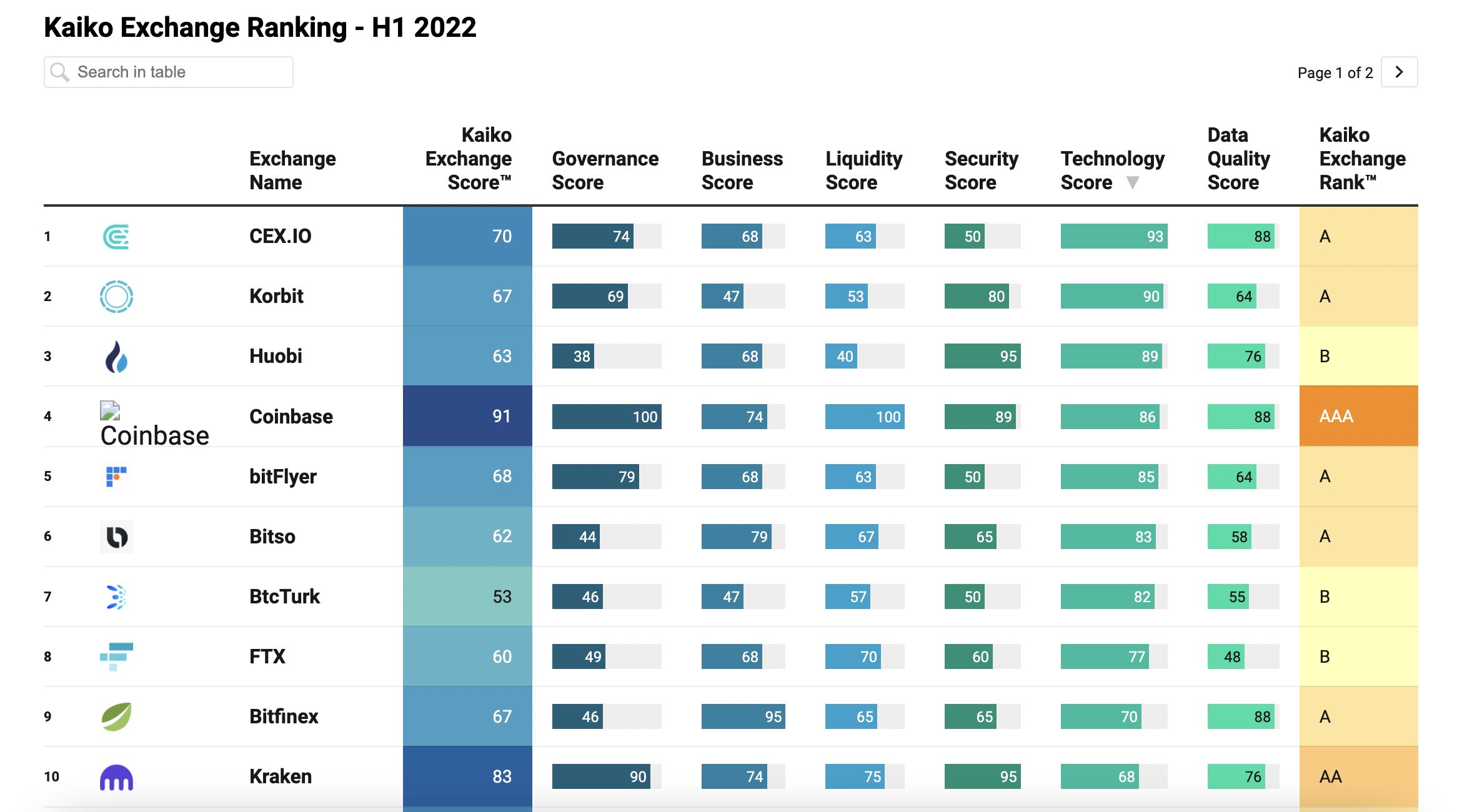 About Kaiko
Kaiko is a leading provider of crypto market data for businesses. In their ranking strategy, Kaiko leverages six categories for attributing scores to each exchange: legal & compliance, infrastructure, security, liquidity, data quality, and technology.
New listings

Axie Infinity is a monster-battle blockchain game. Players can collect different digital pets known as Axies, which can be raised, battled, and traded throughout the Axie ecosystem. 
The game is partially owned and operated by its players. 
The Axie Infinity ecosystem has its own unique governance token, Axie Infinity Shards (AXS). It is used to vote on key governance issues and gives holders a say in how funds are spent in the Axie Community Treasury. Read more about the project here.

The Sandbox is a play-to-earn blockchain game that combines DeFi and non-fungible tokens (NFT) technologies in a 3D metaverse. It's a virtual world that allows players to create and customize their games and digital assets with free design tools. The created virtual goods can then be monetized as NFTs and sold for SAND tokens on The Sandbox Marketplace.
The SAND token is used for all transactions and interactions in the game. It can be earned by playing games or by buying on cryptocurrency exchanges.

Quant is a blockchain communication protocol. The Quant network provides interoperability for various types of distributed ledger technologies with development tools for enterprise-grade applications. 
Quant is suitable for businesses that want to build their own applications. It provides a standard API for interacting with the desired blockchain. This drastically reduces the technical requirements, and therefore the barrier to entry, as developers and enterprises do not need to own or manage their own nodes. Thus, businesses can quickly and easily access various DLT services with minimal hassle. In addition, these DLT solutions can be easily integrated into existing systems.
QNT is the native token of the Quant ecosystem required by any developer wishing to use the platform.
AWX/USD and AWX/EUR pairs
Aurus is a decentralized financial infrastructure that empowers digital assets pegged to gold, silver, and platinum. You can buy ArcusGOLD (AWG) and AurusSILVER (AWS) tokens instantly at CEX.IO by paying with your debit or credit card.
Additionally, we've recently added AWX/USD and AWX/EUR pairs to our marketplace. You can trade them with the market and limit orders on our website or in the mobile app.
We now support RUB payments via Skrill 
We aim to offer you the most comprehensive choice of payment instruments and the best conditions to use them. In December, we expanded the list of fiat currencies available for Skrill payments. You can now deposit and withdraw RUB quickly and easily using your Skrill wallet
Deposit from ₽10,000 to ₽150,000 (RUB) daily, and any amount monthly with a 3.99% fee
Withdraw from ₽10,000.00 to ₽150,000.00 (RUB) with a 1% fee!
Join a $25,000 trading competition on CEX.IO!
We launched a new trading competition! From February 7 to February 20, 2022,
trade on CEX.IO and earn a chance to win up to $5,000.
Participants will earn points for daily trading activities. They will be split into groups depending on their point totals. The top three traders will earn the following rewards: 
1st place – $5,000
2nd place – $4,000
3rd place – $3,000
Additionally, we'll reward 53 random participants. Learn more about the prize distribution and the competition rules here.