We have recently expanded the list of trading assets on the CEX.IO website by adding a new instrument – Axie Infinity (AXS). That is one more cryptocurrency option available for users to better engage with the crypto space.   
AXS is available for trading (buying and selling for USD) on CEX.IO with market and limit orders. You can also use AXS for deposits and withdrawals.   
Note: AXS is not available in the U.S. and Canada.
About Axie Infinity and AXS coin
Axie Infinity utilizes the innovation of blockchain technology to reward players for their participation, and thus contributes to the fast-evolving DeFi industry of 'Play-to-earn.' It is a world of games where each player can be a part of the fascinating universe of fantastic creatures. In a sense, the players own and govern the game. 
Axie infinity has created a player-owned economy. Each player can participate in transactions to trade resources that they earn by contributing to the Axie ecosystem. 
Axie Infinity Shards (AXS) are an ERC-20 governance token for the Axie Universe. AXS holders can use their tokens to redeem rewards by staking AXS, playing games, and taking part in actual governance voting. Additionally, users can get more AXS by playing different games existing in the Axie Infinity Universe, and by creating varied content within the ecosystem.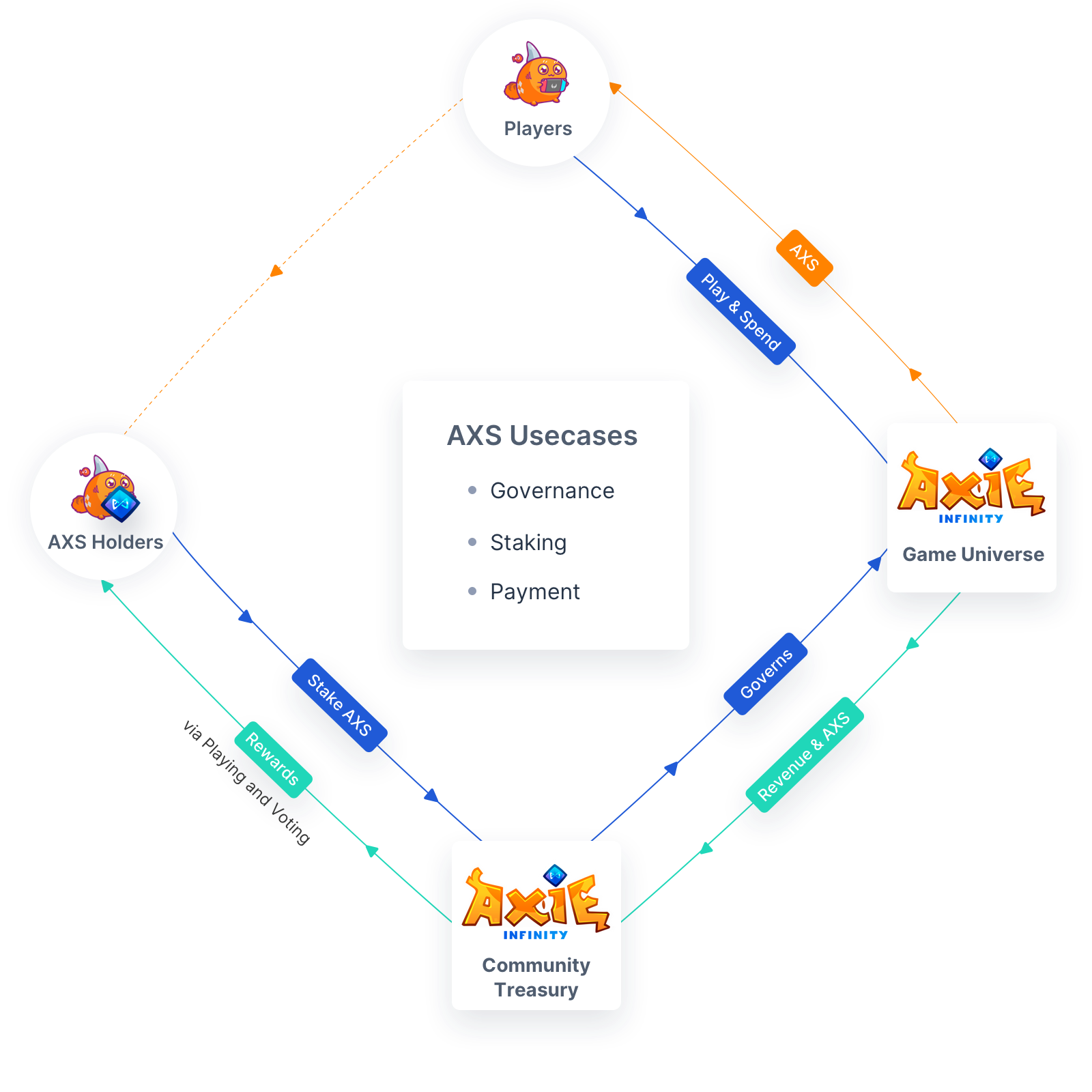 Source: whitepaper.axieinfinity.com
Does Axie Infinity solve financial problems?
The popularity of the Axie game is going through the roof. It's ranked the number one Ethereum game by daily, weekly, and monthly active users. As of today, users have consumed more than 1 million worth of ETH (approximately $3 billion) to advance in the game.
A blockchain economic model creates incentives for players as they own the games and are rewarded while moving forward, unlocking new levels and improving their game skills. They have fun, while also reaping real monetary rewards that come with the "Play-to-earn" feature. 
This monetary value provides financial support around the globe, especially in developing countries such as the Philippines, Brazil, Venezuela, and Colombia. Their governments are undergoing severe economic recessions, run high inflation, and are faced with high unemployment. 
Games such as those created by Axie Affinity allow users to accumulate tradeable crypto coins. Some players end up earning returns three times higher than their current jobs, or the ones from which they were released.   
How would you describe Axie's innovation?
Axie is a novel game that compensates players for their dedicated time and energy and contributions to the ecosystem's growth. Unlike other popular games built on centralized platforms, Axie is owned by its players. All users participate in growing the Axie economy and community. Everybody who contributes can monetize by holding AXS tokens. The government receives tax revenues from the holders of the AXS token. In other words, consider Axie a country with a functioning economy.
Expansion of the Axie population is the primary driver of the Axie ecosystem. There is an ideal inflation rate that allows Axie Infinity to reach its total capacity. If it's sluggish, Axie prices become unattainable for everyday people to join; particularly with competitive Axies. If it's too fast, inflation becomes damaging. AXS/SLP tokens face similar forces mirroring the economy, thus the process must be overseen.
Team and plans
A technology-focused game studio, Sky Mavis, created Axie Infinity in 2018. In just a few years, Axie Infinity managed to grow its engineering team leveraging the talent base of Vietnam. A significant number of team members met through coding contests and hackathons — for example, the International Collegiate Programming Contest (ICPC). The team is considered  forerunners in Vietnam's Rust people group, and have introduced their discoveries in different technical discussions. 
The engineers have set the ultimate goal of building a unique application, which players will employ to interconnect with the whole Axie infinity universe. That will include these features:
Social network

Marketplace

The advance of Axies (levels, accomplishments)

Breeding game

PvP with ladder and tournaments

PvE/adventure mode

Land gameplay

Players can expand their kingdom, harvest resources, attack Chimeras and other players

Lunacia SDK — Allowing developers and creators to make games using existing Axie Infinity assets, and hosting them on land
Adoption
Although the crypto space is still far from complete global adoption, Axie Infinity creators think gaming will help us get there. With more than one million players, and over $2 billion in sales, the project is the leading one in the blockchain universe. Yet, it costs about $1,500 for the newbie to buy enough monsters necessary to start playing. What are they planning to do about lowering costs to entry?
Axie is just under 10% complete, and in 2022, the company will upgrade its battle system. They are also preparing to release a DEX, which has the community remarkably excited. Eventually, Axie will likely become the first game kept and run entirely by users. 
The upgraded voting system will enable users to vote on who will continue developing the game and what features to add. That's how the Axie universe can move from being partially centralized, to completely decentralized. 
Disclaimer: Information provided by CEX.IO is not intended to be, nor should it be construed as financial, tax or legal advice. The risk of loss in trading or holding digital assets can be substantial. You should carefully consider whether interacting with, holding, or trading digital assets is suitable for you in light of the risk involved and your financial condition. You should take into consideration your level of experience and seek independent advice if necessary regarding your specific circumstances. CEX.IO is not engaged in the offer, sale, or trading of securities. Please refer to the Terms of Use for more details.