"Let everything you do be done as if it makes a difference." – William James
At CEX.IO, we are advocates of decentralization values. We think that centralized exchanges, like ourselves, can play a unique role in decentralization. 
How? By making it easier for everyone to participate!
While the DeFi potentials grab all the headlines, many still see a no-entry sign on it  ⛔️.  We want to change that.
And, with a strong fiat on- and off-ramp and easy-to-use ecosystem of products, we are in a good position to open the gates of mass adoption to decentralized projects. That's how we joined forces with Free TON — a decentralized network, aiming to give the power back to the community. 
But, removing the technical barriers to participation is not enough. We want to nurture the community that is immersed into open finance. I.e. understands how it works. 
So, to complement our products that make it easy to access the crypto world, we launch an educational initiative that will help you get practical knowledge of the crypto inner workings. 
Enter Learn & Earn!
Hands-on experience through meaningful bite-size tasks that take you down the blockchain rabbit hole 😈. Mercilessly. Yes, please. 
And, given our partnership with Free TON, we dedicate a pilot version of CEX.IO Learn & Earn to this decentralized project. Without further ado, we're excited to introduce Learn & Earn Free TON Edition. 
What is Learn & Earn Free TON edition?
In the Learn & Earn Free TON Edition, you'll learn everything about, erm, Free TON, obviously.  But, there's a twist!
In the spirit of decentralization, we want to make it by the community for the community! 
That means we are inviting the Free TON core advocates to participate in creating the questions for the Learn & Earn Free TON Edition! 
These questions will then be validated, by the community, too. 
And, once a nice body of knowledge in the form of quizzes forms – we'll launch these quizzes into the crypto universe at large. Create. Validate. Test.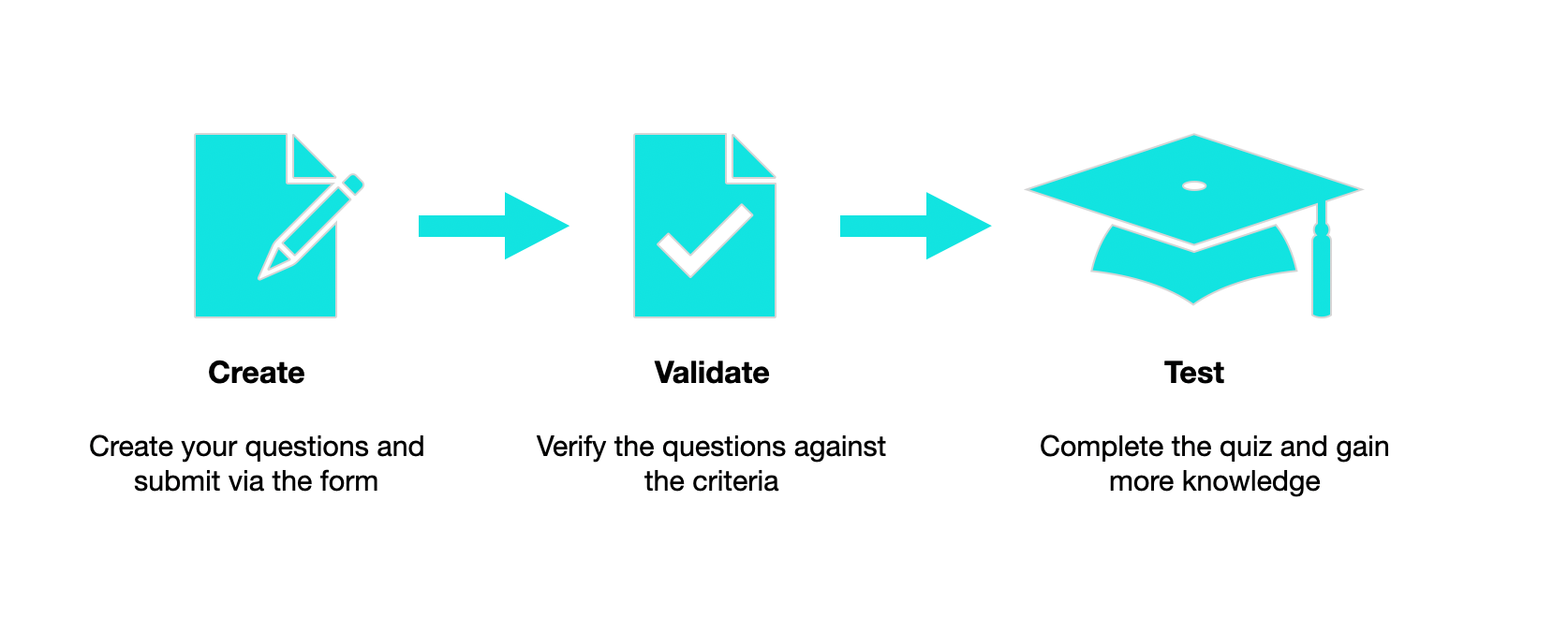 Calling Free TON core fans
Free TON Core Fans! Builders and facilitators! Number one Twitter followers! The longest node runners! Most devoted supporters! Experts – WE WANT YOU! 
Yes, you smart, good-looking, and creative Free TON soldier! We invite YOU to help us create the most EPIC learning program. We'll, of course,
reward your effort 💎
. 
Summon your wits, creativity, and magic powers, and submit your unique quiz questions about Free TON. 
You'll receive

10 TON

per each quiz question, if it is taken verbatim. 

And earn

5 TON

if we take your question with some changes (e.g. changed answer options, rephrased language).
BUT! Before you slam that "SUBMIT YOUR QUIZ QUESTION" button, read the rules. Know the rules = maximize rewards. Got it? Good!
Submission rules
Your question submissions must be in a multiple choice format. With at least 3 options as answers. And one correct answer must be clearly marked. 
For example: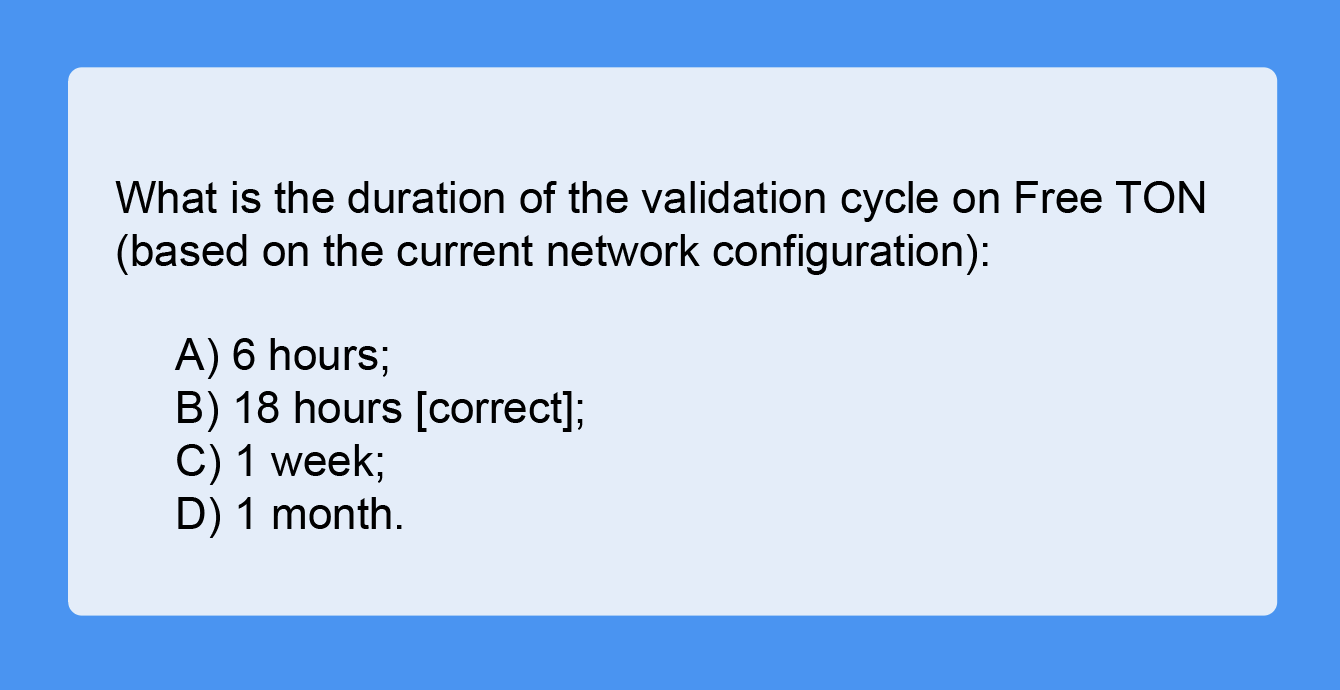 ❗️To get a reward,
quiz questions must meet certain criteria:
Quality;

Completeness;

Correctness;

Uniqueness.
1. Quality: questions need to test understanding of the Free TON and its ecosystem.
Do not count as submissions:
❌ Basic questions like "How many coins in circulation" or 'What is the name of the coin". 
❌ Answer options where a correct one is obvious.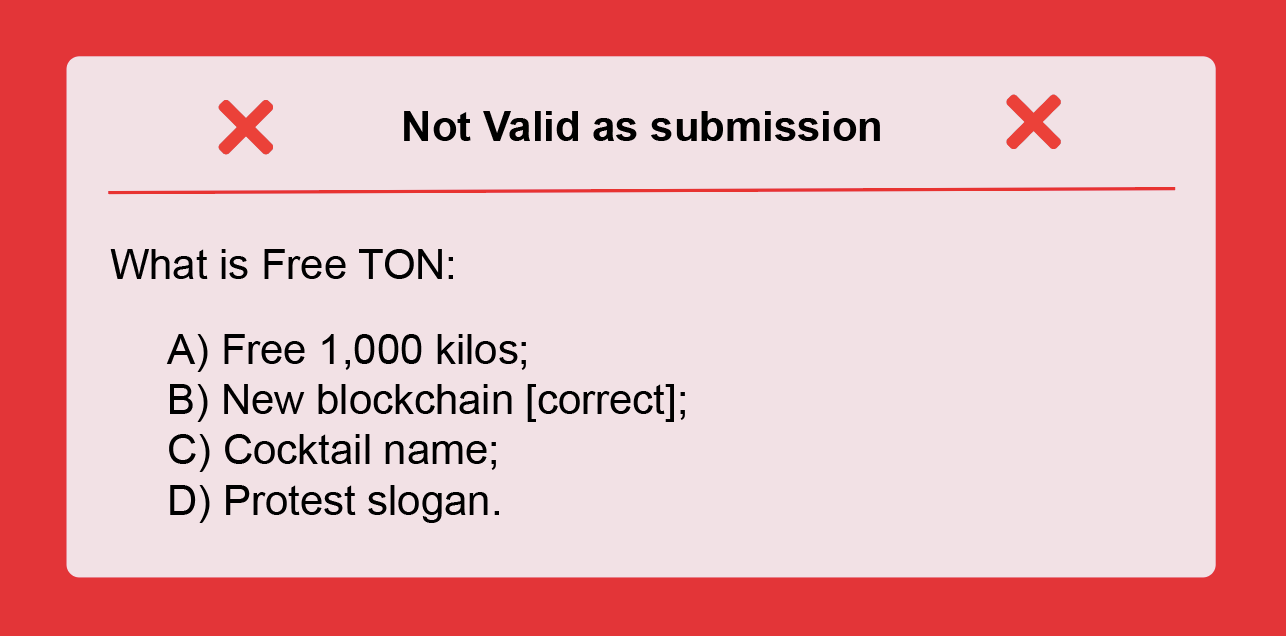 2.
Completeness:
questions must be well-formulated and have meaningful answer options.
Do not count as submissions:
❌ Questions with a correct answer that's not entirely accurate or complete. 
❌ Questions with less than 3 answer options.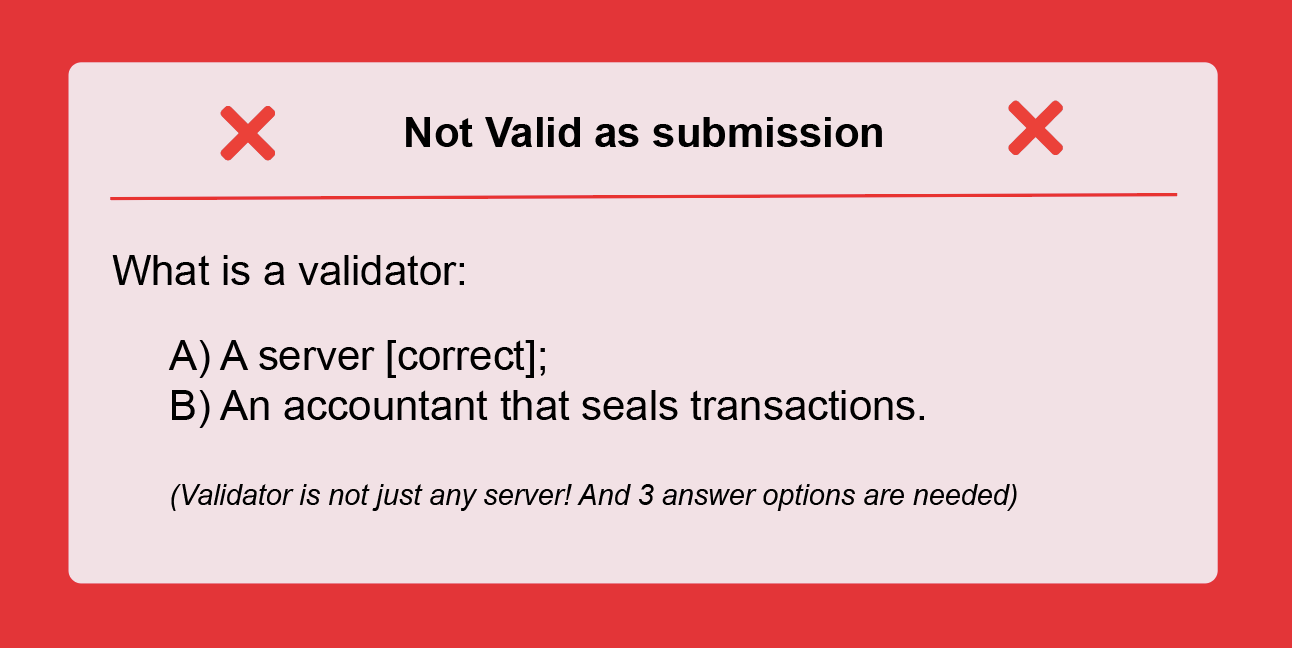 3.
Correctness:
proposed questions need to have an indicated correct answer. We count that you know your stuff! 
Do not count as submissions:
❌ A question with no answer marked.
❌ A wrong answer marked as correct.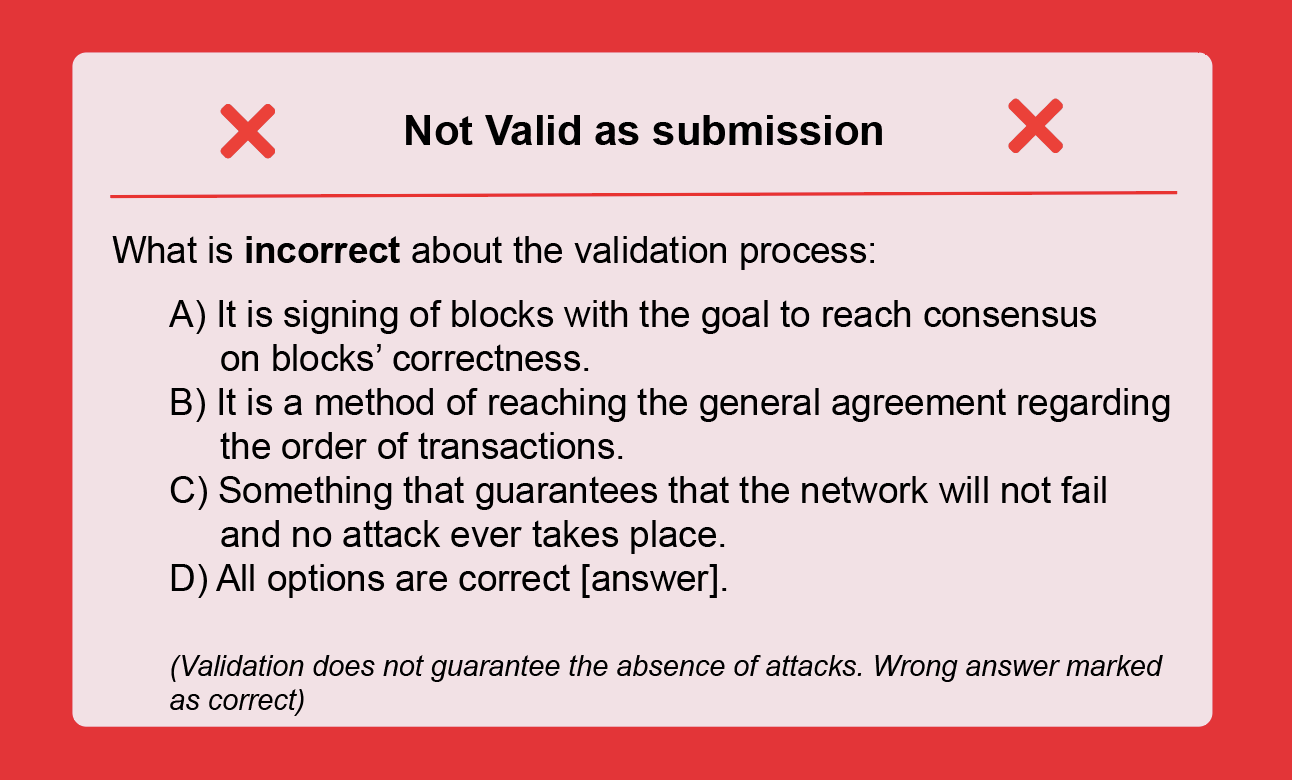 4.
Uniqueness:
each submission will be time-stamped.
First submitter of a unique question (by substance) will be deemed an author.
The submitter certifies that the work belongs to them and is original. Paraphrased questions are not unique. 
Do not count as submissions:
❌ Questions used as examples here, obvi!
❌ Same questions with changed answers order and/or written in synonyms.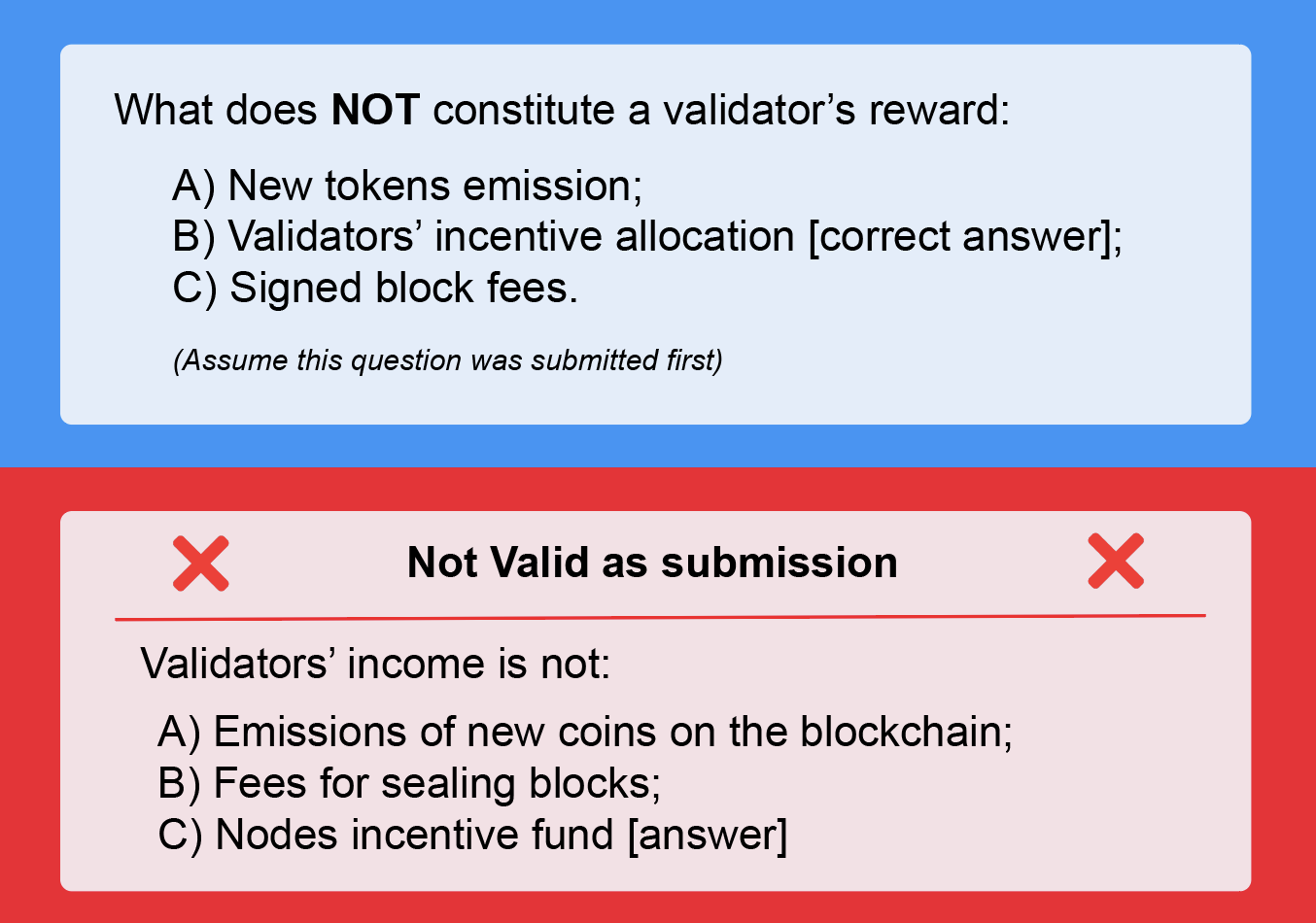 And, YES, you can submit many unique questions. As long as they meet the requirements – knock yourself out! Send as many as you like.
So, here's the button:
Rewards procedure
Say, you spent all night with Free TON Wiki, Free TON Forum, and lived through every line of the Declaration of Decentralization. And you submitted brilliant quizzes. What now?
 Well, we need to review and validate them (more on that below). AFTER your questions are reviewed, validated, and accepted – you get your reward for each accepted question. 
So, allow for some time for your rewards to come in. In the meantime, you may also want to validate others' questions. Or just relax and enjoy being a true community contributor! 
Submission window
How long can you submit your quizzes for? For as long as we keep the form open! That is when we get a solid number of nice submissions, we will close the form. 
It means – submit your questions early! Also, consider that the longer you wait, the lower the chance that your question is unique. And we'll only reward the first submitter of a unique question. 
Unless we get a lot of good quizzes and close the form early, in two-weeks time we'll evaluate whether we should extend submission time for longer.   
Validation. Free TON pros, your time to shine.
The incoming questions will be validated in batches on the rolling basis. And validators (of these questions) will also be the community! 
It means that YOU can become a question validator, too! BUT, you can't validate your own questions. That's not fair. 🤷🏼‍♂️ 
You know all about Free TON validation. Here's what the Validation stage of Learn & Earn quizzes will look like: 
We'll package quizzes in reasonable size tests, and share them on our social networks. You will (expertly) go through them and verify whether they meet the criteria above. 
Before becoming a part of the Learn & Earn program, each quiz will get validated 3 times, first come first serve basis. Once 3 validations are completed, the form will close. So be on a lookout to validate the questions fast!
And, did we mention: validation of questions ALSO gets you a reward? 
But we'll share more details once we get to the Validation Stage!
Education: Now, ace the tests!
Finally, born in the creative process, checked by scrupulous validators, and carefully packed by us, wearing white gloves, the quiz questions will be sent to spread knowledge across the world.
We'll publish the quizzes for the community at large to immerse themselves in the Free TON and CEX.IO Ecosystem. And, you guessed it, passing a test means TON Crystal rewards to your wallet 💎.
We'll announce more details once we start the Education part. Stay on the lookout. And maybe, use this time for learning, huh? 😉
Let's get it done!
Not gonna lie, it took us a while to prepare this post. Making this educational initiative meet our standard probably means that so much more work is ahead. 
We are exhausted but cannot wait to get your submissions. Let's see where this experiment takes us! Let's Learn & Earn with CEX.IO & Free TON!
And for now: