What could be driving recent crypto price corrections?
In this week's crypto highlights, we explore the price movements of BTC, BNB, MINA, and MKR. Additionally, this recap includes other notable industry news items that occurred over the last seven days. Without further ado, let's dive into the latest market developments.
Noteworthy market events
Kraken shut down its staking service for U.S. customers after the SEC's investigation
A Bloomberg report on February 8 asserted that Kraken has come across the SEC's radar. The outlet stated that the regulator was investigating whether said crypto exchange offered unregistered securities to U.S. clients. The same day, Coinbase CEO Brian Armstrong shared rumors that the SEC would like to get rid of crypto staking in the U.S. for retail customers altogether. On February 9, the SEC published a press release, stating that Kraken has settled charges filed by the regulator. As such, Kraken did not admit or deny the allegations, but agreed to terminate the staking service for U.S. customers, and pay $30 million in fines. Amid this news, the U.S. Internal Revenue Service (IRS) filed a court document seeking permission to request Kraken's client information, as part of the exchange's obligatory tax payment fulfillment.
Community reaction
For the most part, the SEC's actions angered the crypto community. Some enthusiasts wondered how Kraken could have registered its product with the SEC when the agency "has no clear path to approve crypto staking in the first place." SEC commissioner Hester Pierce also criticized her agency's actions, saying that enforcement regulation "is not an efficient and fair way." However, not everyone opposed the SEC. MicroStrategy co-founder Michael Saylor remarked that the SEC chairman "understands the importance of self-custody." In a CNBC interview, SEC chairman Gary Gensler said that crypto platforms should "take note" of Kraken's case, and mentioned a popular phrase in the crypto space — "not your keys, not your crypto." After the news about Kraken, LidoDAO and a few other decentralized liquid staking platforms experienced a native token price increase. According to Dune Analytics, Kraken is one of the top three Ethereum stakers, behind Lido and Coinbase.
Paxos will halt issuing BUSD tokens, following NYDFS instructions
On February 9, Coindesk reported that the New York State Department of Financial Services (NYDFS) has begun probing Paxos, issuer of Pax Dollar (USDP) and Binance USD (BUSD) stablecoins. A few days afterward, the Wall Street Journal informed readers that the SEC intended to sue Paxos over issuing the BUSD token. According to the outlet, the regulator's notice alleged that Binance USD is an unregistered security. As a result of these events, Paxos terminated its partnership with Binance for the BUSD stablecoin brand. As of February 21, the company will stop minting new tokens, following the instructions of NYDFS. However, it will continue to support redemption and conversion operations through at least February 2024. Binance CEO, Changpeng Zhao (CZ), tweeted, stating that the BUSD market cap will only decrease over time, and that the platform will move away from using BUSD as the main pair for trading. Later, NYDFS clarified that Paxos "violated its obligation to conduct tailored, periodic risk assessments and due diligence refreshes of Binance and Paxos-issued BUSD customers to prevent bad actors from using the platform." There is a point of view that BUSD was crashed by U.S. regulators because of Binance-Peg BUSD. NYDFS did not allow BUSD to be issued on the BNB chain.
LocalBitcoins announced its service closure
After 10 years of operation, popular P2P platform LocalBitcoins informed users that it can no longer provide its Bitcoin trading service due to a "very cold crypto winter." On February 9, the platform suspended new sign-ups. It will stop trading on February 16, 2023. Customers have 12 months to withdraw funds from their LocalBitcoins wallets. LocalBitcoins has been called one of the top sending counterparties in the Bitzlato case. The latter recently shut down after the U.S. Justice Department investigation. According to the Financial Crimes Enforcement Network (FinCEN), other Bitzlato top counterparties include Binance, a darknet marketplace called Hydra, and a famous Ponzi scheme Finiko.
Top crypto ATM operator Coin Cloud went bankrupt
Coin Cloud, which operates more than 4,000 bitcoin ATMs across the U.S. and Brazil, filed for bankruptcy protection with estimated liabilities between $100 million, and $500 million. According to a filing, the Las Vegas-based firm has assets of between $50 million, and $100 million, and as many as 10,000 creditors. Now-bankrupt Genesis Global Trading is the firm's largest creditor and primary financial backer, andis owed $116.4 million.
BTC could be trading within the fifth motive wave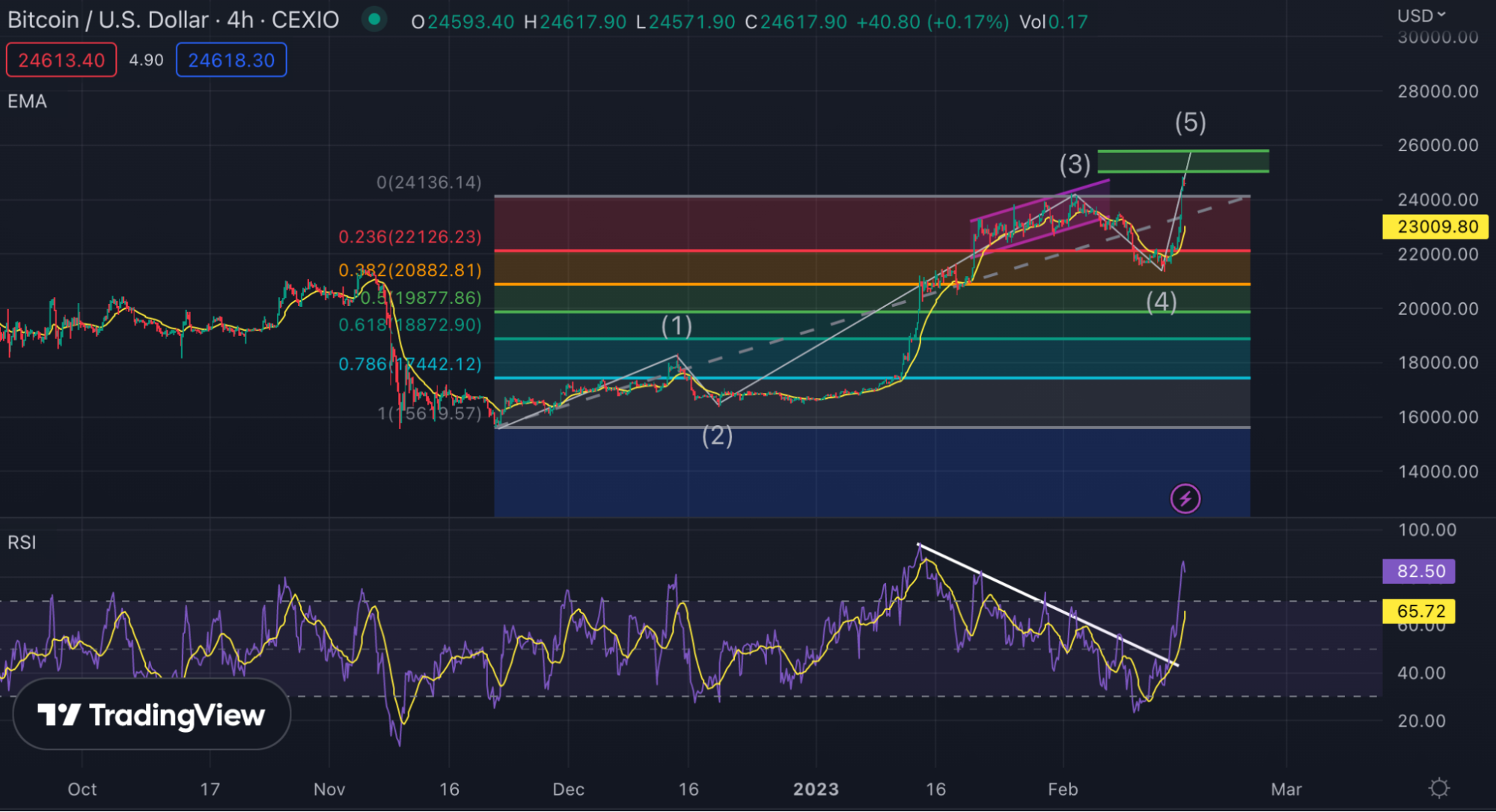 The news detailed above is considered top catalysts for increased bearish pressure on the crypto market. In addition, recent U.S. CPI data showed higher-than-expected results, slightly pushing Bitcoin and other markets down. Bitcoin price experiencing a bearish divergence is yet another catalyst. This pushed the BTC price below the ascending channel, forming the fourth motive wave. According to the Elliott wave theory, the fourth wave is typically considered complete near 0.236 and 0.382 Fibonacci levels. In the case of Bitcoin, the price bounced off between these two levels, potentially starting the fifth wave. The latter is widely viewed as the last bullish wave, after which the asset may experience a deeper correction. The fifth wave's target is typically located near the inverse 1.236 – 1.618 Fibonacci levels of the fourth wave. This corresponds with the $25,000-$25,800 range (green channel). The asset broke the RSI descending resistance line (white line) that supported the bullish momentum. But Bitcoin has already reached the overbought zone, meaning that this momentum may fade away soon.
BNB dropped amid Paxos news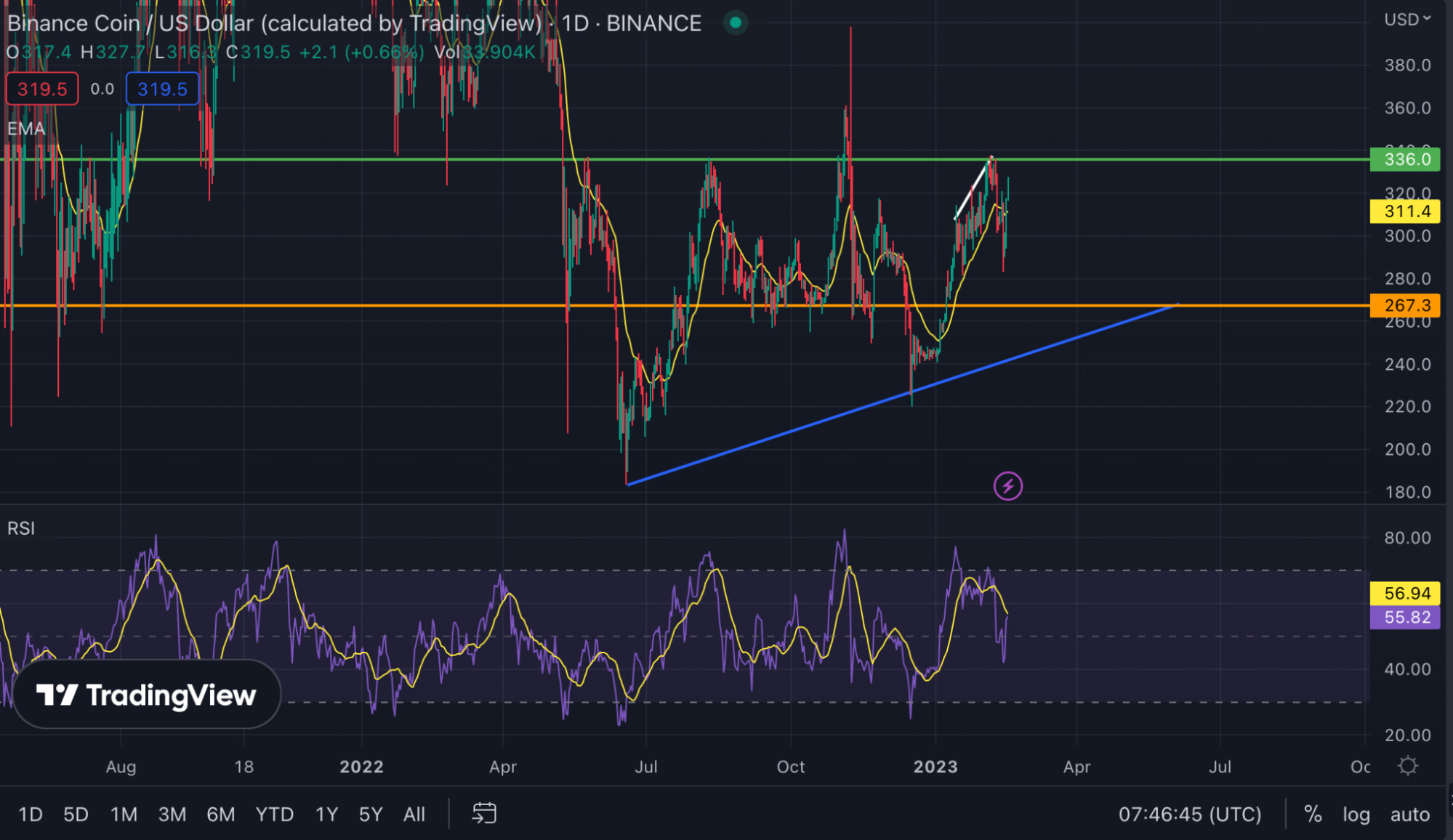 Once Paxos announced that it will stop issuing new BUSD tokens, the Binance crypto exchange experienced net outflows of $831 million in a day, according to Nansen. At the moment of this writing, the BUSD market cap decreased by more than $1 billion, meaning that Paxos is actively burning BUSD tokens to pay out U.S. dollars on demand. As a result, the BNB price rejected the resistance level of $336, and experienced an over 20% drop. The 20-day EMA on a daily chart started to "look down," indicating that downward movement could be a path of least resistance. In addition, the asset experienced a bearish divergence (white lines), that could support selling pressure. The $267 level and the ascending support line (blue line) could act as potential targets for the price if bearish momentum maintains. A breakout of $336 could increase optimism on the market.
MINA became one of the top performers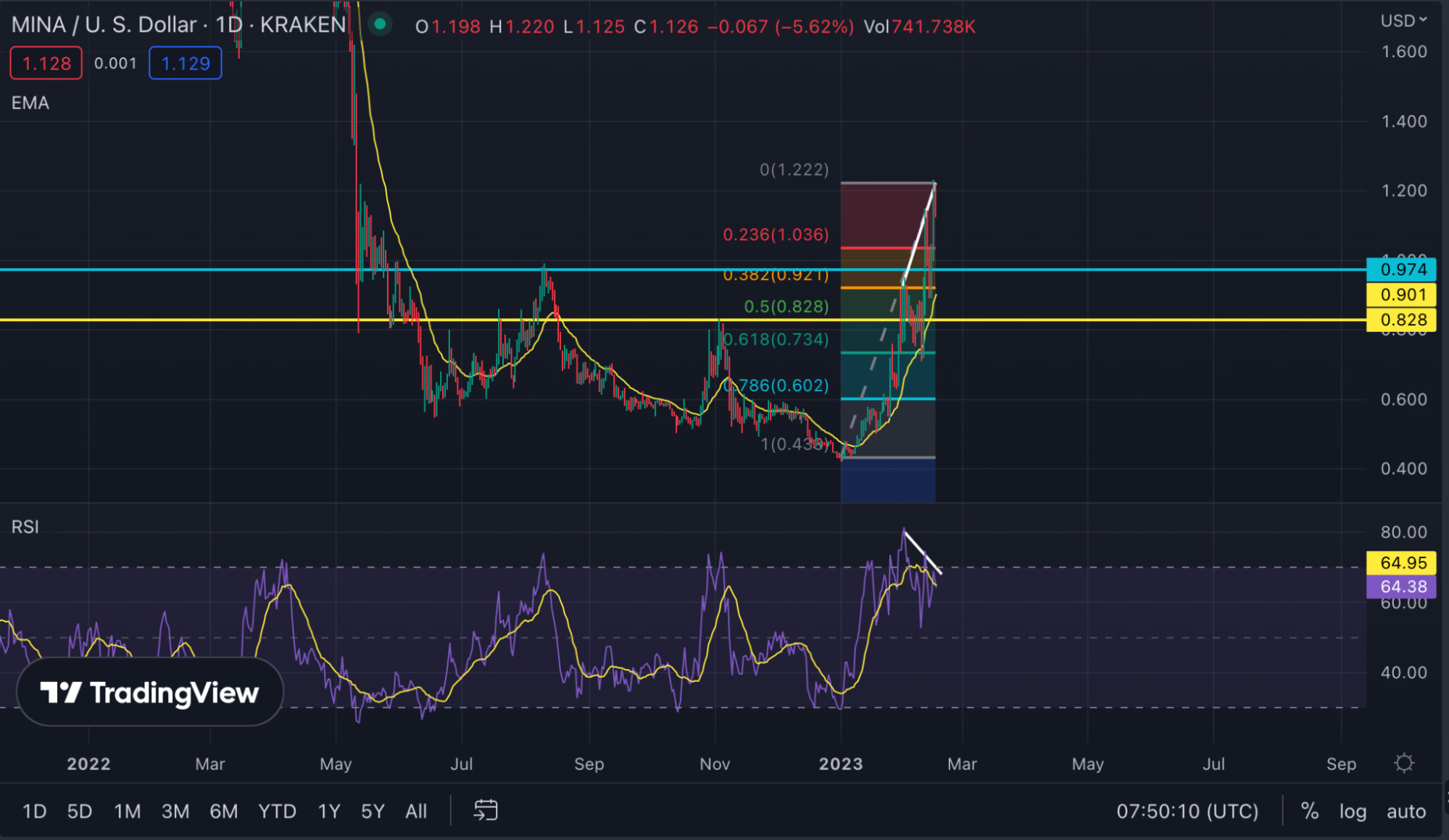 While multiple digital assets experienced a price drop, some low-cap cryptocurrencies enjoyed double-digit gains. MINA, which achieved a 40% weekly performance improvement, is one of them. As a network dedicated to zero-knowledge (ZK) proofs, MINA could benefit from the recent media coverage of this technology. For instance, Binance introduced ZK-instruments to improve the quality of its proof of reserves report, while Polygon set late March as a date for the launch of its zkEVM mainnet. In addition, there are rumors of a nearly completed bridge between the Mina and Ethereum networks. The asset reached the overbought zone, and formed a bearish divergence, hinting that a price correction is coming soon. The closest support levels could be $1.03 and $0.97. According to the price chart, there are no major horizontal resistance levels between $1.14 and $1.6.
MKR is testing 200-day SMA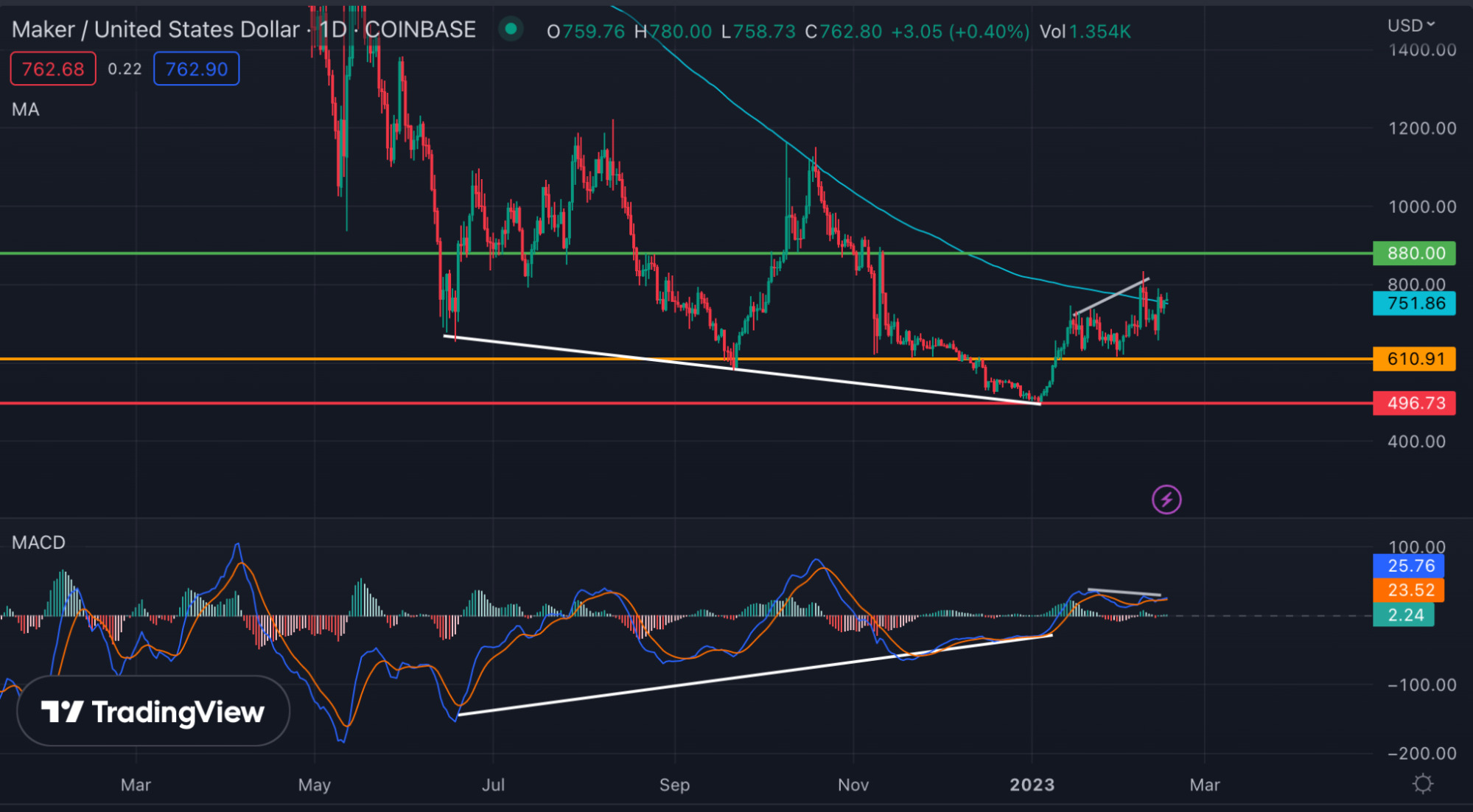 Leading MakerDAO community participants, Phoenix Labs, proposed creating the Spark Protocol. Its functionality will be built based on the Aave v3 platform, offering to lend and borrow crypto assets using the DAI stablecoin. This news prolonged the bullish momentum for the MKR price. Earlier, the asset experienced a bullish divergence with MACD (white lines). At the moment, the asset is trying to sustain above 200-day SMA (cyan line), which is considered a major dynamic resistance level. If successful, the MKR price could move to $880. However, the asset recently managed to form a bearish divergence (gray lines). This could lead to a potential price correction. The closest support level could be near $610.
Tune in next week, and every week, for the latest CEX.IO crypto highlights. For more information, head over to the Exchange to check current prices, or stop by CEX.IO University to continue expanding your crypto knowledge.
Note: Exchange Plus is currently not available in the U.S. Check the list of supported jurisdictions here.
Disclaimer: Not investment advice. Seek professional advice. Digital assets involve risk. Do your own research.