Until now, CEX.IO Savings has been in closed beta version which basically means that it was available to a limited number of people. Big news? We've taken off with it officially into an Open Beta 🤓 and now CEX.IO Savings is a full-fledged service under CEX.IO Earn umbrella 🕊. 
🚀 What've launched with 
As mentioned in this post before, we start with Flexible savings. 
Locked savings will go live a little later. 
As of now, you can earn interest on holding stake-able and stablecoins in your Flexible savings account. In total, 8 cryptocurrencies: ZIL, DOT, MATIC, ATOM, DAI, TUSD, USDC, USDT. We plan to expand this list over time.
All available coins and their annual percentage yield are on the CEX.IO Savings page. 
Question you may ask: Why hold stake-able coins in a Savings account? 
Let's compare CEX.IO Staking and Savings and see how you can benefit from them both.
| | |
| --- | --- |
| Staking: | Savings: |
| Freedom of using the coins – they aren't locked so you can stake them, trade them, and withdraw them anytime you like. | Save it and forget it: no temptation of using these funds. Meanwhile, your money tree grows bigger and bigger. Hodlers will appreciate it. |
| Get rewards once a month. | Get rewards daily. |
| There is a minimum staking amount for every available coin. Get rewards only if conditions are met. | No minimal amount requirements (and no maximum as well). You can even transfer 2 Satoshis and get interest rewards. |
Choose what suits you best.
♻️ How to track your Savings balance
While you're focusing on your main account, we're taking care of your savings. 
That's why you won't see your Savings balance in your overall account balance. 
And, if you want to check your CEX.IO Savings earnings, just go to the Savings page and you'll see it.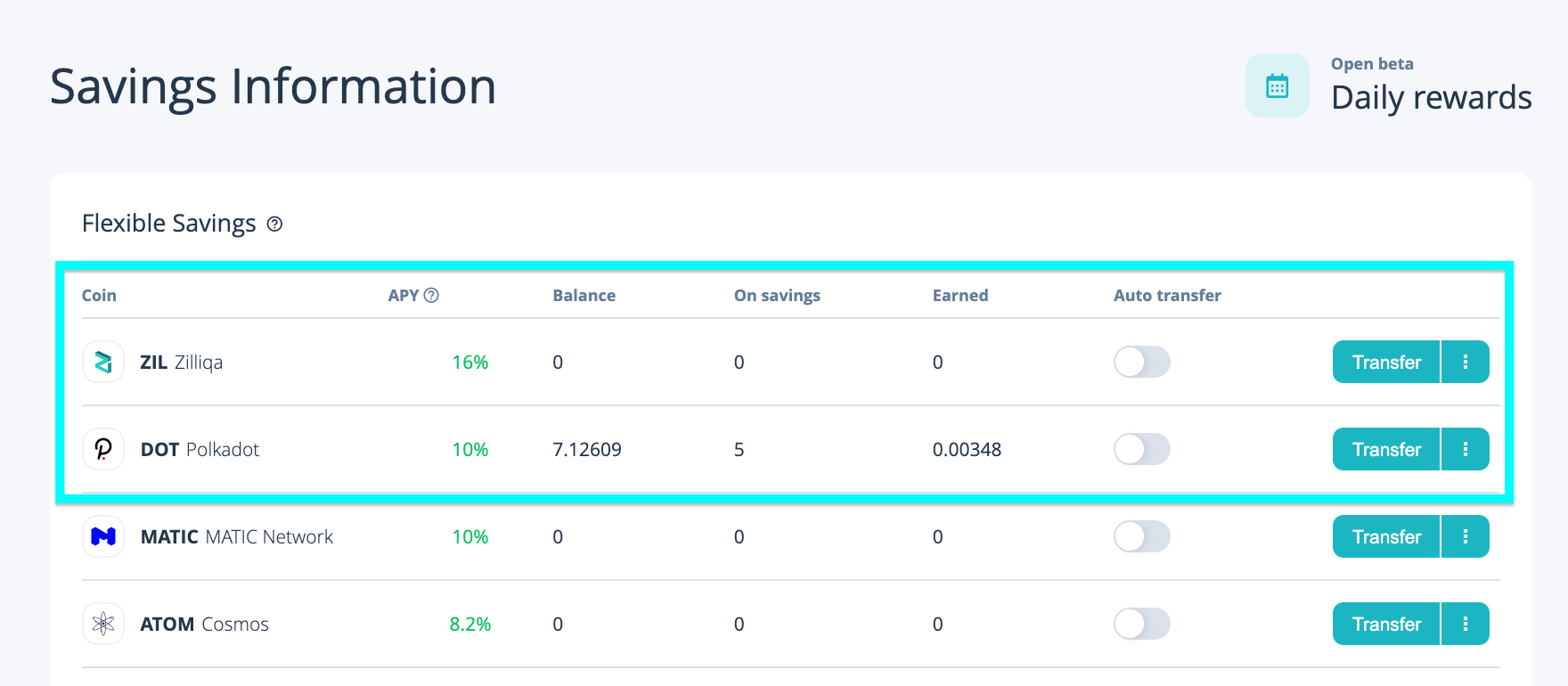 Now, you know it all. 
And you are welcome to take advantage of one more CEX.IO service allowing you to generate income from cryptocurrencies in a simple way.
The transformations we've been through since 2020 made the world go even more digital. Hence, settling only with traditional ways of making money doesn't cut it anymore. Fortunately, when it comes to driving more value for the people, the cryptocurrency industry has shown up on more than one occasion.  
We're still excited about the most recent cryptocurrency market rally. Bitcoin, Ethereum, and more cryptocurrencies broke new all-time highs allowing their holders to make few-digits profits. 
Though with the cryptocurrencies similar rallies happen now and then, they aren't the only way to earn with crypto.
The way the market has been developing recently provided cryptocurrency owners with a good deal of new options to earn. They are staking, lending, yield farming — to name a few. Given that this year we took a course to contribute to the DeFi sector growth, we noticed a range of our products shaping out a special category. These products let users earn with cryptocurrencies by simply holding them. We gave these products an umbrella name CEX.IO Earn.
CEX.IO Earn is a cohort of products allowing cryptocurrency holders to profit from contributing to the blockchain industry from various aspects. CEX.IO Staking is the first CEX.IO Earn product. It helps customers earn staking rewards for letting their coins participate in the consensus of the Proof-of-Stake protocols. Now, we introduce a new addition to CEX.IO Earn — Savings.
Profit more with your crypto
The Savings account works exactly as it sounds like it should — generates a return on your holdings. Instead of just letting your cryptocurrency sit idly on your balance, transfer it to a savings account on CEX.IO, and receive interest over time. The interest rates or annual percentage yield (APY) vary between 2-20% depending on the asset.

If instead, you would just let your gZIL stay inactive on your balance, in a year, it would be the same 100 gZIL.
Let's face it —
 there aren't a lot of places to earn a 20% yield on your savings right now. 
How to start earning interest with the Savings account? It's easy. Choose the cryptocurrency you want to subscribe to Savings and transfer your crypto. The interest will be paid directly into your Savings wallet. You can either choose to withdraw your funds or leave them in your Savings wallet for the interest to continue accruing.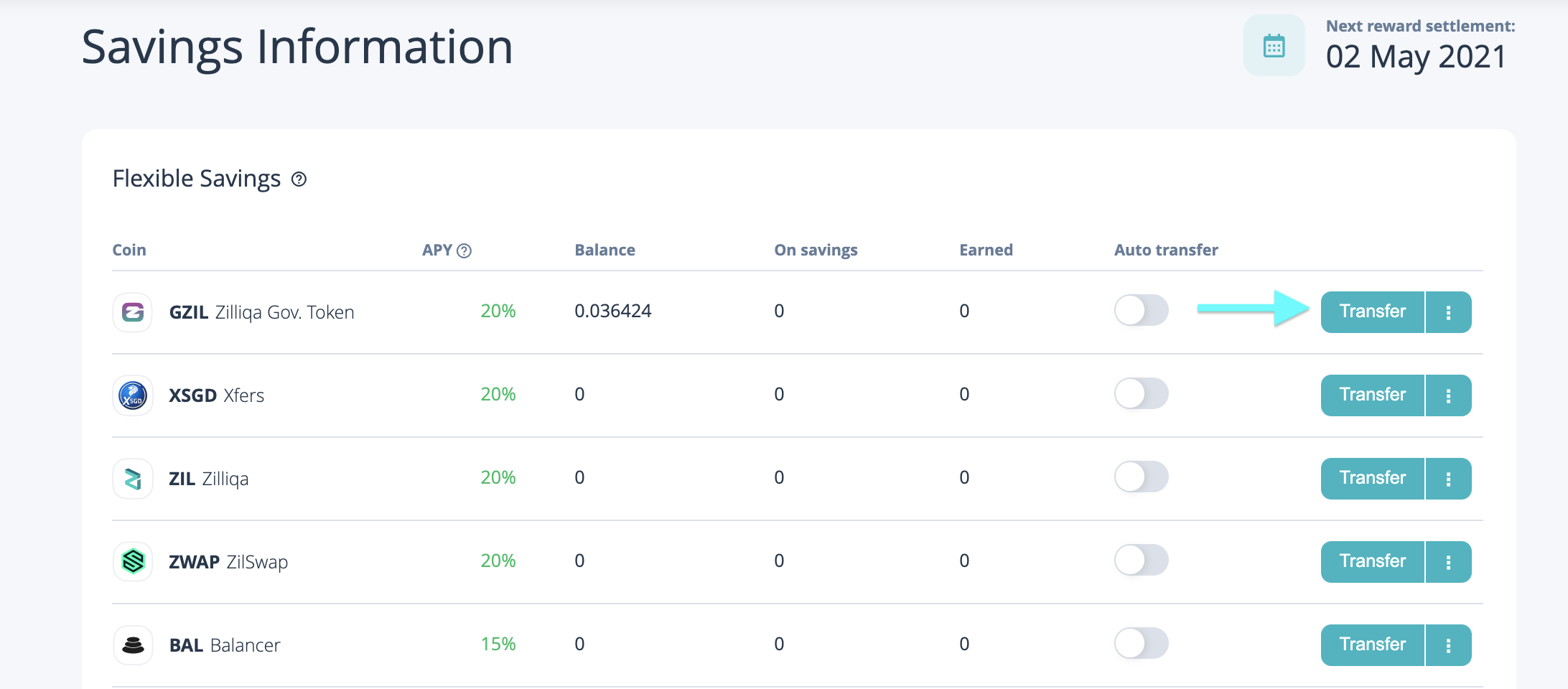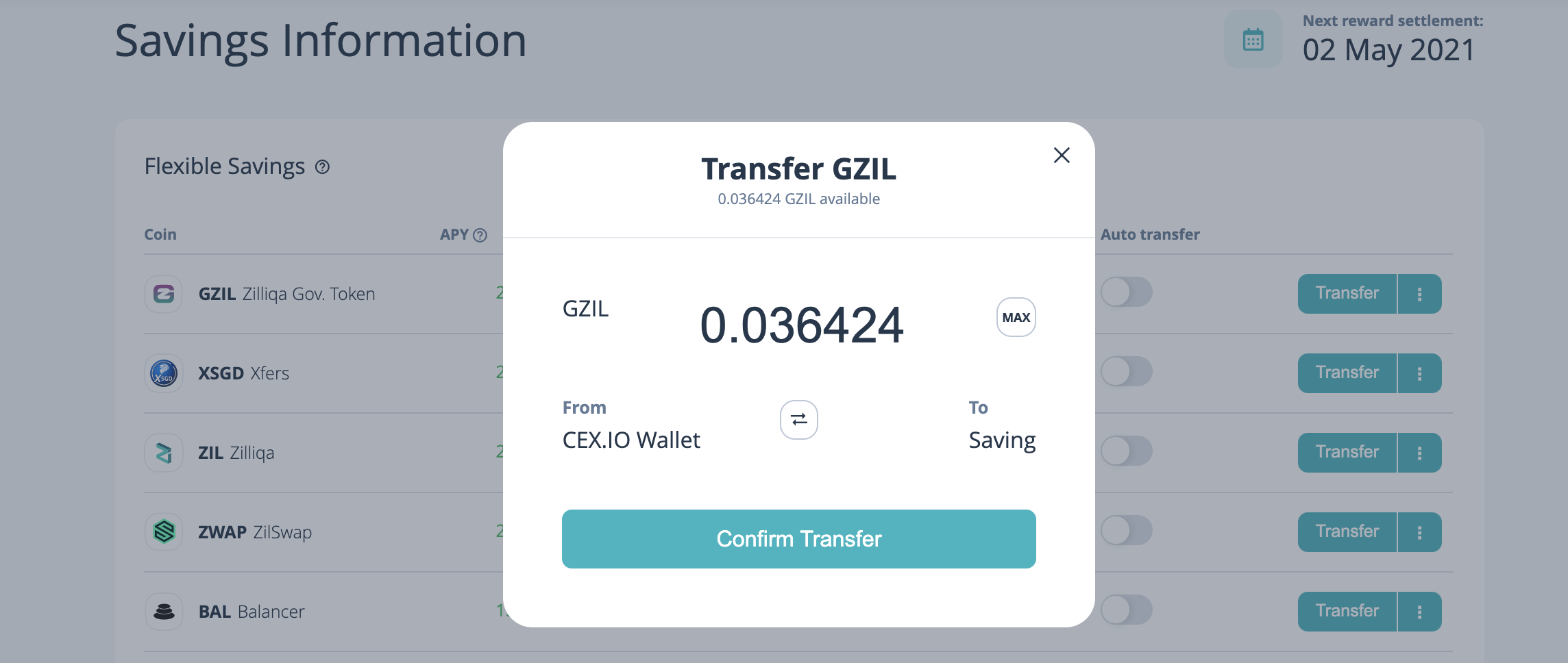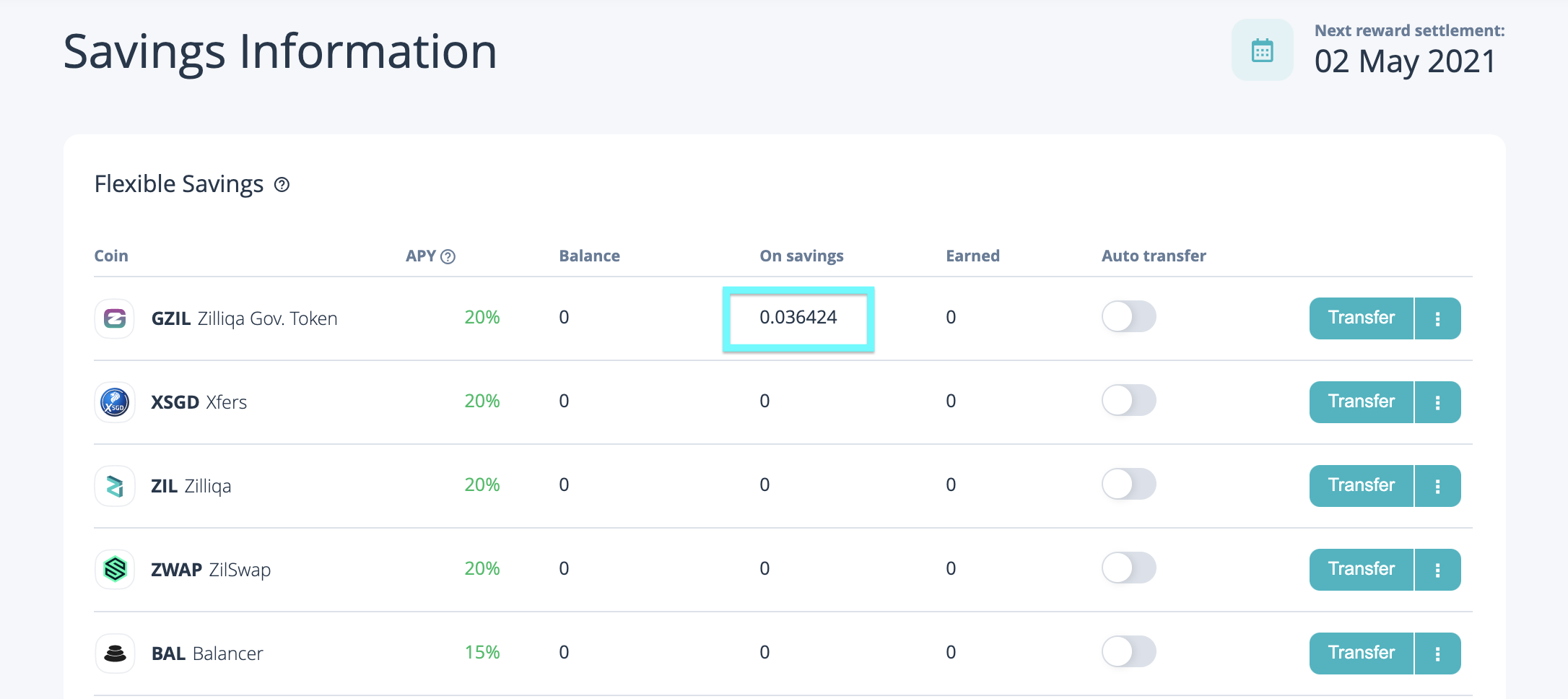 If you want to add funds to your savings account and accrue more interest — you can do that at any time. No need to wait for the expiration date to make a deposit.
So, bullish markets or bearish, you are getting your return.
Earning options for every ambition 
Depending on your commitment and ambition in crypto, you can opt either for a flexible or locked savings account.
Flexible Savings allows you to access your funds whenever you need them. You keep control of your money and can take them out at any time. 
Choose fast redeem and transfer your funds quickly to your CEX.IO account balance with interest calculated for the last full day. 
Or go for a standard redeem and receive funds along with the current day's interest on the next day.  
CEX.IO Savings launches with 19 crypto assets available for Flexible Savings. The list will certainly expand over time.   
Locked Savings is for those who are committed to holding crypto for a longer time. The name speaks for itself — with locked savings you can access your funds only at the expiration date. Yet, this type of savings allows for a higher return. 
We plan to enable Locked Savings shortly with BTC, ETH, and USDT available for subscribing. Follow our announcements!
Savings under the hood 
So where is the interest coming from? It is the result of your funds facilitating crypto market activities. You authorize your funds to be used for lending and receive a certain interest for it. The lenders can be various market participants: platforms and projects that need funds to help clients access alternative liquidity, for institutional market-making, and more. 
A cryptocurrency savings account is similar to a traditional bank savings account. When you put your funds into a savings account in a bank, you give your bank permission to use your money, for example, to lend them to some third parties. For that, the bank returns you some interest. A crypto savings account works in the same way. You receive interest for borrowing your funds. 
Now let's move to one of the most important questions: how the interest rate or annual percentage yield (APY) is calculated. 
The APY is calculated like this: the average daily interest rate from the past 7 days multiplied by 365. 
For Locked savings, the APY is fixed. This means that the percentage of the interest rate will remain the same within the lending period.  
For Flexible Savings, the interest rates are fixed for one day. After, the APY is floating and based on supply and demand. For example, when there are plenty of borrowers but there aren't many people willing to lend crypto assets, the interest rates will be high. And the other way round — if supply exceeds demand — the interest rate will be lower. 
For ease of calculation, you will be able to see the Flexible APY on the Savings dashboard.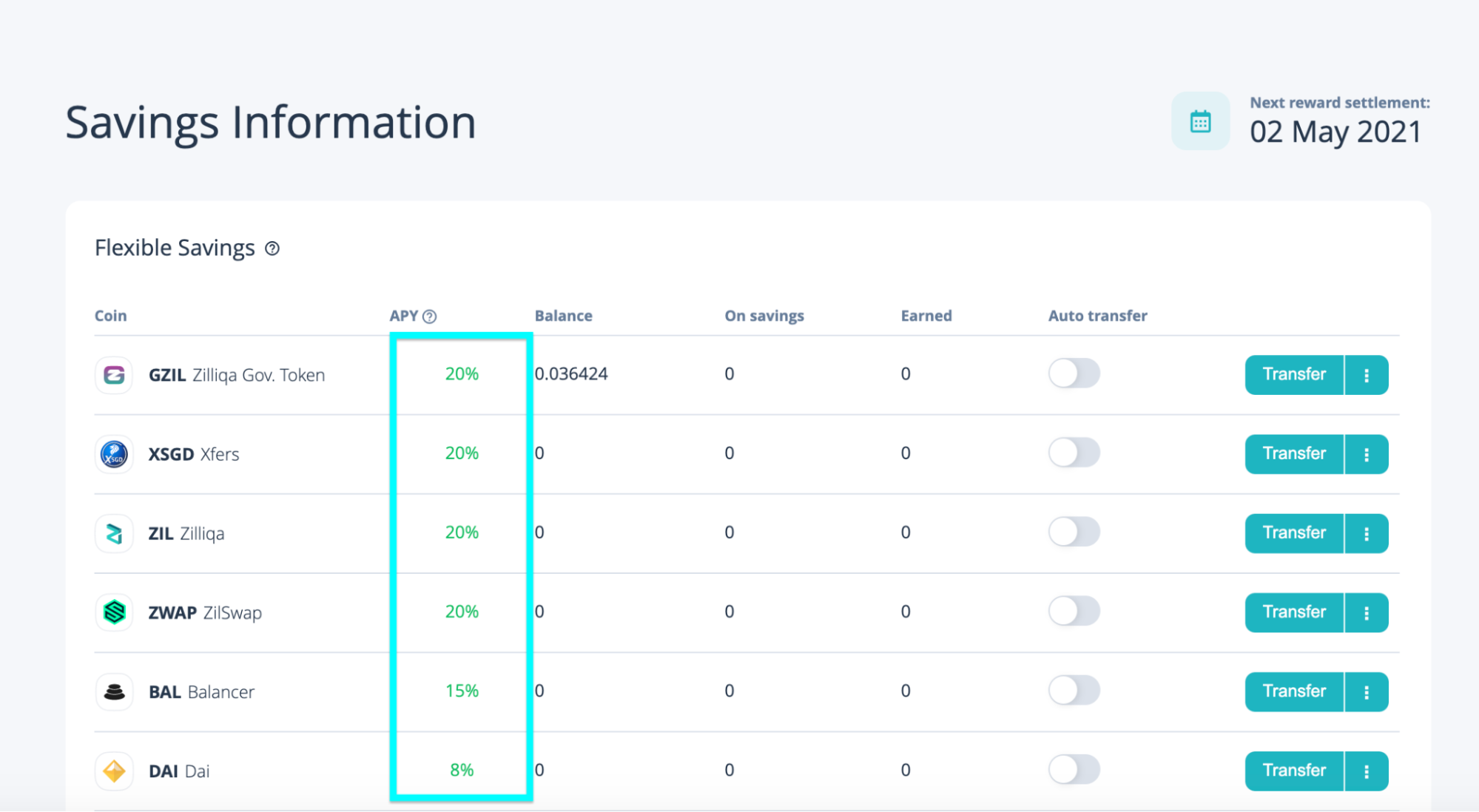 Off we go!
CEX.IO Savings has kicked off with already launched Flexible Savings. We plan to add Locked Savings shortly. The team has to finish some preps before giving it a go. We'll give you a shout-out when it happens right away.
Meanwhile, we're already ready to salute you onboard CEX.IO Savings, Captain. Happy saving!
Note: CEX.IO Savings is available for CEX.IO customers who completed Identity verification and reside in the
supported countries
.