When is the next bubble?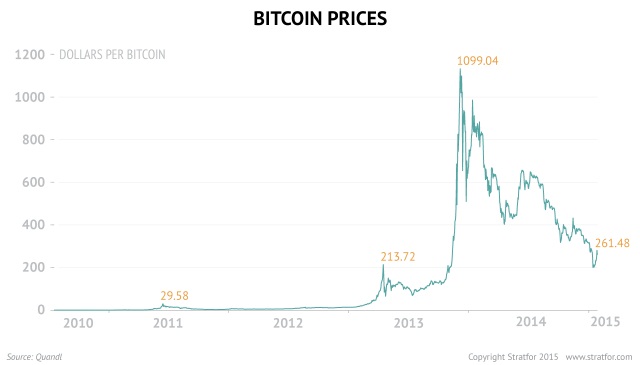 In our price analysis last week, I concluded with two alternatives as possible price movement this week. Despite the news driven price run up to $315, following Coinbase highly anticipated announcement, we are still in a long-term bear market that is yet to turn. A quote from last week:
"One possible count is a step lower into lows close to $166 bottom from 2 weeks ago. The current decline would gradually sell lower anywhere at current prices and $166".
This week, prices remained within an overall bear trend after an attempt to break a sloping resistance line extending all the way back to August. Until we test and break this trend line, we look set to continue into these fresh lows.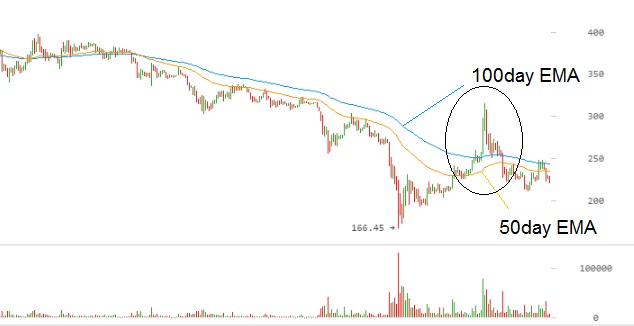 Support levels buckled under impulsive selling pressure, taking prices down below a long-term EMA. The 100 day and 50 day EMA trend lines act as long-term resistance. $315 peak was an attempt to reverse this trend persistent since June 2014. A bullish cross and cut above the 100 day EMA by 50 day EMA line is a good sign of a trend reversal. What we have is an uncanny resemblance to price action in October 2014. Price action made an attempt at reversing the trend but, bears took the price back down below long-term average trend lines.
$209 served as a temporary bottom but, was accompanied by weak volume. Prices retraced back up to $251 yesterday similarly accompanied by low volumes. Volumes are key to price run up – a major reversal in market direction should be followed by high volumes akin to volumes experienced last week.
Presently, prices are caught up in long periods of sideways boredom punctuated with sudden upside springs. Fibonacci retracement levels from $166 to $315 short-term high show we are within retracement levels after a rebound from 61% fib level.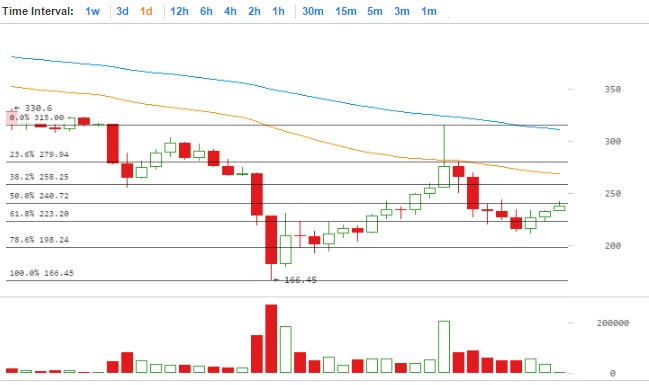 Bitcoin fundamentals
Facebook, Spotify, and Airbnb are just a flick of the switch away from accepting bitcoin, now that their payment processor has partnered with BitPay.
Ayden, a payment processor that handled $25 billion worth of transaction last year has partnered with BitPay. Ayden, which boasts of clients such as Facebook, Spotify, Yelp and Groupon, processes over 180 currencies for even more clients. This partnership resembles a partnership deal struck between PayPal's Braintree and Coinbase to facilitate bitcoin merchant payment features.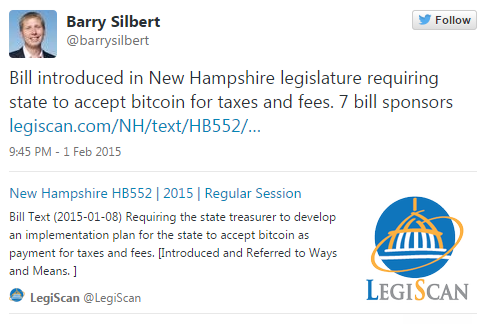 In New Hampshire (US) a house bill (publicly viewable on LegiScan) was introduced
"Requiring the state treasurer to develop an implementation plan for the state to accept bitcoin as payment for taxes and fees."
Given that its proposal is on a State rather than a federal level means, its chances of passing is up to New Hampshire politics.
Finally, former Silk Road boss, Ross Ulbricht's trial awaits the government to rest its case on Monday.
"He stands accused of multiple crimes, including drug trafficking, conspiracy to launder money, and computer hacking conspiracy charges." – Cryptocoin News
Because this case stirs up the past, it is damaging to bitcoin's image in light of revelations from court proceedings. Additionally, 94,336 bitcoins from FBIs Silk Road seizure are set for another auction in Q1. A final closure on Ulbricht's case and an end to US Marshals' auction would be positive for bitcoin's development. Past cases of hacks, exchange collapse and illegal trade-related incidents far too often casts a dark cloud over bitcoin's potential.
This week forecast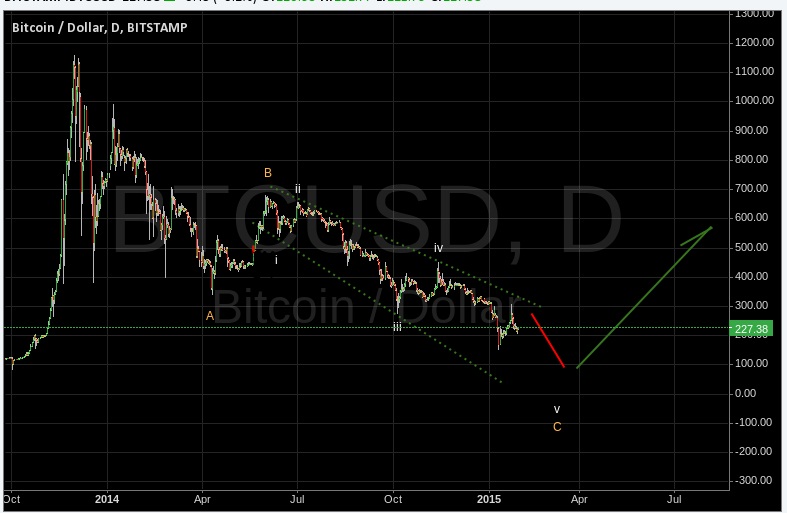 This week I expect bearish prices with targets as low as $166 and possibly lower. Currently, there is no sign of buying pressure enough to take the market past $300. Unless major news comes out, timing shorts to the downside is a reasonable strategy at this point.
The rise from $ 166 bottom to $315 was seemingly an interruption of general price decline bear market. It resembles a similar uptrend from a capitulation bottom in October last year. Considering there are no convincing signals of a change in trend from the bear, a breakdown to the new bottom is a reasonable expectation.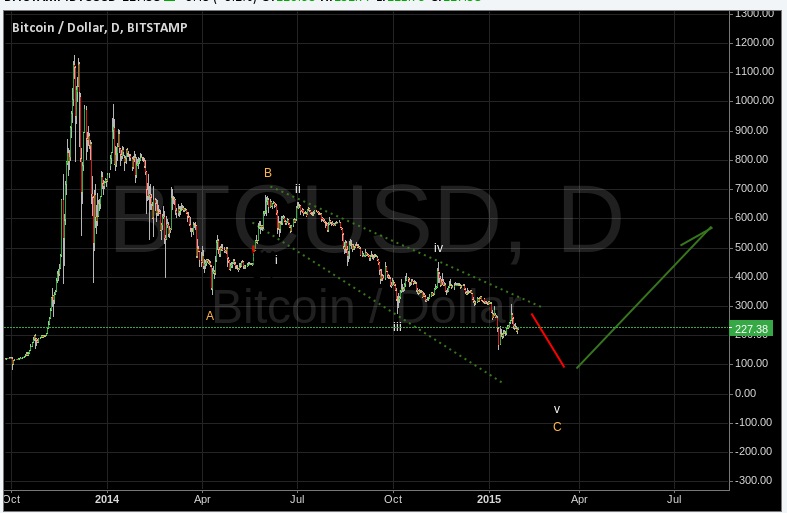 The market is struggling to find a bottom – $160 was a huge sell-off, $315 was a rally reaction to the news. This week's $220 test cleared out coins available for selling. For the market price to mark up, sellers have to be cleared. Dumping thousands of coins tells a story of where the market is. Price spikes on either side of trading ranges before the end of consolidation (like much of this week) tests market sentiments every so often.
Eventually there will be little to no available coinage at a given price level, hence no one to sell into their rallies. And that is when prices will rally up.